Identification of Fungi in Burn Wounds Using Conventional and Vitek System in Duhok City, Iraq
Najim A. Yassin

Dept. of Medical Microbiology, College of Medicine, Duhok University, Kurdistan Region - Iraq.

Noor M. Qadri Oumeri

Dept. of Biology, Faculty of Sciences, University of Zakho, Kurdistan Region - Iraq.
Keywords:
Burn wound Infections, Fungal infections, Cryptococcus laurentii, Burn Hospital, Vitek system
Abstract
Background: Fungal burns and wounds infections are frequent but underestimated causing invasive infections with late-onset morbidity and mortality in patients suffering severe perturbed immune systems.
Objectives: This study aimed to investigate fungal infections in clinical specimens by using conventional and Vitek system.
Methods:  A total of 123 swabs were obtained from wound and burns patients with different age, gender, burn degrees and nationality that admitted burns and emergency hospital in Duhok city, Iraq, from October 2019 till January 2020. All swabs screened by direct examination, fungal isolation then subjecting the purified colonies to Vitak system 2 to confirm the identification of fungal species.
Results: Out of 123, 55.5% and 44.5% revealed fungal growth in wound and burn swab, respectively with more mono-fungal growth patterns. Male, middle ages group, Iraqi nationality and second-degree burn were more affected. Cryptococcus laurentii was the predominant (40%) followed by Stephanoascus ciferri (23%), Aspergillus nigar  (11%) and Candida albicans was very low rate (1.1%), while other fungal specie's were recorded in fewer rates. The present study demonstrated that the wound and burn fungal infection cases are relatively high in above mentioned hospitals with a variety of fungal pathogens. Unexpectedly, the Cryptococcus laurentii and Stephanoascus ciferri were highly predominant.
Conclusions: The study concluded the necessity of using Vitak system for full identification and emphasize on the cleaning of surroundings of patients in the burn and wound units care, reduction of humidity, regular employment of topical and systemic antifungal agents that reduce morbidity and mortality in burn unit in this setting.
References
AL-Aali , K.Y. (2016). Microbial Profile of Burn Wound Infections in Burn Patients, Taif, Saudi Arabia. Arch Clin Microbiol, 7-2.
Al-Hassani , K. A. (2007). Fungal study of burns iinjury iin patiients of All-Qadiissiiyiia rovince. Al Qadissia pure science journal, 1, 134-141.
Ballard, J., Edelman, L., Saffle, J. (2008). Positive fungal cultures in burn patients: a multicenter review. J Burn Care Res, 29, 213-21.
Ballard, J., Edelman, L., Saffle, J., Sheridan, R., Kagan, R., et al. (2008). Positive fungal cultures in burn patients: a multicenter review. J Burn Care Res, 29, 213-221.
Banerjee, P., Haider, M., Trehan, V., Mishra, B., Thakur, A., Dogra, V., et al. (2013). Cryptococcus laurentii Fungemia. Indian J Med Microbiol, 31,75-7.
Bruck, H.M., Nash, G. Stein., J.M., Lindberg., R.B. (1972). Studies on the occurrence and significance of yeasts and fungi in the burn wound. Ann Surg, 176,108-110.
Capoor, M. R., Gupta, D. K., Verma, P. K, Sachdeva, H. C. (2015). Rare yeasts causing fungemia in immunocompromised and haematology patients: Case series from Delhi. Indian J Med Microbiol, 33, 576-9.
Churc, H. D., Elsayed, S., Reid, O. (2006). Burn wound infections. Clin Microbiol Rev, 19, 403-34.
Colombo, A.L., Guimarães, T. (2003). Epidemiology and hematogenous infection of Candida spp. Rev Soc Bras Med Trop, 36, 599-607.
Dahag, M.A., Louri, N.A., Dey, N., Philip, S.S. (2018). Pattern of the Burn Wounds Infections in Bahrain Defence Force Military Hospital. Ann Burns and Trauma, 2(1), 1007.
De Macedo, J.L., Rosa, S.C., Castro, C (2003). Sepsis in burned patients. Rev Bras Med Trop, 36:, 647-652.
De Macedo, J.L., Santos, J.B. (2005). Bacterial and fungal colonization of burn wounds. Mem Inst Oswaldo Cruz, 100(5), 535-539.
Gore, D.C., Chinkes, D., Heggers, J. (2001). Association of hyperglycemia with increased mortality after severe burn injury. J Trauma, 51, 540-4.
Jarvis, W.R. (1995). Epidemiology of nosocomial fungal infections, with emphasis on candida species. Clin Infect Dis, 20, 1526-30.
Khawcharoenporn, T., Apisarnthanarak, A., Mundy, L.M. (2007). Non-Neoformans cryptococcal infections: a systematic review. Infection, 35(2), 51–8.
Luo, G., Peng, Y., Yuan, Z. (2011). Yeast from burn patients at a major burn center of China. Burns, 37, 299-303.
Mattsson, R., Haemig, P.D., Olsen, B. (1999). Feral pigeons as carriers of Cryptococcus laurentii, Cryptococcus uniguttulatus and Debaryomyces hansenii. Med Mycol, 37, 3679.
Mousa, H.A . (2016). Fungal Burn Wound Infection. Fungal Genom Biol, 6, 121.
Santucci, S.G., Gobara, S., Santos, C.R., Fontana, C., Levin, A.S . (2003). Infections in a burn intensive care unit: experience of seven years. J Hosp Infect, 53:6-13.
Soki, H., Nagase, Y., Yamazaki, K., Oda, T., Kikuchi, K. (2010). Isolation of the yeast-like fungus Stephanoascus ciferrii by culturing the aural discharge of a patient with intractable otitis media. Case report. Kansenshogaku Zasshi , 84,210-2.
Sundaram, M., Navaneethakrishnan, R.M. (2016). Evaluation of Vitek 2 system for clinical identification of candida species and their antifungal susceptibility test. J Evolution Med Dent Sci, 5(47), 2948-2951
Villanueva-Lozano, H., Treviño-Rangel, R., Hernández-Balboa, C., Gloria, M., Martínez-Reséndez, M., et al. (2016). An unusual case of Candida ciferrii fungemia in an immunocompromised patient with Crohn's and Mycobacterium bovis disease. J Infect Dev Ctries, 10(10),1156-1158.
Zhang, Y., Cooper, B., Gui, X., Sherer, R., Cao., Q. (2019). Clinical diversity of invasive cryptococcosis in AIDS patients from central China: report of two cases with review of literature. BMC Infectious Diseases , 19:2-8.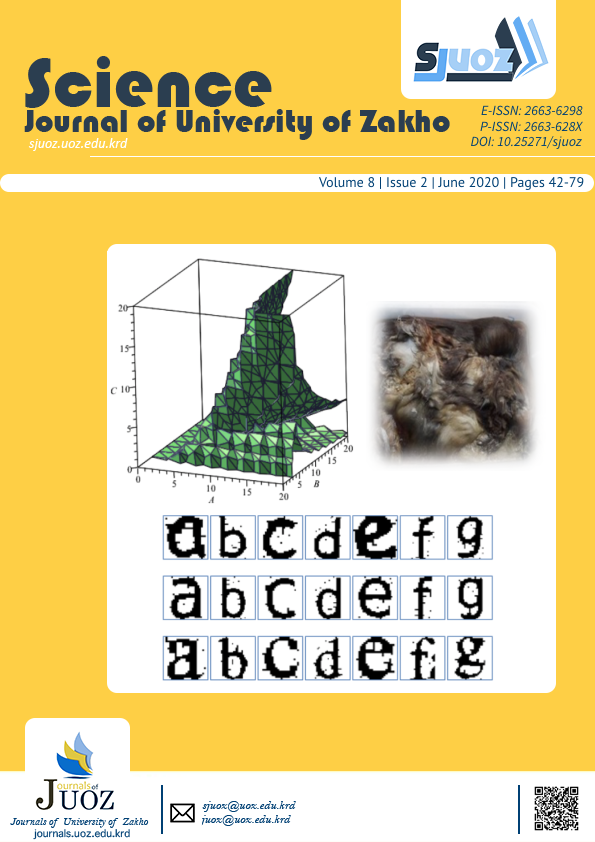 How to Cite
Yassin, N., & Qadri Oumeri, N. (2020). Identification of Fungi in Burn Wounds Using Conventional and Vitek System in Duhok City, Iraq. Science Journal of University of Zakho, 8(2), 62-65. https://doi.org/10.25271/sjuoz.2020.8.2.701
Section
Science Journal of University of Zakho
Copyright (c) 2020 NAJIM ABDULLA YASSIN
This work is licensed under a Creative Commons Attribution-NonCommercial-ShareAlike 4.0 International License.
Authors who publish with this journal agree to the following terms:
Authors retain copyright and grant the journal right of first publication with the work simultaneously licensed under a Creative Commons Attribution License [CC BY-NC-SA 4.0] that allows others to share the work with an acknowledgment of the work's authorship and initial publication in this journal.
Authors are able to enter into separate, additional contractual arrangements for the non-exclusive distribution of the journal's published version of the work, with an acknowledgment of its initial publication in this journal.
Authors are permitted and encouraged to post their work online.