The Integrity of DNA Extracted from Oryctolagus Cuniculus Carcasses Treated With Different Corrosive Chemical Substances
Onyekachi O. Iroanya

Dept. of Cell Biology and Genetics University of Lagos

https://orcid.org/0000-0002-5122-1466

Jeffrey O. Ogbeide

Dept. of Cell Biology and Genetics, University of Lagos

Tochukwu F. Egwuatu

Dept. of Cell Biology and Genetics, University of Lagos
Keywords:
DNA integrity, DNA degradation, Bone, Tissue, corrosive chemicals, hydrochloric acid, Sodium hydroxide
Abstract
There is a gap in the literature concerning the use of corrosive chemicals to erode human body. The aim of this study is to determine the integrity of DNA samples extracted from rabbits' carcasses immersed in different chemical. Twenty-one healthy rabbits were grouped into seven. Animals in group 1 were enclosed in transparent containers while groups 2 to 7 were submerged in 1% hydrochloric acid (HCl), sodium hypochlorite (NaClO), calcium hypochlorite (CaOCl2), 7.3% sodium hydroxide (NaOH), water and 35% HCl respectively. Tissue sample were collected on day(s) 1, 3, 7 and 12 for DNA extraction and analysis. The most destructive agent in this study was 35% HCl where the bones and almost all tissues degraded within 24hrs, followed by Sodium hydroxide while, there was no marked degradation in NaClO, CaOCl2, water and dilute HCl groups. Distinct, observable effects of each chemical on the extracted DNA samples revealed decreased DNA integrity and degradation at various time frames. Further studies need to be carried out to ascertain the concentration of these chemicals especially NaOH that will completely destroy the body of the rabbits within a short period of time. Chromosomal aberration analysis should also be included in future research.
References
Cope, D. J. & Dupras, T. L. (2009). The effects of household corrosive chemicals on human dentition. Journal of Forensic Science. 54(6), 1238-1246. DOI: 10.1111/j.1556-4029.2009.01147.x.
Hartnett, K. M, Fulginiti, L. C, & Di Modica, F. (2011). The effects of corrosive substances on human bone, teeth, hair, nails, and soft tissue. Journal of Forensic Science. 56(4), 954-959. DOI: 10.1111/j.1556-4029.2011.01752.x.
Jadhav K., Gupta, N., Mujib, B. R. & Amberkar, V. S. (2009). Effects of acids on the teeth and its relevance in postmortem identification. Journal of Forensic Science. 1, 93-98. DOI: 10.4103/0974-2948.60381
Jobling, M.A., & Gill P. (2004). Encoded evidence: DNA in forensic analysis. Nature Review Genetics. 5(10), 739-51. DOI: 10.1038/nrg1455
Mamede, R. C. M. & Filho, F. V. M. (2001). Ingestion of caustic substances and its complications. Sao Paulo Medical Journal. 119(1), 10-15. DOI: 10.1590/s1516-31802001000100004
Mazza, A., Meralati, G., Savio, C., Fassina, G., Menaghini, P. & Danesino, P. (2005). Observations on Dental Structures when Placed in Contact with Acids: Experimental Studies to Aid Identification Processes. Journal of Forensic Science. 50,406-410. PMID:15813552
Odo, P. E., Chidi, O. H. & Iloba, B. N. (2017). Insects fauna associated with decomposing rabbit carrion in Falcorp mangrove park, Ijala, Warri, Delta State, Nigeria. Proceedings of the 4th Delta State University Faculty of Science International Conference
Poetsch, L., Meyer, U., Rothschild, S., Schneider, P. M. & Rittner, C. (1992). Application of DNA techniques for identification using human dental pulp as a source of DNA. International Journal of Legal Medicine. 105(3),139–143. DOI: https://doi.org/10.1007/BF01625165
Raj., M., Boaz, K & Srikant, N. (2013). Are teeth evidence in acid environment? Journal of Forensic Dental Sciences. 5(1), 7-10. DOI: 10.4103/0975-1475.114536
Ramesh, G., Seth, R. K., Mishra, G., Raj, A., Sing, S, & Chaubey, S. (2015). Effect of concentrated acids on soft and hard tissue: a macroscopic analysis. University Journal of Dental Sciences. 1, 320-324.
Robino, C., Pazzi, M., Di Vella, G., Martinelli, D., Mazzola, L., Ricci, U., Testi, R., & Vincenti, M. 2015. Evaluation of DNA typing as a positive identification method for soft and hard tissues immersed in strong acids. Legal Medicine. 17(6), 569-575. DOI.org/10.1016/j.legalmed.2015.07.004.
Seymour, S. B. (1991) "Disinfection, Sterilization and Preservation", 4th edition. Philadelphia Lea and Febiger,
Sowmya, K., Sudheendra, U. S., Khan, S., Nagpal, N. & Prathamesh, S. J. (2013). Assessment of morphological changes and DNA quantification: An in vitro study on acid-immersed teeth. Journal of Forensic Dental Sciences. 5(1), 42-46. DOI: 10.4103/0975-1475.114560
Tennant, S. M., Hartland, E. L., Phumoonna, T., Lyras, D., Rood, J. I., Robins-Browne, R. M. & van-Driel, I. R. (2008). Influence of Gastric Acid on Susceptibility to Infection with Ingested Bacterial Pathogens. Infection and Immunity. 76(2), 639-645. DOI: 10.1128/IAI.01138-07.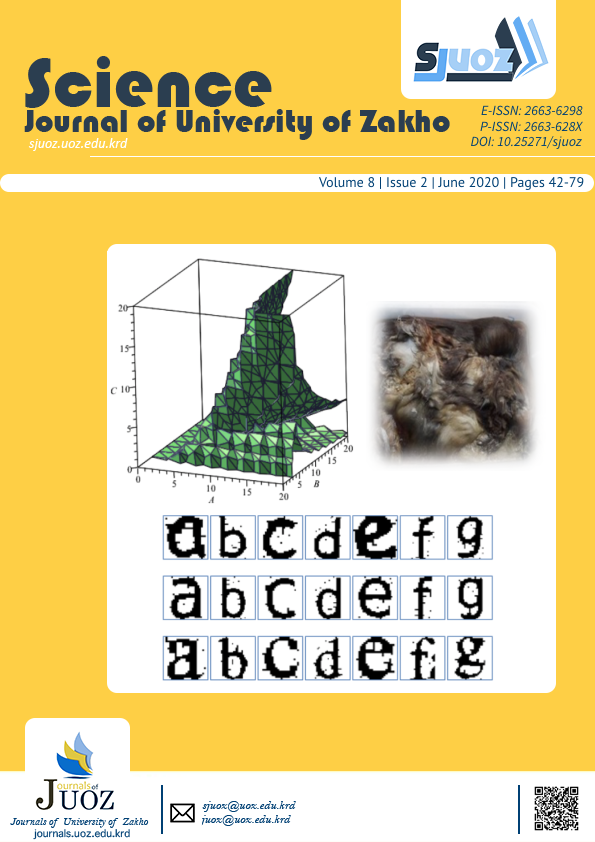 How to Cite
Iroanya, O., Ogbeide, J., & Egwuatu, T. (2020). The Integrity of DNA Extracted from Oryctolagus Cuniculus Carcasses Treated With Different Corrosive Chemical Substances. Science Journal of University of Zakho, 8(2), 42-47. https://doi.org/10.25271/sjuoz.2020.8.2.714
Section
Science Journal of University of Zakho
Copyright (c) 2020 Onyekachi Ogbonnaya Iroanya, Jeffrey Osaiwe Ogbeide, Tochukwu Frank Egwuatu
This work is licensed under a Creative Commons Attribution-NonCommercial-ShareAlike 4.0 International License.
Authors who publish with this journal agree to the following terms:
Authors retain copyright and grant the journal right of first publication with the work simultaneously licensed under a Creative Commons Attribution License [CC BY-NC-SA 4.0] that allows others to share the work with an acknowledgment of the work's authorship and initial publication in this journal.
Authors are able to enter into separate, additional contractual arrangements for the non-exclusive distribution of the journal's published version of the work, with an acknowledgment of its initial publication in this journal.
Authors are permitted and encouraged to post their work online.