Influence of Different Levels of Ground Oak (Quercus Aegilops) Acorns on Growth Performance and Some Carcass Characteristics of Awassi Lambs
Hoger M. Hidayet

Dept. of Pathology and Microbiology, College of Veterinary Medicine, University of Duhok, Kurdistan Region - Iraq.

Kamal N. Mustafa

College of Agricultural Engineering Sciences, University of Duhok, Kurdistan Region, Iraq
Keywords:
oak acorns, Sheep, Fattening, Performance, Carcass
Abstract
This study was aimed to investigate the effect of feeding different levels of oak acorns on growth and some carcass characteristics of Awassi lambs. Twenty lambs were blocked into four groups (5 lambs/ group) according to live body weight and fed on one of the experimental diets (0, 5, 10 and 15% oak acorns). The results showed no effect of dietary treatments on live body weight throughout the period of study, also there were no effects of treatments on carcass traits except for rib-eye muscle area which was largest in the group fed on 5% acorns. It could be concluded that feeding Awassi lambs on ground oak acorns has no adverse effects on growth performance and health condition.
References
AFRC 1993. Energy and Protein Requirements of Ruminants: An Advisory Manual Prepared by the AFRC Technical Committee on Responses to Nutrients. CAB International, Wallingford, Oxon, UK.
AOAC 2007. Official Methods of Analysis. Association of Official Analytical Chemists, Arlington, VA.
Austin PJ, Suchar LA, Robbins CT and Hagerman AE 1989. Tannin-binding proteins in saliva of deer and their absence in saliva of sheep and cattle. Journal of Chemical Ecology 15, 1335–1347.
Barry T, Allsop T and Redekopp C 1986. The role of condensed tannins in the nutritional value of Lotus pedunculatus for sheep. British Journal of Nutrition 56, 607–614.
Bausch JD and Carson TL 1981. Oak poisoning in cattle oak poisoning in cattle. Iowa State University Veterinarian 43, 108–111.
Froutan E, Azizi O, Sadeghi G, Fatehi F and Lashkari S 2015. Effects of different concentrations of ground oak acorn on growth performance, blood parameters and carcass characteristics of goat kids. Animal Production Science 55, 87–92.
Frutos P, Hervás G, Giráldez FJ and Mantecón AR 2004. Review. Tannins and ruminant nutrition. Spanish Journal of Agricultural Research 2, 191–202.
Al Jassim R, Ereifej K, Shibli R and Abudabos A 1998. Utilization of concentrate diets containing acorns ( Quercus aegilops and Quercus coccifera ) and urea by growing Awassi lambs. Small Ruminant Research 29, 289–293.
Krueger WK, Gutierrez-Bañuelos H, Carstens GE, Min BR, Pinchak WE, Gomez RR, Anderson RC, Krueger NA and Forbes TDA 2010. Effects of dietary tannin source on performance, feed efficiency, ruminal fermentation, and carcass and non-carcass traits in steers fed a high-grain diet. Animal Feed Science and Technology 159, 1–9.
MAFF 1975. Energy allowances and feeding systems for ruminants. Technical Bulletin.
Makkar HPS 2003. Effects and fate of tannins in ruminant animals, adaptation to tannins, and strategies to overcome detrimental effects of feeding tannin-rich feeds. Small Ruminant Research 49, 241–256.
Makkar HPS, Blummel M and Becker K 1995. In vitro effects of and interactions between tannins and saponins and fate of tannins in the rumen. Journal of the Science of Food and Agriculture 69, 481–493.
Makkar HPS, Blümmel M and Becker K 1998. Application of an in vitro gas method to understand the effects of natural plant products on availability and partitioning of nutrients. British Society of Animal Science 22, 147–150.
Makkar HPS, Blummel M, Borowy NK and Becker K 1993. Gravimetric determination of tannins and their correlations with chemical and protein precipitation methods. Journal of the Science of Food and Agriculture 61, 161–165.
Mcnabb WC, Waghorn GC, Peters JS and Barry TN 1996. The effect of condensed tannins in Lotus pedunculatus on the carboxylase (EC 4.1 . 1 .39; Rubisco) protein in the rumen and solubilization and degradation of ribulose-l,5-bisphosphate the sites of Rubisco digestion. British JournaI of Nutrition 76, 535–549.
Mekki I, Smeti S, Hajji H, Yagoubi Y, Mahouachi M and Atti N 2019. Effect of oak acorn (Quercus ilex) intake during suckling and fattening of Barbarine lambs on growth, meat quality and fatty acid profile. Journal of Animal and Feed Sciences 28, 22–30.
Min BR, Barry TN, Attwood GT and McNabb WC 2003. The effect of condensed tannins on the nutrition and health of ruminants fed fresh temperate forages: A review. Animal Feed Science and Technology 106, 3–19.
Minieri S, Buccioni A, Rapaccini S, Pezzati A, Benvenuti D, Serra A and Mele M 2014. Effect of Quebracho tannin extract on soybean and linseed oil biohydrogenation by solid associated bacteria: An in vitro study. Italian Journal of Animal Science 13, 604–608.
Moujahed N, Ben Mustapha C and Kayouli C 2005. Effect of maturity stage on chemical composition , in sacco degradation and in vitro fermentation of acorns (Quercus coccifera L .). Options Méditerranéennes 67, 413–417.
Papachristou TG and Nastis AS 1996. Influence of deciduous broadleaved woody species in goat nutrition during the dry season in northern Greece. Small Ruminant Research 20, 15–22.
Patra AK and Saxena J 2011. Exploitation of dietary tannins to improve rumen metabolism and ruminant nutrition. Journal of the Science of Food and Agriculture 91, 24–37.
Prinz JF and Lucas PW 2008. Saliva tannin interactions. Journal of Oral Rehabilitation 27, 991–994.
Rababah TM, Ereifej KI, Al-mahasneh MA and Alhamad MN 2008. The physicochemical composition of acorns for two mediterranean Quercus species. 4, 131–137.
Reed JD, Soller H and Woodward A 1990. Fodder tree and straw diets for sheep: intake, growth, digestibility and the effects of phenolics on nitrogen utilisation. Animal Feed Science and Technology 30, 39–50.
Saffarzadeh A, Vincze L and Csabo J 2000. Determination of some anti-nutritional factors and metabolizable energy in Quercus branti, Pistacia atlantica and Pistacia khinjuk seeds as new poultry diets. Acta Agraria Kaposváriensis 4, 41–47.
Ben Salem H, Nefzaoui A, Makkar HPS, Hochlef H, Ben Salem I and Ben Salem L 2005. Effect of early experience and adaptation period on voluntary intake, digestion, and growth in Barbarine lambs given tannin-containing (Acacia cyanophylla Lindl. foliage) or tannin-free (oaten hay) diets. Animal Feed Science and Technology 122, 59–77.
Singh P, Biswas JC, Somvanshi R, Verma AK, Deb SM and Dey RA 1996. Performance of pashmina ( Cheghu) goats fed on oak ( Quercus semecarpifolia) leaves. Small Ruminant Research 22, 123–130.
Teferedegne B 2000. New perspectives on the use of tropical plants to improve ruminant nutrition. Proceedings of the Nutrition Society 59, 209–214.
Waghorn GC and Shelton ID 1997. Effect of condensed tannins in Lotus corniculatus on the nutritive value of pasture for sheep. Journal of Agricultural Science 128, 365–372.
Wang Y, Waghorn GC, Barry TN and Shelton ID 1994. The effect of condensed tannins in Lotus corniculatus on plasma metabolism of methionine, cystine and inorganic sulphate by sheep. British Journal of Nutrition 72, 923–935.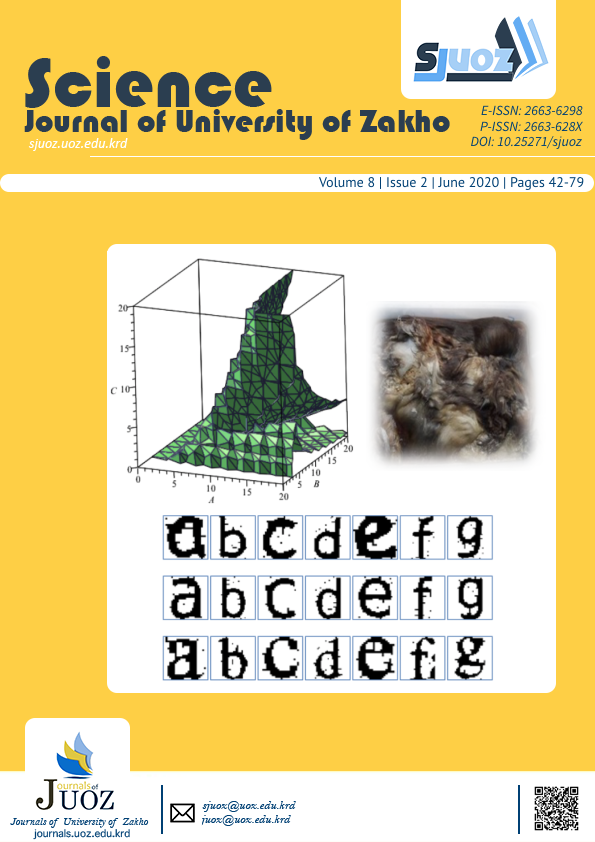 How to Cite
Hidayet, H., & Mustafa, K. (2020). Influence of Different Levels of Ground Oak (Quercus Aegilops) Acorns on Growth Performance and Some Carcass Characteristics of Awassi Lambs. Science Journal of University of Zakho, 8(2), 58-61. https://doi.org/10.25271/sjuoz.2020.8.2.711
Section
Science Journal of University of Zakho
Copyright (c) 2020 Hoger Mardan Hidayet
This work is licensed under a Creative Commons Attribution-NonCommercial-ShareAlike 4.0 International License.
Authors who publish with this journal agree to the following terms:
Authors retain copyright and grant the journal right of first publication with the work simultaneously licensed under a Creative Commons Attribution License [CC BY-NC-SA 4.0] that allows others to share the work with an acknowledgment of the work's authorship and initial publication in this journal.
Authors are able to enter into separate, additional contractual arrangements for the non-exclusive distribution of the journal's published version of the work, with an acknowledgment of its initial publication in this journal.
Authors are permitted and encouraged to post their work online.