Impact of Nuts Consumption On Antioxidant Status and Pro-Oxidant Parameters in Healthy Human Volunteers
Omar A.M. Al-Habib

University of Zakho

Suad Y. AL-Kass

University of Duhok

Kajeen H. Jasim

University of Zakho
Keywords:
Anti-oxidants, Pro-oxidants, Human volunteers, Almond, Pistachio
Abstract
The aim of the current research was to study the effect of consumption of a mixture of almond and pistachio on antioxidants and pro-oxidants levels in healthy human volunteers.  This dietary intervention study was carried out during the period from February to March, 2013 on a total of 48 apparently healthy males students from Military Academy / Zakho, Kurdistan Region- Iraq. Blood samples were withdrawn from all volunteer who were living in a controlled environment and analyzed for the determination of serum antioxidants, pro-oxidants. Parameters were obtained at baseline, 3 and 6 weeks after daily consumption of 50 gm. of a mixture of almond and pistachio.
The results of the current study demonstrated that daily consumption of 50 g of   almond and pistachio mixture for 3-6 weeks, significantly increased (P<0.05-0.005) the levels of total antioxidant, Ceruloplasmin, Superoxide dismutase and Glutathione reductase. On the other hand, the levels of the pro-oxidants Malonaldehyde and Peroxy- nitrite were significantly decreased (P<0.005) after 6 weeks of nuts consumption compared to the control. From this dietary intervention trial, it can be concluded that almonds and pistachio mixture improved anti-oxidants and pro-oxidants status compared with those of the healthy volunteers.
References
Baer D,Gebauer S, Novotny J. (2012): Measured energy value of pistachios in the human diet. Br J Nutr, 107(1): 120-125.
Canales A, Benedi J, Nus M, Librelotto J, Sanchez-Montero J, Sanchez-Muniz F. (2007): Effect of walnut-enriched restructured meat in the antioxidant status of overweight/obese senior subjects with at least one extra CHD-risk factor. J Am Coll Nutr., 26: 225–232.
Carter S, Hofer T, Seo Y, Leeiwenburgh C. (2007): Molecular mechanisms of life and health-span extension: Role of calorie restriction and exercise intervention. Nutr. Metab, 32: 954-966.
Casas-Agustench P, López-Uriarte P , Ros E, Bulló M , Salas-Salvadó J. (2011b): Nuts, hypertension and endothelial function. Nutrition, Metabolism and Cardiovascular Diseases, 21, Supplement 1: 21-33.
Chauhan A, Chauhan V, Brown T, Cohen I. (2004): Oxidative stress in autism: Increased lipid peroxidation and reduced serum levels of ceruloplasmin and transferrin - the antioxidant proteins. Life Sciences, 75(21): 2539-2549.
Chiavaroli L.( 2010): Oxidative Stress and Risk of Cardiovascular Disease Associated with Low- and High-Monounsaturated Fat Portfolio Diets. University of Toronto, Toronto.
Christen S, Hagen T, Shigenaga K, Ames B . (1997): Chronic Infection and Inflammation Lead to Mutation and Cancer. eds. Parsonnet, J.&Horning, S. (Oxford Univ. Press, Oxford), in press.
Couillard C, Pomerleau S, Ruel G , Archer R, Bergeron J, Couture P, Lamarche B, Bergeron N (2006): Associations between hypertriglyceridemia, dietary fat intake, oxidative stress, and endothelial activation in men. Nutrition 22(6): 600-608.
Griel AE, Kris-Etherton PM(2006). Tree nuts and the lipid profile: a review of clinical studies. Br J Nutr;96:68S–78S.
Halliwell B. (2007): Oxidative stress and cancer: have we moved forward? . Biochem J 401: 1–11.
Huang D, Ou B, Prior L.(2005): The chemistry behind antioxidant capacity assays. J Agric Food Chem, 23;53(6): 1841-1856.
Jenkins D, Kendall C, Marchie A. (2006): Almonds decrease postprandial glycemia, insulinemia, and oxidative damage in healthy individuals. J Nutr 136(12): 2987–2992.
Jenkins D, Kendall C, Marchie A. (2008): Almonds reduce biomarkers of lipid peroxidation in older hyperlipidemic subjects. J Nutr, 138: 908–913
Kocyigit A, Koylu A , Keles H. (2006): Effects of pistachio nuts consumption on plasma lipid profile and oxidative status in healthy volunteers. Nutrition, Metabolism and Cardiovascular Diseases, 16(3): 202-209.
Kumari S. (2011): Free Radicals and Antioxidants: Human and Food System. Advances in Applied Science Research, 2(1): 129-135.
Lee M, Jung C, Hwang J, Shin M, Yu J, Lee W, Park J. (2012): Association between serum ceruloplasmin levels and arterial stiffness in Korean men with type 2 diabetes mellitus. Diabetes Technol Ther. , 14(12): 1091-1097.
López-Uriarte P, Nogués R, Saez G, Bulló M, Romeu M, Masana L, Tormos C, Casas-Agustench P, Salas-Salvadó J.(2010): Effect of nut consumption on oxidative stress and the endothelial function in metabolic syndrome. Clinical Nutrition, 29(3): 373-380.
McBride L. (2011): Almond Consumption And Weight Loss In Obese And Overweight Adults. Ph. D. Thesis. ARIZONA STATE UNIVERSITY
Megan K, Marijka B, Hassan O, Paul P, Danielle R, Robards K. (2009): Zero effect of multiple dosage of olive leaf supplements on urinary biomarkers of oxidative stress in healthy humans. Nutrition Bytes, 25: 270–280.
Naito Y, Lee M, Kato Y, Nagai R, Yonei Y. (2010): Oxidative Stress Markers. Anti-Aging Medicine, 7(5): 36-44.
Ravindra P , Shashwat S, Suman K. (2004): Free Radicals and Oxidative Stress in Neurodegenerative Diseases: Relevance of Dietary Antioxidants. JIACM, 5(3): 218-225.
Richard M, Kris-Etherton P, Gary D. , Foster.(2008): Impact of Peanuts and Tree Nuts on Body Weight and Healthy Weight Loss in Adults. The Journal of Nutrition, 138: 1741S– 1745S,.
Salas-Salvadó J , Martinez-González M , Bulló M, Ros E. (2011): The role of diet in the prevention of type 2 diabetes. Nutrition, Metabolism and Cardiovascular Diseases, 21, Supplement 2: 32-48.
Sari I, Baltaci Y, Bagci C, Davutoglu V, Erel O, Celik H, Ozer O, Aksoy N., Aksoy M. (2010): Effect of pistachio diet on lipid parameters, endothelial function, inflammation, and oxidative status: A prospective study. Nutrition, 26(4): 399-404.
Shimizu k, Ogawa F , Muroi E, Hara T, Komura K , S.-J. Bae and S. Sato.(2007): Increased serum levels of nitrotyrosine, a marker for peroxynitrite production, in systemic sclerosis. Clinical and Experimental Rheumatology. 25: p. 281-286.
Soliman G. (2012): Effect of nuts (pistachio or almonds) consumption on lipid profile of hyperchlolesterolemic rats. Asian Journal of Pharmaceutical and Clinical Research, 5(4): 47-53.
Srinath S. (2003): Effects of Walnuts on Serum Cholesterol Levels in People with Normo- or Hyperlipidemia. Nutrition Bytes, 9(2).
Teresinha A, Bruno A, Antonia C, Juliana D, Jenifer S, Marc R, Ferraz A. (2011): Antioxidant properties and chemical composition of technical Cashew Nut Shell Liquid (tCNSL). Food Chemistry, 126: 1044–1048.
Tomaino A, Martorana M, Arcoraci T, Monteleone D, Giovinazzo C, Saija A.( 2010): Antioxidant activity and phenolic profile of pistachio (Pistacia vera L., variety Bronte) seeds and skins. Biochimie, 92(9): 1115-1122.
Torabian S, Haddad E, Rajaram S, Banta J, Sabate J. (2009): Effect of nut consumption on plasma total polyphenols, antioxidant capacity and lipid peroxidation. . J Hum Nutr Diet 22: 64-71.
Tsantili E, Konstantinidis K, Christopoulos M,Roussos B.(2011): Total phenolics and flavonoids and total antioxidant capacity in pistachio (Pistachia vera L.) nuts in relation to cultivars and storage conditions. Scientia Horticulturae, 129(4): 694-701.
Ulku K, Tugba R, Cemil C, Meryem I, Celik T, Karabulut A. (2009): Serum Malondialdehyde, glutathione and nitric oxide levels in patients infected with Entamoeba coli. International Journal of Medicine and Medical Sciences, 1(5): 235-237.
Vadivel V, Kunyanga C, Biesalski H.(2012): Health benefits of nut consumption with special reference to body weight control. Nutrition, 28(11–12): 1089-1097.
Wang X, Li Z, Liu Y, Lv X, Yang W. (2012): Effects of pistachios on body weight in Chinese subjects with metabolic syndrome. Nutrition Journal, 11(20): 1-6.
Wang P, Zweier J. (1996): Measurement of nitric oxide and peroxynitrite generation in the postischemic heart. Evidence for peroxynitrite-mediated reperfusion injury. J Biol Chem 271: 29223–29230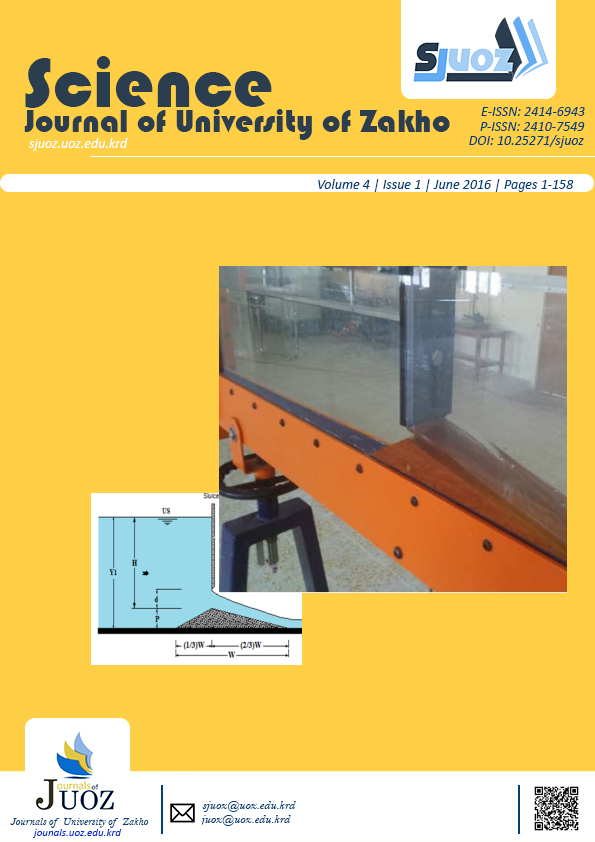 How to Cite
Al-Habib, O., AL-Kass, S., & Jasim, K. (2016). Impact of Nuts Consumption On Antioxidant Status and Pro-Oxidant Parameters in Healthy Human Volunteers. Science Journal of University of Zakho, 4(1), 9-17. Retrieved from https://sjuoz.uoz.edu.krd/index.php/sjuoz/article/view/299
Section
Science Journal of University of Zakho
Authors who publish with this journal agree to the following terms:
Authors retain copyright and grant the journal right of first publication with the work simultaneously licensed under a Creative Commons Attribution License [CC BY-NC-SA 4.0] that allows others to share the work with an acknowledgment of the work's authorship and initial publication in this journal.
Authors are able to enter into separate, additional contractual arrangements for the non-exclusive distribution of the journal's published version of the work, with an acknowledgment of its initial publication in this journal.
Authors are permitted and encouraged to post their work online.