Neurotoxicity of Uranyl Acetate in Male Rats
Falah M. Aziz

University of Salahaddin

Nadhum J. Ismael

University of Salahaddin
Keywords:
Cerebellum, Cerebrum, Purkinje cells, uranyl acetate
Abstract
The present investigation included the neurotoxic effect of different doses of uranyl acetate in male rats. Routine light and electron microscopic techniques were used in this study. The histological studies of cerebellum and cerebrum showed a significant increase of died and decrease of healthy pyramidal cells in the 3rd layer of cerebrum and Purkinje cells in the cerebellum. This may indicate the passage of uranium across the blood brain barrier or disruption of this barrier due to uranium exposure..
References
Abdel-Rahman M., andZeki TZ, (1992). Cytotoxic action of malathion on renal and hepatic tissues of mice.J.Egypt.Germ.Soc.Zool.8B:105-114.
Abou-Donia M.,Dechkovskia A. M.,GolsteinL.B.,Shah D.U.,Bullman S.L., and Khan W.A. (2002):Uranyl acetate-induced sensorimotor deficit and increased nitric oxide generation in the central nervous system in rats, Pharmacology,Biochemistry Behavior,72:881-890
Bancroft JD, Stevens A, and Dawson IMS. (1977):Theory and Practice of Histological Techniques. Edinburgh, London, New York. Churchill- Livingstone.
Barber DS,Ehrich MF, and Jortner BS.(2005):The effect of stress on the temporal and regional distribution of uranium in rat brain after acute uranium acetate exposure.Toxicol.Environ.HealthA.68(2):99-111.
BellesM.,AlbinaM.L.,LinaresV.,GomezM.,Sanchez D.J., and Domingo J. (2005): Combined action of uranium and stress in the rat I.Behavioral H effects, Toxicology Letters,158:176-185
Bogdan C. (2001):Nitric oxide and the regulation of gene expression. Trends Cell Bio.(11):66-75
Briner W., and Murray J. (2005):Effects of short-term and long-term depleted uranium exposure on open-field behavioral and brain lipid oxidation in rats,Neurotoxicol. and Teratol.27:135-144.
Carriere M,Gouget B.,Gallien J.,Avoscan L.,Gobin R.,Verbavatz J. and Khodja H. (2005):Cellular distribution of uranium after acute exposure of renal epithelial cells:SEM,TEM and nuclear microscopy analysis.Nuclear Instrument and Methods in Physics Res.Sec.B.231(1-4):268- 72.
Carriere M.,AvoscanL.,CollinsR.,Carrot F.,Khodja H.,Ansoborio E., and Gouget B. (2004):Influence of uranium speciation on normal rat kidney (NRK-52E) proximal cell cytotoxicity,Chem Res Toxicol.17(3):446- 452.
Craft E.S.,Abu-Qare A.W.,Flahert M.M.,Garofolo M.C., and Rincavage H.L.(2004): Abou-DoniaM.B.Depleted and natural uranium :Chemistry and toxicological effects.J. Toxicolo. Environ. Health. Part B.7:297-317
Gagnaire B, Cavalie I, Camilleri V, and Adam-Guillermin C. (2013): Effects of depleted uranium on oxidative stress, detoxification, and defence parameters of zebrafishDaniorerio. Arch Environ ContamToxicol. 64(1):140-50.
GobbelGT,Chan TYY, and Chan PK, (1997):Nitric oxide- and superoxide-mediated toxicity in cerebral endothelial cells.J.Pharmacol Exp. Ther.,282:1600-1607.
Halliwell B. (1992):Reactive oxygen species and central nervous system.J. Neurochem.(59):1609-1623.
Kurttio P.,Komulainen H.,Leino A., Salonen L., Auvinen A., and Saha H. (2005): Bone as a possible target of chemical toxicity of natural uranium in drinking water.Environ.Health prospect,113(1):68-72.
Lemercier V.,Millot X.,Ansoborio E.,MenetrierF.Flury-Herard A.,RousselleCh.,andScherrmann J.M. (2003):Study of uranium transfer across the blood-brain barrier.Radiat. Protect. Dosim. 105:243-245.
Lerebours A, Bourdineaud JP, van der Ven K, Vandenbrouck T, Gonzalez P, CamilleriV, Floriani M, Garnier-Laplace J, and Adam-Guillermin C.(2010): Sublethaleffects of waterborne uranium exposures on the zebrafish brain: transcriptional responses and alterations of the olfactory bulb ultrastructure. Environ Sci Technol. 15;44(4):1438-43.
LestaevelHoupert P.,Bussy C.,Dhieux B.,GoumelonP.,andPaquet F. (2005:The brain is atarget organ after acute exposure to depleted uraniumToxicol. 212(2-3):219-226
Li WB.,RothP.,Wahl W.,Oeh U.,Hollriegl V., and Paretzke Hg(2005):Biokineticmodeling of uranium in man after injection and ingestion,RadiatEnviron. Biophysic,44(1)29-40.
Murray VSG,BailelMR,Spratt BG. (2002): Depleted uranium:a new battlefield hazard.Lancet360:31-32.
OzmenM.,andYurekli M. (1998):Subacute toxicity of uranyl acetate in Swiss-Albino mice.Environ. Toxicol.Pharma.6:111-115.
PaquetF.,HoupertP,BlanchardonE,DelissenO,MaubertC,Dhieux B, MoreelsAM,Frelon S, and Gourmelon P. (2006): Accumulation and distribution of uranium in rats after chronic exposure by ingestion, Health physics, 90(2)139-147.
PatollkaJ,KassaJ,StilltinaR,Safr G, and Havei J. (2004):Toxicological aspects of depleted uranium, J App.Biomed.2:37-42.
PellmarTC,FuciarelliAF,EjnikJW,HamiltonM,HoganJ,Strocko S, EmondC,Monttaz HM, and Landauer MR. (1999):Distribution of uranium in rats implanted with depleted uranium pellets.Toxicol Sci.(49):29-39.
Schaich K.M. (1992):Metals and lipid oxidation.Contemporaryissues,Lipids 27(3):209-218.
SquadritoGL., and Pryor WA. (1998):Oxidative chemistry of nitric oxide:the roles of superoxide,peroxyntrite,carbondioxide.Free Rad. Biol.Med, 25:392-403.
Veeramachaneni, D. N. R., Moeller, C. L., Pickett, B. W., Shiner, K. A., and Sawyer, H. R. (1993):On processing and evaluation of equine seminal samples for cytopathology and fertility assessment: The utility of electron microscopy. J. Equine Vet. Sci.13, 207–215.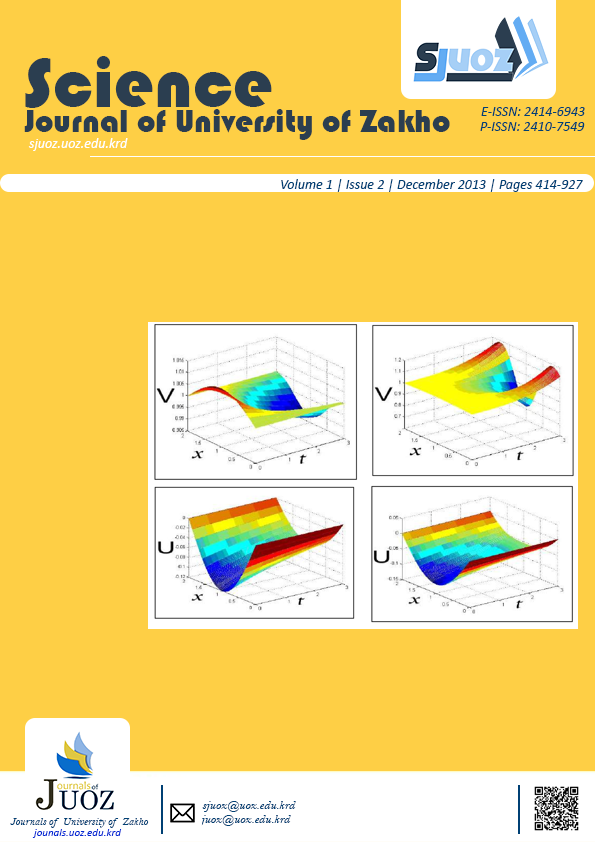 How to Cite
Aziz, F., & Ismael, N. (2013). Neurotoxicity of Uranyl Acetate in Male Rats. Science Journal of University of Zakho, 1(2), 437-443. Retrieved from https://sjuoz.uoz.edu.krd/index.php/sjuoz/article/view/174
Section
Science Journal of University of Zakho
Authors who publish with this journal agree to the following terms:
Authors retain copyright and grant the journal right of first publication with the work simultaneously licensed under a Creative Commons Attribution License [CC BY-NC-SA 4.0] that allows others to share the work with an acknowledgment of the work's authorship and initial publication in this journal.
Authors are able to enter into separate, additional contractual arrangements for the non-exclusive distribution of the journal's published version of the work, with an acknowledgment of its initial publication in this journal.
Authors are permitted and encouraged to post their work online.