Soil Recolonization by Saprophytic Fungi after Solarization and Soil Amendments
Wazeer A. Hassan

University of Duhok

ASMER A. YOUSIF

University of Duhok
Keywords:
Solarization, Soil amendments, Soil borne fungi, Fungicides, Thermophilic fungi
Abstract
The effects of solarisation using clear, UV stabilized , 25 µm low density polyethylene mulching combined with soil amendment of  chicken manures 12 th-1 , mixed fungicides of Metalaxyl 2 g- Benlate  1.5 g L-1 , Biocontrol agent of Trichoderma harzianum (T.h.) and NPK fertilizer 180 Kg h-1,  were ascertained during summer 2008 for counting the total population density of thermotolerant soil fungi Aspergillus niger, A. terreus, Rhizopus sp., Penicillium spp., and Ttrichoderma harzianum ( T.h )  colonized in solarized soil amendments after mulching removal and repeated at 60 days intervals until may 2009. Population of these saprophytes was initially depressed to 8.19 and 4.29×103 cfu/gm soil after 45 and 60 of mulching removal compared to 13.64 ×103 in non-solarized soil, with the most greatly reduction after application mixed of Metalaxyl & Benlate., the highest population density of the above fungi 20.07 cfu×103 was observed in non-mulching chicken manure ( CM ) plots. After 6 – 8 months a total counts of these fungi were significantly reinforced in the solarized amended soil even in plots treated with mixture of both   fungicides. Detection of  pine damping off disease in non-solarized control plots was 83.33% with severity of 60%.  Solar heating alone reduced the disease occurrence to 45 - 53.33% and severity to 10.42 - 11.67%. However, (CM), (Met.& Ben.) fungicide, and biocontrol agent of T.h. after along solarization (60 days) controlled soilborne disease to a lesser extent than other treatments. The effectiveness of these applications combined with solarization after 60 days on the disease infection were 29.17, 20, 15, and 28.33% ,respectively. Finally, in growth chamber, application of CM and T.h. increased the quantitative composition of cfu soil fungi to 7.34 and 5×103 in spite of inoculating with pathogenic propagules of Fusarium proliferatum , Macrophominaphaseolina, and Rhizoctonia solani and the share of these pathogens in the both soil amendments were 13.89 and 30.9% respectively.
References
Abdullah, M.M.F.; El-hadad, S.A. and Satour, M.M. (1998). Improving vegetable transplants using soil solarization . Proceeding 7th conference ofagricultural Cairo, Egypt, 15-17 Dec. 1998, special Issue 3:817-829.
Bottross, S.E.; El-Assiuty, E.M.;Zeinab, M.; Fahmi and Abd El-Rahman, T.M. (2000). Long-term effects of soil solarization on density levels of soil-borne fungi and stalk rot incidence in sorghum. Egypt. J. Agric. Res. 78(2):275-283.
Brown, J.E.; Patterson, M. G. and Osborn, M. C. (1989). Effect of clear plastic solarization and chicken manure on weeds. Proc. Natl. Agric. Olast. Congr. 21:76-79.
Cartia, G. and Di Primo, P. (2004). The control of vegetable soil-borne pests by solarization. International workshop: The Production in the Greenhouse after the Era of the Methyl Bromide. Comiso, Italy, 1-3 April 2004.
Chen, Y.; Gamliel, A.; Stapleton, J.J. and Aviad, T.(1991). Chemical, physical and microbial changes related to plant growth in disinfected soils. In: Soil solarization(eds.) Katan ,J.; De Vay, J.E. CRC Press,. Boca Raton, USA. P.103-29.
Cook, R. J. and Baker, K. F. (1983). The nature and practice of biological control of plant pathogens. The Amer. Phytopathol.Soc.538pp.
Davis, J. R. (1991). Soil solarization: pathogen and disease control and increases in crop yield and quality: short- and long-term effects and integrated control. In Soil Solurizution. Eds Katan, J. and DeVay, J. E. CRC Press, Boca Raton, USA, pp. 39-50.
Drinkwater, L. E.; Wagoner, P.; and Sarandon, M. (1998). Legume – based cropping systems have reduced carbon and nitrogen losses. Nature 396: 262 – 265.
Gamliel, A. and Katan, J. (1991). Involement of fluorescent pseudomonas and other microorganisms in increased growth response of plants in solarized soils. Phytopath. 81 : 494 – 502 .
Gamliel, A. and Katan, J. (1993). Improvement of growth and yield of Gypsaphila paniculata by solarization or fumigation of soil or container medium in continuous cropping systems. Plant Dis. 77:886-891.
Gamliel, A. and Stapleton, J.J. (1993a). Characterization of anti fungal volatile compounds evolved from solarized soil amended with cabbage residues. Phytopathol. 83: 899 – 905.
Gamliel, A. and Stapleton, J.J. (1993b). Effect of soil amendment with chicken compost or ammonium phosphate and solarization on pathogen control rhizosphere microorganisms and lettuce growth. Plant Dis. 177: 886 – 91.
Gristein, A. and Ausher, R. (1991). Soil solarization in Israel. F. Eds. J. Katan and J. De Vay. P. 193-204. CRC Press, Boca Roton, FL.
Gur, A.; Luzzati, J. and Katan, J. (1998). Alternatives for soil fumigation in combating apple replant disease. Acta Horticulturae 477: 107 – 133.
Hoitink, H. A. J. and Boehn, M. J. (1999). Biocontrol within the context of soil microbial communities: A substrate dependent phenomenon. Annu. Rev. Phytopathol. 37: 427 – 446.
Israel, S.; Mawar, R. and Lodha, S. (2005). Soil solarization, amendments and bio-control agents for the control of Macrophomina phaseolina, Fusarium proliferatumand F. oxysporum f.sp. cumini in aridisols. Annals of Applied Biology 146:481-491.
Katan, J. (1998). Soil Solarization : Integrated control aspect. In Pathogens. Ed. R. Hall. P. 250 – 278. APS Press, St. Paul, MN.
Keinath, A. P. (1995). Reductions in inoculum density of Rhizoctonia solani and control of belly rot of pickling cucumber with solarization. Plant Dis. 79:1213-1219
Kuter, G. A.; Hoitink, H. A. J. and Chen, W. (1988). Effect of municipal sludge compost curing time on suppression of Phythium and Rhizoctonia diseases of ornamental plants. Plant Dis. 72: 751 -756
Larkin, R. P.; Honeycutt, C. W. and Griffin, T. S. (2006). Effect of swine and dairy manure amendments on microbial communities in three soils as influenced by environmental conditions. Biol. Fertil. Soils 43: 51-61.
Loannou, N. and Poullis, C.A. (1990). Evolution of soil solarization for control of Fusarium wilt of watermelon. Technical Bulletin No-121. Agricultural Research institute, Nicosia Cyprus.
Lockwood, J. L. (1988). Evolution of concepts associated with soilborne plant pathogens. Annu. Rev. Phytopathol. 26: 93 – 121.
Lodha, S. and Solanki, K. R. (1992). Influence of solar heating on the control of Macrophomina phaseolina and weeds in arid environment. Indian Journal of Agricultural Scinces 62:838-843.
McGovern, R. J.; McSorley. R.; and Bell, M. L. (2002). Reduction of landscape pathogens in florida by soil solarization. Plant Dis. 86: 1388 – 1395.
Papavizas, G. G. (1985). Trichoderma and Gliocladium: Biology, ecology and potential for biocontrol. Annu. Rev. Phytopathol. 23: 23 – 54.
Pullman, G. S.; De Vay , J. E.; Garber, R. H. and Weinhold, A. R. (1981). Soil solarization: effects on verticillium wilt of cotton and soil-borne populations of Verticillium dahliae, Pythium spp., Rhizoctonia solani, and Thielaviopsis basicola. Phytopathol. 71: 954 – 959.
Quarles, W. and Grossmann, J. (1995). Alternative to methyl bromide in nurseries-Disease suppressive media. The IPM practitioner 17(8):1-13.
Ramirez – Villapudua, J. and Munnecke, D.M. (1988). Control of cabbage yellows (Fusarium oxysporum f.sp. conglutinans) by solar heating of fields amended with dry cabbage residues. Plant Dis. 71 : 217 – 21.
Sogut, A.S.and Elekcioglu, H.E. (2007). Methyl Bromide alternatives for controlling Miloidogyne icognita in pepper cultivars in the eastern Mediterranean region of Turkey.Turk. Agric. For.31:31-40.
Spedding, T. A.; Hamel, C.; Mehugs, G. R. and Madramootoo, C. A. (2004). Soil microbial dynamics in maize- growing soil under different tillage and residue management systems. Soil Biol. Biochem. 36: 499-512.
Stapleton , J.J. and De Vay, I.E. (1984). Thermal components of soil solarization are related to charge in soil and root microflora and increased plant growth response. Phytopathol. 74 : 255 – 259.
Stapleton, J.J. (1998). Modes of action of solarization and biofumigation in: Stapleton J.J., Devay J.E., Elmore C.L. (eds). 1998 soil solarization and integrated management of soil bornepests plant production and protection paper 147 . Rome : FAO, VN. P78 – 88.
Stapleton. J.J. (2000). Soil solarization in various agriculture production system .Crop protect 19:837-41.
Strandberg, J.O. (1987). The effect of flooding on plant pathogen population. P. 41-56 in:Agricultural flooding of organic soils. Bull. 870-Agric.Exp.Stn.Inst. Food Agric.Sci. G.H. Snyder, ed. University of florida , Gainesville.
Tilston, E.L.; Pitt, D. and Groenhof, A.C. (2002). Composted recycled organic matter suppresses soilb-orne diseases of field crops. New Phytologist 154: 731-740.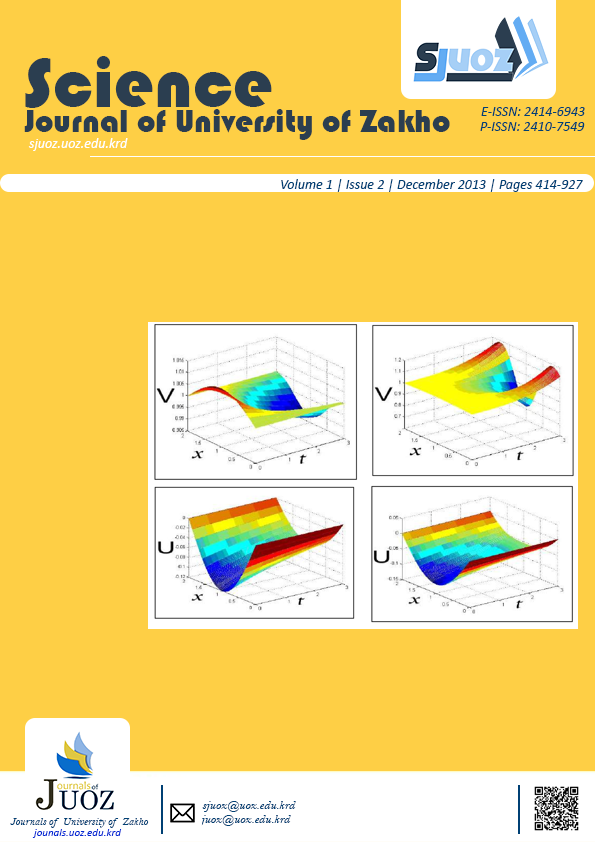 How to Cite
Hassan, W., & YOUSIF, A. (2013). Soil Recolonization by Saprophytic Fungi after Solarization and Soil Amendments. Science Journal of University of Zakho, 1(2), 427-436. Retrieved from https://sjuoz.uoz.edu.krd/index.php/sjuoz/article/view/167
Section
Science Journal of University of Zakho
Authors who publish with this journal agree to the following terms:
Authors retain copyright and grant the journal right of first publication with the work simultaneously licensed under a Creative Commons Attribution License [CC BY-NC-SA 4.0] that allows others to share the work with an acknowledgment of the work's authorship and initial publication in this journal.
Authors are able to enter into separate, additional contractual arrangements for the non-exclusive distribution of the journal's published version of the work, with an acknowledgment of its initial publication in this journal.
Authors are permitted and encouraged to post their work online.