Dactylogyrus Scrjabinensis (Monogenea: Dactylogyride): First Occurrence on The Gills of Capoeta Trutta From Iraq
Younis S. Abdullah

Sulaimani Polytechnique University

Shamall Mohammad Amin A. Abdullah

University of Salahaddin
Keywords:
Dactylogyrus scrjabinensis, Capoeta trutta, Sirwan river, Iraq
Abstract
The momogenean Dactylogyrus scrjabinensis Osmanov, 1958 was identified on the gills of the cyprinid fish Capoeta trutta (Heckel, 1843) from Sirwan river, southeast of Sulaimani governorate, Kurdistan region, during the period from April to August 2014, in the present study for the first time in Iraq. The full details of description and measurements of this parasite are given. The prevalence and intensity of infection were 3.94% and 3.66 respectively.
References
Ali, N. M., Al-Jafery A. R. and Abdul-Ameer K. N. (1986). New records of three monogenetic trematodes on some freshwater fishes from Diyala river, Iraq, J. Biol. Sci. Res., 17(2): 253-266.

Barzinji, K. T. M. (2013). Classification of watersheds in Sulaimaniyah governorate based on database of some morphometric characteristics. IJPAES. 3 (2): 203-221

Bykhovskaya-Pavlovskaya, I. E., A. V. Gusev, M. N. Dubinia, N. A. Izyumova, T. S. Smirnova, I. L. Sokolovskaya, G. A. Shtein, S. S. Shul'man, and V. M. Epshtein, (1962) Key to parasites of freshwater fish of the U. S. S. R, Akad. Nauk, S. S. S. R., Moscow, (In Russian).

Coad, B.W. (2010). Freshwater fishes of Iraq. Pensoft Publ., Moscow: 274pp. + 16pls.

Gibson, D. I.; Timofaeva T. A. and Gerasev P. I. (1996). A catalogue of the nominal species of the monogenean genus Dactylogyrus Diesing, 1850 and their host genera. Syst. Parasitol., 35: 3-48.

Gussev, A.V.; Ali, N.M.; Abdul-Ameer, K.N.; Amin, S.M. & Molnár, K. (1993). New and known species of Dactylogyrus Diesing, 1850 (Monogenea, Dactylogyridae) from cyprinid fishes of the river Tigris, Iraq. Syst. Parasitol., 25: 229-237.

Harris P. D. (1988). Changes in the site specificity of G. turnbulli Harris, 1986 (Monogenea) during infection of individual guppies (Poecilia reticulate Peters, 1859). Canadian J. Zool. , 66:2854-2857.
Hoffman, G. L. (1967). Parasites of North American freshwater fishes. Univ. of California Press, Bekeley.

Kritsky, D. C.; Panndey, K. C.; Agrawal, N. and Abdullah, S. M. A. (2004). Monogenoids from the gills of spiny eels (Teleostei: Mastacembelidae) in India and Iraq, proposal of Mastacembelocleidus gen. n., and status of the Indian species of Actinocleidus, Urocleidus and Haplocleidus (Monogenoidea: Dactylogyridae). Folia Parasitol., 51: 291-298.

Margolis, L. and Kabata Z. (1984). Guide to the parasites of fishes of Canada Part I. National Printers Press,(Ottawa) Canada Inc, 209 Pp.

Mhaisen, F. T. (2014). Index-catalogue of parasites and disease agents of fishes of Iraq. Unpuble. (Personal communication).

Neary, E. T., Develi N. and Özgül G. (2012). Occurrence of Dactylogyrus species (Platyhelminths, Monogenean) on Cyprinids in Almus Dam Lake, Turkey. Turkish Journal of Fisheries and Aquatic Sciences, 12: 15-21 (2012)

Pugachev, O.N.; Gerasev, P.I.; Gussev, A.V.; Ergens, R. and Khotenowsky, I. (2010). Guide to monogenoidea of freshwater fish of Palaeartic and Amur regions. Ledizioni Ledipublishing, Milano: 567pp.

Raissy, M. and Ansari, M. (2012). Parasites of some freshwater fish from Armand river, chaharmahal va Bakhtyari province, Iran. Iranian J. Parasitol., 7(1): 73-79.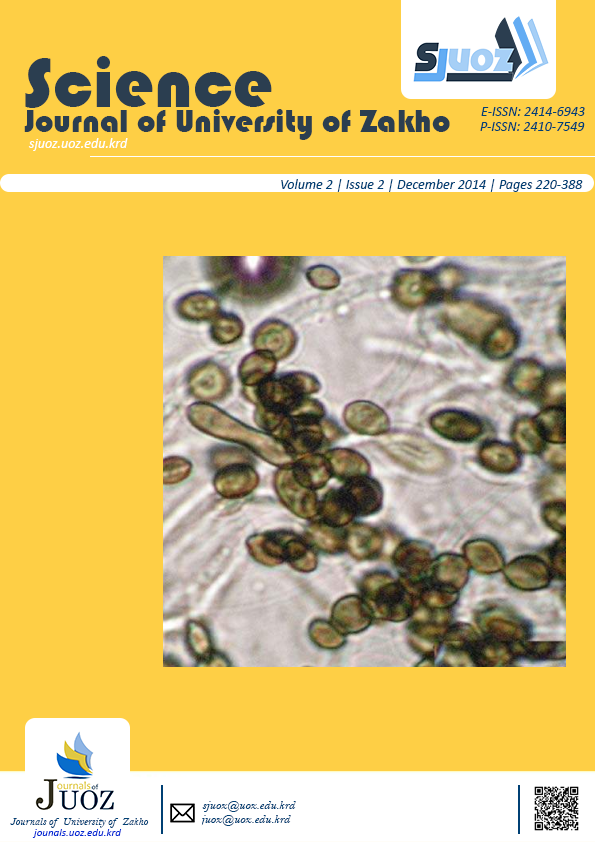 How to Cite
Abdullah, Y., & Abdullah, S. (2014). Dactylogyrus Scrjabinensis (Monogenea: Dactylogyride): First Occurrence on The Gills of Capoeta Trutta From Iraq. Science Journal of University of Zakho, 2(2), 299-303. Retrieved from https://sjuoz.uoz.edu.krd/index.php/sjuoz/article/view/230
Section
Science Journal of University of Zakho
Authors who publish with this journal agree to the following terms:
Authors retain copyright and grant the journal right of first publication with the work simultaneously licensed under a Creative Commons Attribution License [CC BY-NC-SA 4.0] that allows others to share the work with an acknowledgment of the work's authorship and initial publication in this journal.
Authors are able to enter into separate, additional contractual arrangements for the non-exclusive distribution of the journal's published version of the work, with an acknowledgment of its initial publication in this journal.
Authors are permitted and encouraged to post their work online.