Identification of Potato Virus Y (Pvy) and Its Economic Importance on Potato Crop
Nabeel A. Kassim

University of Mosul

Zulaykha A. Abduljalil Nerway

University of Duhok

Kurdistan H. Yousif

University of Duhok
Keywords:
Date of Infection, Potato, PVY, Vegetative growth and Yield Characters
Abstract
This study was conducted to estimate disease incidence of potato virus Y (PVY) in Duhok Province/ Kurdistan Region/ Iraq and to investigate its effects on the growth and morphology of potato plant and its productivity. High rates of occurrence of viral symptoms in the surveyed field were recorded. The mainly included symptoms were mild to severe yellowing, mottling, necrosis, stunting and malformation of potato plants. The effect of the virus on potato crop was studied using Vegetative growth and yield characters of healthy, current season and tuber borne PVY infected plants. There is differentiation between the growth of the current season, tuber borne PVY-infected and the virus free potato plant. Results showed that infection by PVY leads to reduce many physiological functions of above and underground parts of host plant like size of leaf area, chlorophyll percentage, number of tubers, tuber weight and total yield of a plant. Depending on the results, because of reducing physiological functions of above ground part of potato plant (leaf area and chlorophyll percentage), the number and the weight of tuber decreased, so the productivity of the plant decreased.
References
Adrijana Majić, Milan Poljak, Ana Sabljo, Zrinka Knezović, Tea Horvat (2008). Efficiency of use of chlorophyll meter and cardy-ion meter in potato nitrogen nutrition supply. Alps- Adria Scientific Workshop, Stara lesna, Slovakia. General research communication. 36, 1431-1434.
Al-Sameae, M.S. (2000). Identification of ordinary strain of potato virus Y (PVYO) and effect of some treatments in its inhibition in potato tissue culture, Ph.D. Thesis. College of Agriculture, Baghdad University, (In Arabic).
Biswas, M.K., De, B.K. and Nath, P.S. (2005). Rate of spread of PVX, PVY and PLRV diseases to potato varieties. Ann. Pl. Protect. Sci., 13, 165-178.
Bn Sultan, M.M. (1996). Effect of soil content of moisture, salinity and pacloputrazol, (pp333) on vegetative growth, flowering and mineral content of tomato (Lycopersicon esculentum) plant, Early person cv. MSc. Thesis, College of Agriculture and Forestry, University of Mosul. Ministry of Higher Education and Scientific Research, Republic of Iraq, (In Arabic).
Boiteau, G., Singh, M., Singh, R.P., Tai, G.C.C., Turner, T.R. (1998). Rate of spread of PVY(n) by a late Myzus persicae (Sulzer) from infected to healthy plants under laboratory conditions. Potato Research, 41, 335-344.
Chatzivassiliou, E.K., Moschos, E., Gazi, S., Koutretsis, P., and Tsoukaki, M. (2008). Infection of potato crops and seeds with Potato virus Y and Potato leafroll virus in Greece. J. Pl. Path., 90, 253-261.
Chia, T.F., and He, J. (1999). Photosynthesis capacity in Oncidium (Orchidaceae) plants after virus eradication. Environmental and Experimental Botany, 42, 11-16.
Fargette, D., Fauquet, C., and Thouvenel, J.C. (1988). Yield losses induced by African cassava mosaic virus in relation to the mode and the date of infection. Tropical Pest Management, 34, 89-91.
Hamm, P.B., and Hane, D.C. (1999). Effects of seedborne potato virus Y infection in two potato cultivars expressing mild disease symptoms. Plant Dis. 83, 43-45.
Hooks, C.R.R., Wright, M.G., Kabasawa, D.S., Manandhar, R., and Almeida, R.P.P. (2008). Effect of banana bunchy top virus infection on morphology and growth characteristics of banana. Ann Appl Biol Journal compilation, 1-9.
Jakab-Ilyefalvi, D.P. (2008). Chlorophyll Content Quantification In Acclimated "In Vitro" Plum Plants (Prunus domestica, L.). Annals of RSCB, XVI, 55-61.
Jones, R., Kumar, S., and Alison, M. (2003). Potato Virus Y, Factsheet, Department of Agriculture, Government of Western Australia.
Kassim, N.A., and Mohammad, E.K. (2002). Diagnosis study and survey of potato virus Y in Ninevah Province. Iraq. J. Agric. Sci., 3, 110-115, (In Arabic).
Kassim, N.A., and Younis, N.T. (2003). Study of resources of viruses caused mosaic on pepper and their effect on productivity in Ninevah province. Iraq. J. Agric. Sci., 4, 12-19, (In Arabic).
Koenig, R., Lesemann, D.E., Adam, G., and Winter, S. (2008). Diagnostic Techniques: Plant Viruses, In: Brian W. J. Mahy and Marc H. V. van Regenmortel. (Ed.) Encyclopedia of Virology (3rd ed.). Oxford: Academic Press, 2860 pp.
Mattlob, A.N., Sultan, E., and Abdul, K.S. (1989). Vegetable production (Part two). Dar Al-Kutub publication, Mosul University, Iraq (In Arabic),
Miteva, E., Hristova, D., Nenova, V., and Maneva, S. (2005). Arsenic as a factor affecting virus infection in tomato plants: changes in plant growth, peroxidase activity and chloroplast pigments. Scientific Horticulture, 105, 343-358.
Nagib, A., Hossain, S.A., Alam, M.F., Hossain, M.M., Islam, R., and Sultana, R.S. (2003). Virus free potato tuber seed production through meristem culture in tropical Asia, As. J. Pl. Sci., 2, 616-622.
Nascimento, L.C., Pio-Riberio, G., Willadino, L., and Andrade, G.P. (2003). Stock indexing and Potato Virus Y elimination from potato plants cultivated in vitro. Scientia Agricola, 60, 525-530.
Nie, B., Singh, M., Murphy, A., Sullivan, A., Xie, C., and Nie, X. (2012). Response of potato cultivars to five isolates belonging to four strains of Potato virus Y. Plant Dis., 96, 1422-1429.
Posada, D., and Crandall, K.A. (2001). Evaluation of methods for detecting recombination from DNA sequences, computer simulations. Proc. Natl. Acad. Sci. USA, 98, 13757–13762.
United Nations Food and Agricultural Organisation (2009). The potato. International Year of the Potato 2008. 46pp.
Robert, Y., Trefor Woodford, J.A., and Ducray-Bourdin, D.G. (2000). Some epidemiological approaches to the control of aphid-borne virus diseases in seed potato crop in Northern Europe. Virus Res., 71, 33-47.
Rolot, J.L. and Seutin, H. (1999). Soilless production of potato minitubers using a hydroponic technique. Potato Res., 42: 457-469
Sławomir, W. (2010). The retention of PVY in the stylet of Myzus persicae Sulz. after the application of mineral oil on potato plants. Plant Breeding and Seed Science, 60, 3-12.
Warren, M., Krüger, K., and Schoeman, A.S. (2005). Potato virus Y (PVY) and potato leaf roll virus (PLRV), Literature review for potatoes South Africa. Department of Zoology and Entomology, Faculty of Natural and Agricultural Sciences, University of Pretoria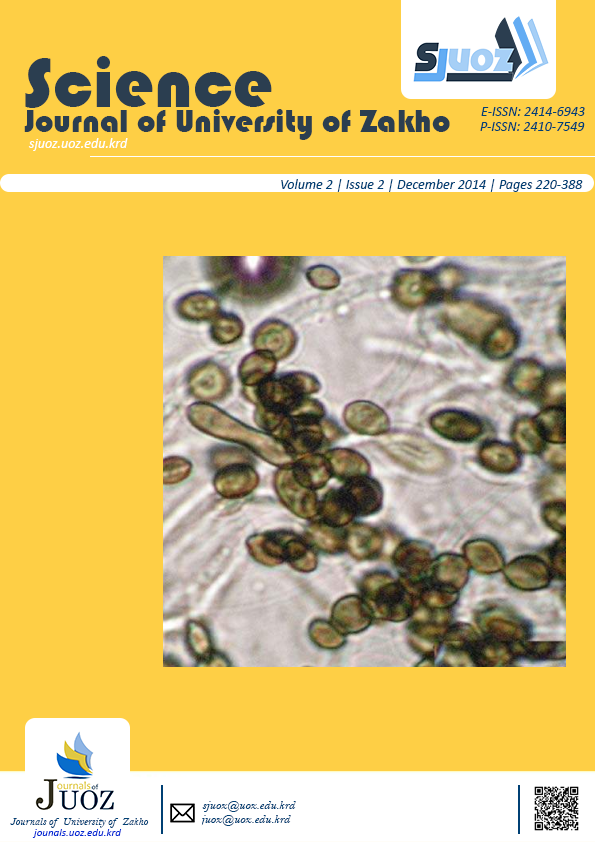 How to Cite
Kassim, N., Abduljalil Nerway, Z., & Yousif, K. (2014). Identification of Potato Virus Y (Pvy) and Its Economic Importance on Potato Crop. Science Journal of University of Zakho, 2(2), 304-309. Retrieved from https://sjuoz.uoz.edu.krd/index.php/sjuoz/article/view/234
Section
Science Journal of University of Zakho
Authors who publish with this journal agree to the following terms:
Authors retain copyright and grant the journal right of first publication with the work simultaneously licensed under a Creative Commons Attribution License [CC BY-NC-SA 4.0] that allows others to share the work with an acknowledgment of the work's authorship and initial publication in this journal.
Authors are able to enter into separate, additional contractual arrangements for the non-exclusive distribution of the journal's published version of the work, with an acknowledgment of its initial publication in this journal.
Authors are permitted and encouraged to post their work online.