Detection and Localization of Latent Membrane Protein and Matrix Metalloproteinase-9 In Patients With Transitional Cell Carcinoma (Tcc) of The Bladder
Areej A. Hussein

University of Diyala

Jasim M. Karhoof

University of Baghdad

Alaa G. Hussein

University of Al-Nahrain
Keywords:
Urinary bladder transitional cell carcinomas, Epstein Barr virus, Latent membrane protein-1Latent membrane protein-1, Matrix metalloproteinase-9, Carcinogenesis
Abstract
Background: Transitional Cell Carcinomas (TCC) of the urinary bladder constituted a major health problem and can be a leading cause of death. Recently some studies link viral infection with bladder carcinoma as an important etiological factor. There are several proteolytic enzymes which are responsible for the degradation of the extra cellular components and have an essential role in tumor invasion and metastasis such as Matrix metalloproteinase-9 (MMP-9).
Objective: To investigated the correlation between latent membrane protein-1(LMP-1) and MMP-9 with tumorgenesis of transitional cell carcinoma of bladder. 
Materials and methods: Fifty formalin fixed, paraffin embedded tissues with TCC of the bladder from Specialized Surgical Hospital in Baghdad were included in this study. In addition, ten healthy individual samples exposed to same procedure were considered as control group. Tissue blocks were sectioned on charged slides and used for the detection of LMP-1 and MMP-9.
Results: Latent membrane protein-1 localized by Immunohistochemistry (IHC) within the nuclei of cancer cell was detected in 22 cases (44%). While MMP-9 was detected in 32 cases (64 %) during used in situ hybridization (ISH). Statistical analysis was found significant differences between expressions of LMP-1, MMP-9 in TCC of the bladder.
Conclusion: The results of the present study suggested that EBV and MMP-9 may play an important role in tumor sections of TCC of the bladder or could facilitate its progression. Histopathological, epidemiological and molecular studies are necessary to confirm our observation in Iraqi populations.
References
Abe T, Nobuo S, Mitsuhiro T, Toru H, Ataru S, Satoru Maruyama TM, Kenzo T and Katsuya N: Infiltration of Epstein-Barr virus harboring lymphocytes occurs in a large subset of bladder cancers. Int J Urol 2008; 15: 429-434.
Blancato J, Singh B, Liao DJ and Dickson RB: Correlation of amplification and over expression of the c-myc oncogen in high-grade breast cancer, FISH, in situ hybridization and Immunohistochemical analysis. Brit J Cancer 2004; 90: 1612-1619.
Chuang CK and Liao SK: Epstein-Barr virus infection in urothelial transitional cell carcinoma tissues. BJU Int 2004; 93: 495-8.
Clifford GM, Smith S, Aguado T, Franceschi S: Comparison of HPV type distribution in high-grade cervical lesions and cervical cancer a meta-analysis. Br J Cancer 2003; 89: 10.
De villiers, EM: Relationship between steroid hormone contraceptives and HPV, cervical interaepithelial neoplasia and cervical carcinoma. Int J Cancer. 2003; 103: 705.
DeVita, VT, Hellman S and Rosenberg SA: Cancer, Principles and Practice of Oncology. Philadelphia, Lippincott Williams and Wilkins 2005:1063-103.
Durkan GC, Nutt JE, Marsh C, Rajjayabun PH, Robinson MC, Neal DE, Lunec J and Mellon K: Alteration in urinary matrix metalloproteinase-9 to tissue inhibitor of metalloproteinase-1 ratio predicts recurrence in nonmuscle-invasive bladder cancer. Clin Cancer Res 2003; 9: 2576-2582.
Eissa S, Ali-Labib R, Swellam M, Bassiony M, Tash F and El-Zayat TM: Noninvasive diagnosis of bladder cancer by detection of matrix metalloproteinase (MMP-2 and MMP-9) and their inhibitor (TIMP-2) in urine. Eur Urol 2007; 52: 1388-1396.
Epstein JI, Amin MB and Reuter VR: The World Health Organization/ International Society of Urological Pathology consensus classification of urothelial neoplasms of the urinary bladder. Bladder Consensus Conference Committee. Am J Surg Pathol 1998; 22(12): 1435-1448.
Gazzaniga P, Vercillo R, Gardilone A, Silvestri I, Gandimi O, Napolitano M, Giuliani L, Fioravanti A, Gallucci M and Agliano AM: Prevalence of papillomavirus, Epstein-Barr virus, cytomegalovirus, and herpes simplex virus type 2 in urinary bladder cancer. J Med Virol 1998; 55(4): 262-267.
Grignon DJ, Sakr W, Toth M, Ravery V, Angulo J, Shamsa F, Pontes JE, Crissman J and Fridman R: High levels of tissue inhibitor of metalloproteinases-2 (TIMP-2) expression are associated with poor outcome in invasive bladder cancer. Cancer Res 1996; 56:1654-1659.
Guan KP, Ye HY, Yan Z, Wang Y and Hou SK: Serum levels of endostatain and matrix metalloproteinase-9 associated with high stage and grade primary transitional cell carcinoma of the bladder. Urology 2003; 61: 719-723.
Iurlaro M, Loverro G, Vacca A, Cormioo G, Ribatti D, Minischetti M, Ria R, Bruno M and Selvaggi L: Angiogenesis extent expression of matrix metalloproteinase-2 and -9 correlate with up grading and myometrial invasion in endometrial carcinoma. Eur J Clin Invest 1999; 29: 793-801.
Kanayama H: Matrix Metalloproteinases and bladder cancer. J Med Invest 2001; 48: 31-43.
Kraggerud SM, Jacobsen KD, Berner A, Stokke T, Holm R, Smedshammar L, Borresen-Dala AL and Fossa SD: A comparison of different modes of the detection of p53 protein accumulation; a study of bladder cancer. Pathol Res Pract 1997; 193: 471-478.
Mao, C, Hughes JP and Kiviat N: Clinical findings among young women with genital human papillomavirus infection. Am J Obstet Gynecol. 2003; 188: 677.
Mohammed AM, Abde Hady AA, Wael YM and Nadia IZ: Matrix metalloproteinase-9 and tissue inhibitor matrix metalloproteinase-2 as prognostic indicators for metastatic bladder cancer. CMB7 2000: 1433-1443.
Monier F, Mollier S, Guillot M, Rambeaud JJ, Morel F and Zaoui P: Urinary release of 72 and 92kDa gelatinases, TIMPs, N-Gal and conventional prognostic factors in urothelial carcinomas. Eur Urol 2002; 42: 356-363.
Özemir E, Kakehi Y, Okuno H and Yoshida O: Role of matrix metalloproteinase-9 in the basement membrane destruction of superficial urothelial carcinomas. J Urol 1999; 161:1359-1363.
Papathoma AS, Petraki C, Grigorakis A, Papakonstantinou H, Karavana V, Stefanakis S et al.: Prognostic significance of matrix metalloproteinases 2 and 9 in bladder cancer. Anticancer Res 2000: 2009-2013.
Ravanti L and Kahari V: Matrix Metalloproteinases in wound repair. Int J Mol Med 2000; 6: 391-407
Sutinen M, Kainulainen T, Hurskainen T et al.: Expression of matrix metalloproteinases (MMP-1 and -2) and their inhibitors (TIMP-1, -2 and -3) in oral lichen planus, dysplasia, squamous cell carcinoma and lymph node metastasis. Br J Cancer 1998; 77: 2239-2245.
Takeshita H, Tomokazu Y, William EM, Hiroshi S, Mitsuru F, Joseph SP and Nancy R: Matrix Metalloproteinase-9 Expression Is Induced by Epstein-Barr Virus Latent Membrane Protein-1 C-Terminal Activation Regions 1 and 2. J of Virol 1999; 73(7): 5548-5555.
Thornhill C Epstein Barr virus implicated in bladder cancer progression. Int J Urol 2008; 15: 429-434.
Tracey, EA, Baker D, Chen W and Stavrou E: Bishop J. Cancer in New South Wales: Incidence and Mortality.2005. Sydney: Cancer Institute NSW; 2007.
Vokes E and Liebowitz DN: Nasopharyngeal carcinoma, Lancet.1997; 350, Issue 9084,1087-1091.
Williams, SG, Buscarini M and Stein JP: Molecular markers for Diagnosis, staging and prognosis of bladder cancer. Oncology. 2001; 15(11): 1461-1484.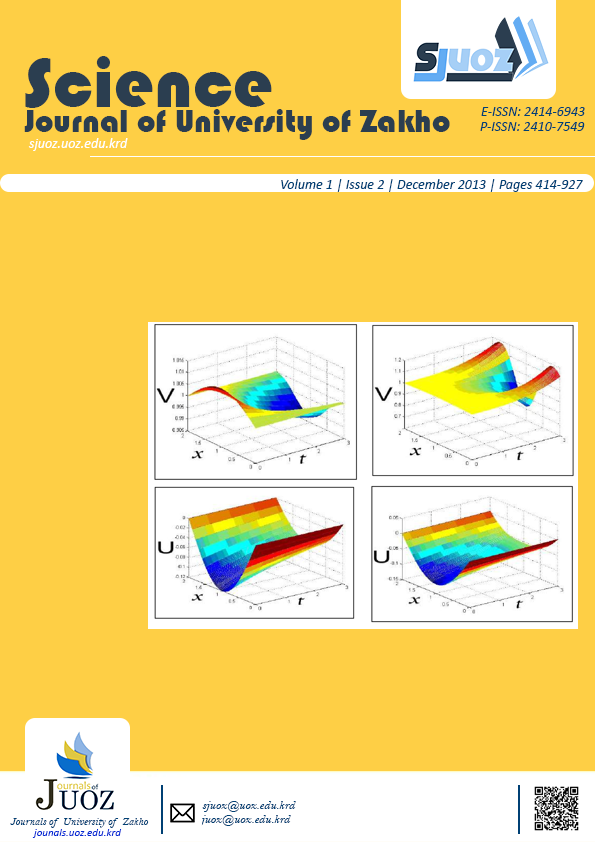 How to Cite
Hussein, A., Karhoof, J., & Hussein, A. (2013). Detection and Localization of Latent Membrane Protein and Matrix Metalloproteinase-9 In Patients With Transitional Cell Carcinoma (Tcc) of The Bladder. Science Journal of University of Zakho, 1(2), 515-524. Retrieved from https://sjuoz.uoz.edu.krd/index.php/sjuoz/article/view/259
Section
Science Journal of University of Zakho
Authors who publish with this journal agree to the following terms:
Authors retain copyright and grant the journal right of first publication with the work simultaneously licensed under a Creative Commons Attribution License [CC BY-NC-SA 4.0] that allows others to share the work with an acknowledgment of the work's authorship and initial publication in this journal.
Authors are able to enter into separate, additional contractual arrangements for the non-exclusive distribution of the journal's published version of the work, with an acknowledgment of its initial publication in this journal.
Authors are permitted and encouraged to post their work online.