Documentation Some Mammals in Iraqi Kurdistan Region
Mukhtar Kh Haba

University of Baghdad
Keywords:
wild mammals, mammal's signs
Abstract
More than 20 site have been selected in three provinces Sulaymaniya, Erbil and Duhok in kurdistan to study wild mammals with winter trip within Key Biodiversity Area (KBA) project concerned on other animals as will as mammals,which funded by Nature Iraq Organization. KBA team depended on mammals signs were left after them like Tracks, scats, and dens as well as animals have been pictured. The team recorded the occurrence of some mammals within studied area.
References
Allouse,B.E.Bibliography on the vertebrate fauna of the Iraq and Neighbouring countries.1.mammals.IraqNat.Hist.Mus.Pup. pps.29.(Cited by Harrison,1964).

Al-Sheikhly, O.F. (2012). The hunting of endangered mammals in Iraq. Wildlife Middle East. (6):2-3:10.

Bate D.M.A., 1930. Animal Remains from Dark Cave,Hazar Merd. Bull. Amer. School Prehist. Res. 6: 38–41.

Brown, R ;M,J.Laurence, and J.Pope.(1984). The larousse guide tocck Animal tracks,Trail,and Signs. New York: Larousse Co.

Cheesman,R.E.Report on the mammals of Mesopotamia, collected by Members of Mesopotamian Expeditionary Force 1915-1919.J.Bombay.Nat.Hist.Soc.27:323-346.(Cited by Harrison,1964).

Coskun ,Y; Ausame , N ; Alaettin , K and Zohair , I .(2012).Karyotype of Nanospalax ehrenbergi in Mosul province , Iraq .Hystrix,The Italian Journal Of Mammology . Vol 23(2) : 72-75 .

Harrison D,L.(1956).Mammals from Kurdistan ,Iraq,with Description of a New Bat .Journal of Mammology , Vol.37,No.2,pp,257-263.
Harrison, D.L. (1968). Mammals of Arabia. Carnivora. Artiodactyla Hydrcoidea. Vol. II. Ernest Benn,Ltd. London.

Harrison, D.L., Bates, P.J.J. (1991). The mammals of Arabia. Second edition. Harrison Zoological Museum, Tonbridge, UK.

Hatt, R. T. (1959). The mammals of Iraq. Misc. Pub .Mus. Zool. Univ. Michigan No. 106.pp.113.

Important Bird Area , Aglobal Currency for Bird Conservation, National audubon Society.

Joolaee, L ; Mehdi Ansari and Taher Ghadirian.(2012). First record of Honey badger Mellivora capensis from province , Iran. Small Carnivore Conservation.Vol 47 : 77-78 .

Mahdi & George (1969) Systematic List of Iraqi Vertebrates. Iraq natural History Museum Publication 26: 34-63.

Miller,G.T.( 2000 ). Living in the environment Principles,Connections, And solutions . Eleven Edition.Brooks/Cole publication Company.USA.

Musser G., Carleton M., 2005. Superfamily Muroidea. In:Wilson D.E., Reeder D.M. (Eds.). Mammal Species of the world: A taxonomic and geographic reference, 3rdedition. Baltimore, The Johns Hopkins University Press,894–1531.

Murie O. G.and Elbroch M. (2005).A Field Guide To Animal Tracks. (Third Edition).Houghton Mifflin Company, Boston, New York.

Omer, S.A., Wronski, T., Al Wash, A., Elamin, M.H., Mohammed, O.B., Lerp, H. (in press).Evidence for persistence and a major range extension of the smooth-coated Otter, Lutrogale perspicillata maxwelli (Mustelidae, Carnivora) in Iraq. Folia Zoologica.

Stockes D.W and Stockes L.Q.(1986).A Guide to Animal Tracking and Behavior.Little Brown and Company,Boston,New York,Toronto, London.

http://kurdishtree.blogspot.com/2007/11/what-would-grren-belt-do.html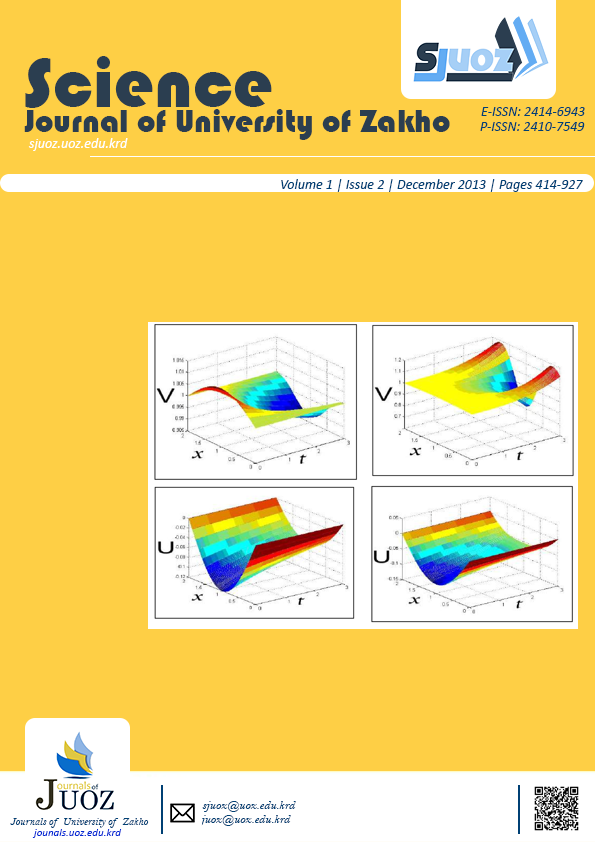 How to Cite
Haba, M. (2013). Documentation Some Mammals in Iraqi Kurdistan Region. Science Journal of University of Zakho, 1(2), 549-555. Retrieved from https://sjuoz.uoz.edu.krd/index.php/sjuoz/article/view/265
Section
Science Journal of University of Zakho
Authors who publish with this journal agree to the following terms:
Authors retain copyright and grant the journal right of first publication with the work simultaneously licensed under a Creative Commons Attribution License [CC BY-NC-SA 4.0] that allows others to share the work with an acknowledgment of the work's authorship and initial publication in this journal.
Authors are able to enter into separate, additional contractual arrangements for the non-exclusive distribution of the journal's published version of the work, with an acknowledgment of its initial publication in this journal.
Authors are permitted and encouraged to post their work online.