Association of Class I Human Leukocyte Antigen in Iraqi Patients with Hodgkin's Lymphoma
Ruqaya M. Al-Barzinji

Hawler Medical University
Keywords:
Class I human leukocyte antigen, Hodgkin's lymphoma
Abstract
Objective:-
To assess the correlation between human leukocytes antigen class I in Iraqi patients with Hodgkin's lymphoma.
Subject and Methods:-
 A study was conducted in period between the June 2003 and November, 2004. Study groups included 80 newly diagnosed Hodgkin's lymphoma patients and two control groups, patient controls which include 50 newly diagnosed by Non Hodgkin's lymphoma and 50 healthy controls. Antibody-Mediated complement dependent cytotoxicity assay was done by treating sample of patient's lymphocytes with a panel of anti- human leukocyte antigen antisera and complement.
Results:-
The frequency expression of human leukocyte antigen- A1, A28, B5, B51 and Cw7 was significantly greater in Hodgkin's lymphoma patients compared to healthy control group  with    (p <0.001) for human leukocyte antigen- A1, A28 and Cw7 and (p <0.01) for B5 and B51. 
Conclusion:-  
Human leukocyte antigen- A1, A28, B5, B51 and Cw7 are more related with Hodgkin's lymphoma in Iraqi population that reflects allelic association to Hodgkin's lymphoma.
References
role of Epstein -Barr virus; www. update. 2002; Vol 10; No2.
Amiel J; Study of the leukocyte phenotypes in Hodgkin's disease In: Terasali P I, Histocompatibility testing; Copenhagen, Denmark; Munksgaard; 1967: 79-81.
Bawazir AA; A viable data on cancer in the South-eastern cancer in the south- eastern governorate of Yemen; Eastern Mediterranean Health J. 1998; 4(1): 107-12.
Bender K; The HLA system; 2end ed. Biotest Bulletin. 1984; 2(2): 64-116.
Chakravorti A, Hallorau SL and Bale SJ; Etiologic heterogeneity in Hodgkin's disease: HLA linked and unlinked determinants of susceptibility independent of histological concordance; Genet Epedemiol. 1986; 3(6): 407-415.
Conte R, Lauria F and Zucchelli P; HLA in familial Hodgkin's disease; J Immunogenet. 1983; 10: 251-255.
Derek C, Simon B and Gianni B; Hodgkin's disease in adults: In Michal P; Herbert P and Umberto V; Oxford Text book of Oncology; 1995; Vol 2: 1720-1756.
Dick H, Kissmerger F and Nielsen F; Histocompatibility techniques North- Holland. Biochemical press. Amsterdam. New York. Oxford. 1979: 1-37.
Dorak MT and Hons BA; Statistical analysis in HLA and disease association studies; Workshop at BSHI 2002 meeting.
Ezzata A, Raja M and Michaels D; Frequency distribution of 2836 adult, cancer cases referred to king Faisal specialist Hospital and Research Center; Ann Saudi Med. 1996; 16: 152-8.
Fogdell A, Hillert J and Sachs S; The multiple sclerosis and macrolepsy associated HLA class II Haplotype; Tissue Antigen. 1998; 46: 333.
Glaser SL and Jarrett RF; The epidemiology of Hodgkin's disease; Bailliers Elin Tlaematol. 1996; 9: 401-416.
Green MH, Mekeen EZ, Li FP, Blattner WA and Fraumeni JF; HLA antigens in familial Hodgkin's disease; Intr J Cancer. 1979; 23: 777-780.
Hafez M, EL-Tahan H and El-Morsy; Genetic susceptibility in Hodgkin's lymphoma; In Muller, Weber(eds). Familial Cancer first Int. Res Conf. 1985. Basel: 175.
Hors J and Dausset J; HLA and susceptibility to Hodgkin's disease; Immunol Rev. 1983; 70: 167-92.
Hyde RM; Immunology; Lippincott Williams and Wikins, Battimore, USA. 2000: 78-186.
Jarrett RF; Risk factors for Hodgkin's lymphoma by Epstein-Barr virus status and significance of detection of EBV genomes in serum of patients with EBV-associated Hodgkin's lymphoma; Leuk Lymphoma. 2003; 44; 3: 27-32.
Jox A, Shugart YY, Strom SS, Nagler A and Taylor GM ;Genetic susceptibility to Hodgkin lymphoma and to secondary cancer: Workshop report; Annals of Oncology. 2002; 13: 30-33.
Ministry of Health Cancer Reg. ; Results of Iraqi cancer registry: In. 1993 ; 1996; 1999.
Mueller NE; Hodgkin's disease;. In: Schottenfeld D and Fraumeni JF; Cancer epidemiology and prevention Oxford University press, New York. 1996: 893-919.
Rabadi SJ; Cancer at Dharan Health Centers Saudi Arabia; Ann Saudi Med. 1987; 7: 288-93.
Roitt I, Brostoff J and Male D; Immunology; 5th ed. Mosby Company. Landon. Tokyo. 1998: 14-23.
Shugart YY and Collins A; Combined segregation and linkage analysis of 59 Hodgkin's disease families indicates the role of HLA determinants; Eur J Hum Genet. 2000; 8(6): 460-3.
Terasaki P and MeClelland J; Microdroplet assay of human serum cytotoxines; Nature. 1964; 204: 998-1000.
Tiwari JI and Terasaki PI; Hodgkin's disease. In HLA and disease association; Springer. New York; 1980: 314-20.
Urba W, and Longo L; Hodgkin's disease: Review article; The New England J of Med. 1992; 326(10): 678-687.
Woda BA and Rappaport H; Altert expression of histocompatibility antigens on B large cell lymphoma; 1981. Blood; 57: 4.
Xixiong K; Wang W and Buton S; Study in the association of non- Hodgkin's lymphoma with HLA; Human Immunol. 1996; 47: 27.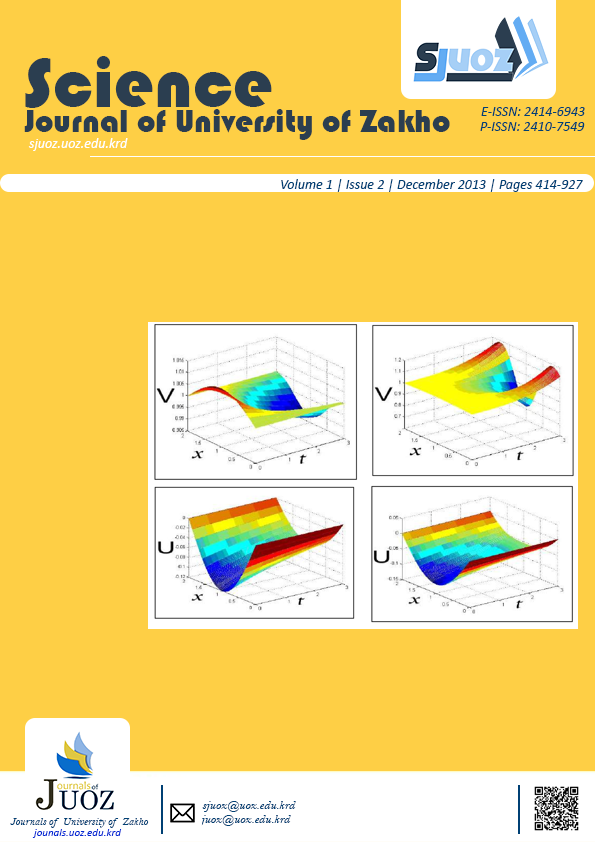 How to Cite
Al-Barzinji, R. (2013). Association of Class I Human Leukocyte Antigen in Iraqi Patients with Hodgkin's Lymphoma. Science Journal of University of Zakho, 1(2), 604-611. Retrieved from https://sjuoz.uoz.edu.krd/index.php/sjuoz/article/view/286
Section
Science Journal of University of Zakho
Authors who publish with this journal agree to the following terms:
Authors retain copyright and grant the journal right of first publication with the work simultaneously licensed under a Creative Commons Attribution License [CC BY-NC-SA 4.0] that allows others to share the work with an acknowledgment of the work's authorship and initial publication in this journal.
Authors are able to enter into separate, additional contractual arrangements for the non-exclusive distribution of the journal's published version of the work, with an acknowledgment of its initial publication in this journal.
Authors are permitted and encouraged to post their work online.