Operation Approaches on Ps-Open Sets and its Separation Axioms
Baravan A. Asaad

University of Zakho
Keywords:
P-open sets, separation axioms
Abstract
The purpose of this paper is to introduce the concept of an operation on a class of PS-open subsets of topological spaces. Using this operation, we define the concept of -open sets, and study some of their related topological properties. Furthermore, some separation axioms by utilizing the operation g on PSO(X) and the set -open have been investigated.
References
An T.V., Cuong D.X. and Maki H. (2008), On operation-preopen sets in topological spaces, Scientiae Mathematicae Japonicae Online, 68 1, 11-30, (e-2008), 241-260.
Crossley S.G. and Hildebrand S.K. (1971), Semi-closure, Texas Journal of Science, 22, 99-112.
Dontchev J. (1998), Survey on preopen sets, The Proceedings of the Yatsushiro Topological Conference, 1-18.
Khalaf A.B. and Asaad B.A. (2009), PS-open sets and PS-continuity in topological spaces, J. Duhok Univ., 12 2, 183-192.
Levine N. (1963), Semi-open sets and semi-continuity in topological spaces, Amer. Math. Monthly, 70 1, 36-41.
Maheshwari S.N. and Prasad R. (1975), Some new separation axioms, Ann. Soc. Sci. Bruxelles, Ser. I., 89, 395-402.
Mashhour A.S., Abd El-Monsef M.E. and El-Deeb S.N. (1982), On precontinuous and week precontinuous mappings, Proc. Math. Phys. Soc. Egypt, 53, 47-53.
Kasahara S. (1979), Operation compact spaces, Math. Japonica, 24 1, 97-105.
Ogata H. (1991), Operation on topological spaces and associated topology, Math. Japonica, 36 1, 175-184.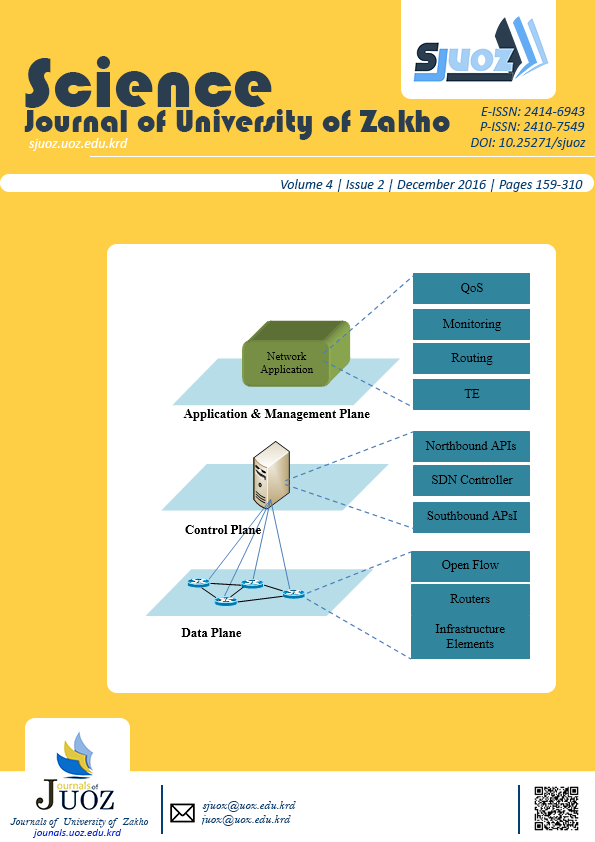 How to Cite
Asaad, B. (2016). Operation Approaches on Ps-Open Sets and its Separation Axioms. Science Journal of University of Zakho, 4(2), 236-243. Retrieved from https://sjuoz.uoz.edu.krd/index.php/sjuoz/article/view/355
Section
Science Journal of University of Zakho
Authors who publish with this journal agree to the following terms:
Authors retain copyright and grant the journal right of first publication with the work simultaneously licensed under a Creative Commons Attribution License [CC BY-NC-SA 4.0] that allows others to share the work with an acknowledgment of the work's authorship and initial publication in this journal.
Authors are able to enter into separate, additional contractual arrangements for the non-exclusive distribution of the journal's published version of the work, with an acknowledgment of its initial publication in this journal.
Authors are permitted and encouraged to post their work online.