Prevalence and Predictors of Tobacco Use Among School Adolescents in Zakho, Kurdistan Region of Iraq
Hamid S. Kachel

University of Zakho

Mohammed A. Ageed

University of Zakho

Nergiz H. Omer

University of Zakho

Mohammed I. Suleiman

University of Zakho
Keywords:
Prevalence of smoking, Kurdistan Youth Smoking Survey, Socio-demographical factors, Adolescents smoking
Abstract
Knowledge regarding the smoking prevalence among the Kurdistan general population is not clear, at least for males. Here in the Kurdistan Youth Smoking Survey and Behaviours (KYSS&B) we tried to further expand our knowledge about the smoking profile of school students across Kurdistan. Five hundred students from four Zakho male basic schools were taken to participate in the study to determine the prevalence of smoking and socio-demographical factors associating with smoking among students aged 12 to 15 years. The KYSS&B questionnaire included various parameters such as age, gender, friends, parent history and blood groups. This study showed that the prevalence of students who ever tried smoking was 74%; about 65% of them started at age 12 years or less. Although the majority of participants (95%) knew that smoking is harmful and had negative impact on human health, 18% of them thought that they will never quit smoking. The study concluded that there was no strong association between family monthly income, parent education level and blood groups. On the other hand, the three most critical factors connected with smoking habit reported by students were age, peer influence and father smoking.  
References
Aras S., Maziak W., Hammal F., Rastam S., Asfar T.,Eissenberg T., Bachir M., and Fouad M., Ward K.( 2004). Characteristics of cigarette smoking and quitting among university students in Syria. Preventive medicine, 39(2):330- 336.
Aras S., Semin S., Gunay T., Orcin E., and Ozan S. (2007). Sexual attitudes and risk-taking behaviors of high school students in Turkey. The Journal of school health, 77(7):359-366.
Barzani D. (2006). Iraq: an important start in the Kurdish region.Tobacco control, 3-4.
Brook J., Balka E., Ning Y., and Brook D. (2007). Trajectories of cigarette smoking among African Americans and Puerto Ricans from adolescence to young adulthood: associations with dependence on alcohol and illegal drugs. The American Journal on Addictions, 16(3):195-201.
Chan M. (2008). World Health Organization First report on global tobacco use & control efforts; WHO EMRO Tobacco Free Initiative; 342.
Cohen BH., and Thomas CB. (1962). Comparison of smokers and non-smokers. II. The distribution of ABO and Rh (D) blood groups. Bulletin of the Johns Hopkins Hospita, 110:1-7.
GATS. (2009). Global adult tobacco survey (GATS): Bangladesh. World Health Organization. Available at: http://www.who.int/tobacco/surveillance/fact_sheet_of_gats_bangladesh_2009.
GYTS. (2018) Global Youth Tobacco Survey (GYTS): World Health Organization. Available at: https://www.paho.org/hq/index.php?option=com_content&view=article&id=13432&Itemid=40610&lang=es
Higgins IT., Drummond RJ., Oldham PD., and Bevan B. (1963). Tobacco Smoking and Blood Group. British medical journal, 9; 2(5366): 1167–1169.
Lopez A., and Mathers C. (2006). Measuring the global burden of disease and epidemiological transitions: 2002-2030. Ann Trop Med Parasitol, 100(5-6):481-499.
O'Rourke A., and Wilson-Davis K.. (1970). Smoking and school children. Journal Royal College of General Practitioners, 20(101): 354–360.
Siziya S., Muula A., and Rudatsikira E. (2007). Correlates of current cigarette smoking among in-school adolescents in the Kurdistan region of Iraq. Conflict and health, 1-13.
Unger JB., Yan L., Shakib S., Rohrbach LA., Chen X., Qian G., Chou CP., Jianguo S., Azen S., Zheng H., and Johnson CA. (2002). Peer influences and access to cigarettes as correlates of adolescent smoking: a cross-cultural comparison of Wuhan, China, and California. Preventive medicine, 34(4):476-84.
WHO. "Tobacco Fact sheet N°339" (2014, Retrieved 9 March 2018). Available at : http://www.who.int/en/news-room/fact-sheets/detail/tobacco.
Wojtyła-Buciora P., Stawińska-Witoszyńska B., Żukiewicz-Sobczak W., Wojtyła C., Biliński P., Urbaniak M., Wojtyła A., Marcinkowski J., and Wojciechowska M. (2017). Trends in smoking among secondary school and high school students in Poland, 2009 and 2011. International journal of occupational medicine and environmental health, 30(5):763-773.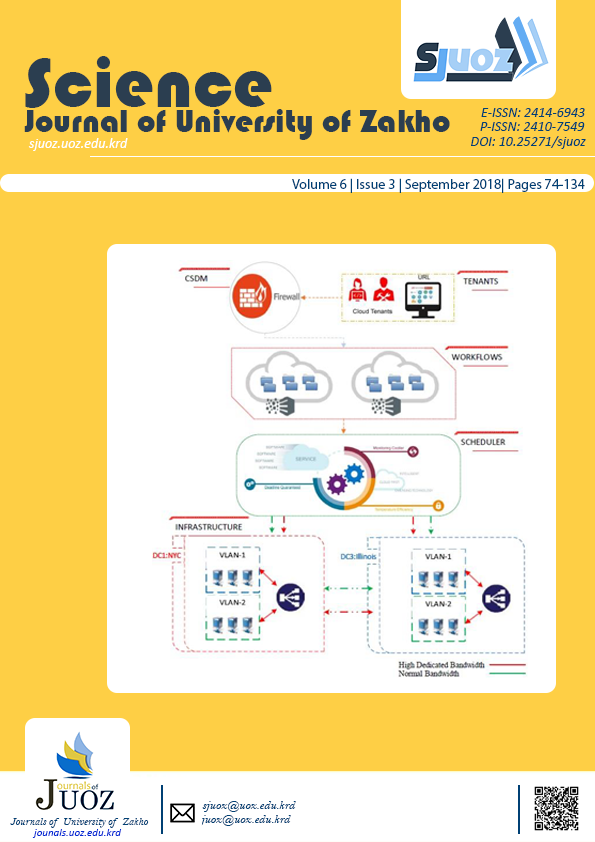 How to Cite
Kachel, H., Ageed, M., Omer, N., & Suleiman, M. (2018). Prevalence and Predictors of Tobacco Use Among School Adolescents in Zakho, Kurdistan Region of Iraq. Science Journal of University of Zakho, 6(3), 74-77. https://doi.org/10.25271/sjuoz.2018.6.3.503
Section
Science Journal of University of Zakho
Authors who publish with this journal agree to the following terms:
Authors retain copyright and grant the journal right of first publication with the work simultaneously licensed under a Creative Commons Attribution License [CC BY-NC-SA 4.0] that allows others to share the work with an acknowledgment of the work's authorship and initial publication in this journal.
Authors are able to enter into separate, additional contractual arrangements for the non-exclusive distribution of the journal's published version of the work, with an acknowledgment of its initial publication in this journal.
Authors are permitted and encouraged to post their work online.