Evaluation of Water Quality Parameters for Shatt Al-Basrah Canal in Basrah Authorities
Mudhar H. Gatea

University of Basrah

Ammar A. Dakhil

University of Basrah

Ammar S. Dawood

University of Basrah
Keywords:
Water Quality, Physicochemical parameters, Shatt Al-Basrah Canal, Basrah
Abstract
A significant increase in freshwater demand has been reported recently due to several factors such as population growth, industrialization, rising living standards and global warming effects. As a direct result of that, numerous water crises have occurred around the world especially in downstream countries such as Iraq. Due to the previous reasons, water in terms of quality and quantity considered as a first priority by the Iraqi government. This study focuses on Basrah city, which is located in the south region. The purpose of this research is evaluating the physicochemical qualities of water from the Shatt Al-Basrah Canal to evaluate its suitability to be used for domestic or industrial uses. Data gathered from two sampling stations located on the canal to measure the physicochemical characteristics of the water such as pH, Ca, Mg, PO4, Cl, SO4, DO, NO3, TDS, and EC. With this specific purpose, water samples were collected from the study area, and the water quality has been evaluated. Water samples were collected during six months period during 2013 for assessment purposes. The results of the analysis were assessed according to international water standards for drinking water. From these results of this study, it is often asserted that there is a water pollution in the Shatt Al-Basrah canal and therefore immediate protective actions need to be utilized to minimize the pollution and improve water quality.
References
[1] Ji, Zhen-Gang. "Hydrodynamics and water quality: modeling rivers, lakes, and estuaries". John Wiley & Sons, 2017.
[2] Abyaneh HZ. "Evaluation of multivariate linear regression and artificial neural networks in prediction of water quality parameters". Journal of Environmental Health Science and Engineering. 2014 Dec;12(1):40.
[3] Noori R, Karbassi A, Khakpour A, Shahbazbegian M, Badam HM, Vesali-Naseh M. "Chemometric analysis of surface water quality data: case study of the Gorganrud River Basin, Iran". Environmental Modeling & Assessment. 2012 Aug 1;17(4):411-20.
[4] Najafzadeh M, Tafarojnoruz A. "Evaluation of neuro-fuzzy GMDH-based particle swarm optimization to predict longitudinal dispersion coefficient in rivers". Environmental Earth Sciences. 2016 Jan 1;75(2):157.
[5] Haneff R, Jabir A, Safih M. "Ecological And Bacteriological Study Of Shatt Albasrah Canal." Thi Qar journal. 2014 June; 9(2): 1-16.
[6] Benedini M, Tsakiris G. "Water quality modelling for rivers and streams." Springer Science & Business Media; 2013 Feb 11.
[7] Boyd CE. Water quality: an introduction. Springer; 2015 Jul 14.
[8] Wang, Zhao-Yin, Joseph HW Lee, and Charles S. Melching. "Water quality management." River Dynamics and Integrated River Management. Springer, Berlin, Heidelberg, 2015. 555-631.
[9] Zarei H, Bilondi MP. "Factor analysis of chemical composition in the Karoon River basin, southwest of Iran." Applied Water Science. 2013 Dec 1;3(4):753-61.
[10] Elhatip H. Aksaray İlindeki Su Kaynakları ve Çevre Sorunları. "Aksaray: Aksaray Valiliği ."Çevre Koruma Vakfı. 2002.
[11] American Public Health Association. "Water Environment Federation. Standard methods for the examination of water and wastewater." 1998;22.
[12] WHO chronicle. "Guidelines for drinking-water quality, Edition F.", 2011;38(4):104-8.
[13] Samsunlu A, Akça L. "Coastal pollution and mitigation measures in Turkey". Water science and tecology. 1999 Jan 1;39(8):13-20.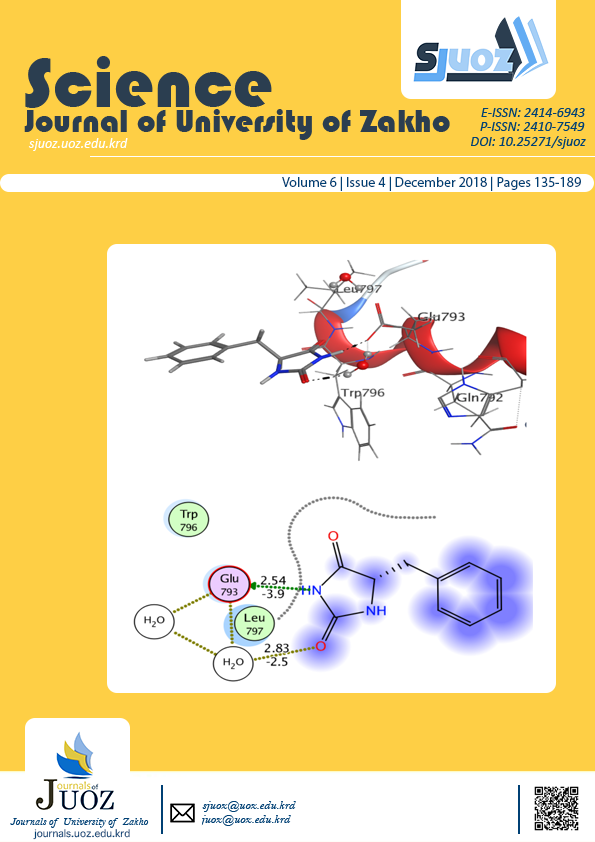 How to Cite
Gatea, M., Dakhil, A., & Dawood, A. (2018). Evaluation of Water Quality Parameters for Shatt Al-Basrah Canal in Basrah Authorities. Science Journal of University of Zakho, 6(4), 177-181. https://doi.org/10.25271/sjuoz.2018.6.4.547
Section
Science Journal of University of Zakho
Authors who publish with this journal agree to the following terms:
Authors retain copyright and grant the journal right of first publication with the work simultaneously licensed under a Creative Commons Attribution License [CC BY-NC-SA 4.0] that allows others to share the work with an acknowledgment of the work's authorship and initial publication in this journal.
Authors are able to enter into separate, additional contractual arrangements for the non-exclusive distribution of the journal's published version of the work, with an acknowledgment of its initial publication in this journal.
Authors are permitted and encouraged to post their work online.