Phenotypic and Molecular detection of Acinetobacter baumannii isolated from patients in Duhok city-Iraq
Zainab H. Abdullah

Scientific Research Center, College of Science, University of Duhok , Kurdistan Region, Iraq

Narmin S. Merza

Department of Biology, College of Science, University of Duhok, Kurdistan Region, Iraq
Keywords:
Acinetobacter Baumannii, Blaoxa-51, Polymerase Chain Reaction, 16s Rrna
Abstract
Acinetobacter baumannii (A. baumannii) is an opportunistic pathogen and one of the most importnat Multidrug resistant microorganisms responsible for a vast array of nosocomial infections. 41 (6.8 %) isolates of A.  baumannii were obtained from a total of 603 clinical samples of burn and sputum during the period from March 2018 to February 2019. Twenty two isolates (3.6%) of A. baummanni were recovered from burn infections and nineteen isolates (3.2%) from sputum specimens. Identification and characterization of these isolates was accomplished by the aid of selective media (CHROM agar Acinetobacter) and was finally confirmed by VITEK 2 identification system test. Molecular identification utilizing genus and species-specific primers to detect the 16S rRNA and blaOXA-51 was also applied.  The Antibiotic resistance testing was done by the Kirby-Bauer disc diffusion method, 24 .4% of the isolates were Multi-Drug Resistance (MDR), while 65.9% were extensive drug resistance (XDR). All isolates  were absolutely resistant (100 %) to most of the antibiotics in use: cefixime, cefotaxime, ceftriaxone, ceftazidime, piperacillin-tazobactam, amoxicillin-tazobactam, while the resistant profile for the other antibiotics can be represented as follows 98 %, 95 %, 90 %, and 83 % For both ciprofloxacin and norfloxacin, gentamycin and meropenem, amikacin, and azithromycin and imipenem, respectively. On the other hand, levofloxacin has a moderate effect on the isolates shown by 51% resistant isolates followed by doxycycline for which 39% of the isolates were resistant. Colistin was the only antimicrobial agent that has an intense effect as the majority of the isolates were sensitive. All the selected isolates of A. baumannii were successfuly produced band corresponded to the intended genes. Accurate and early detection of such bacteria is essential for stimulates effective treatment specifically in intensive care units. Molecular techniques have been successfully applied with high specificity using 16S rRNA and blaOXA-51-like gene as a simple and reliable method to differentiate  A. baumannii strains.
References
Asadollahi P, Akbari M, Soroush S, Taherikalani M, Asadollahi K, Sayehmiri K, Maleki A, Maleki MH, Karimi P, Emaneini M. (2012) Antimicrobial resistance patterns and their encoding genes among Acinetobacter baumannii strains isolated from burned patients. Burns; 38(8):1198-203.
AL-Kadmy I.M.S. , Ali A.N.M. , Salman I.M.A. , and Khazaal S.S. (2018). Molecular characterization of Acinetobacter baumannii isolated from Iraqi hospital environment. New Microbes New Infect. 21: 51–57.
AL-Masoudi Khitam K., AL-Saffar Jinan M., Kendla Nuha J. (2015) Molecular Characteristics of Multidrug Resistant Acinetobacter baumannii Isolated from Baghdad Hospitals. Iraqi Journal of Science, l 56(2B): 1394-1399.
Al-Tamimi Mohammad, Hijamwi Kamal and Harvey Heather Lee(2017) Incidence and characterization of multi-drug resistance Acinetobacter baumannii, 3rd World Congress and Exhibition on Antibiotics and Antibiotic Resistance, J Drug Metab Toxicol, 8:2(Suppl).
Amudhan MS, Sekar U, Kamalanathan A, Balaraman S. (2012.) blaIMP and blaVIM mediated carbapenem resistance in Pseudomonas and Acinetobacter species in India. J Infect Dev Ctries 6:757–762.
Antunes, L. C., Visca, P., and Towner, K. J. (2014) Acinetobacter baumannii: evolution of a global pathogen. Pathogens and Disease, 71(3) 292-30.
Babaie Z, Delfani S, Rezaei F, Norolahi F, Mahdian S, Shakib P.(2019). Molecular Detection of Carbapenem Resistance in Acinetobacter baumannii Isolated From Patients in Khorramabad City, Iran. Infect Disord Drug Targets.
Balaky Salah Tofik Jalal, Abdulkhalik Haval, Hussen Bashdar M., Hassan Hozan, Mawlood Ahang Hasan(2019). Molecular Identification of Acinetobacter baumanii and Acinetobacter genomic species 13TU Using PCR, Zanco Journal of Pure and Applied Sciences, 31 (1); 17-22.
Banerjee Tuhina, Mishra Anwita, Das Arghya, Sharma Swati, Barman Hiranmay, and Yadav Ghanshyam (2018). High Prevalence and Endemicity of Multidrug Resistant Acinetobacter spp. in Intensive Care Unit of a Tertiary Care Hospital, Varanasi, India, Journal of Pathogens, Vol. 2018, pp. 1-8
Bergen, P. J., Landersdorfer, C. B., Zhang, Zhao, M., Lee, H. J., Nation, R. L., and Li, J. (2012). Pharmacokinetics and pharmacodynamics of 'old' polymyxins: what is new? Diagnostic Microbiology and Infectious Disease, 74(3), 213–223.
Cai, Y., Chai, D., Wang, R., Liang, B., and Bai, N. (2012). Colistin resistance of Acinetobacter baumannii: clinical reports, mechanisms and antimicrobial strategies. The Journal of Antimicrobial Chemotherapy, 67(7), 1607-1615.
Chim H, Tan BH, Song C.(2007) Five-year review of infections in a burn intensive care unit: High incidence of Acinetobacter baumannii in a tropical climate. Burns. 33 (8): 1008-14.
Ciftci A. Y.., Karakeca E.,Atasoy A. R., Asik G., Ciftci I H. (2015)Culture media for detection of Acinetobacter baumannii selective media for detection of Acinetobacter baumannii; Journal of microbiology and expermintation, Vol. 2, Issue (5).
Chuang YC, Sheng WH, Li SY, Lin YC, Wang JT, Chen YC, Chang SC. (2011)Influence of genospecies of Acinetobacter baumannii complex on clinical outcomes of patients with Acinetobacter bacteremia. Clin Infect Dis.; 52: 352–360. Clinical and Laboratory Standards Institute (2016) Performance Standards for Antimicrobial Susceptibility Testing: Nineteenth Informational Supplement M100-S19. Wayne, USA: CLSI. 26th ed. Pp. 66.
Coskun Umut Safiye Say, Caliskan Emel, Cicek A. C.; Turumtay H. and Sandalli Cemal (2019) lactamase genes in carbapenem resistance Acinetobacter baumannii isolates from a Turkish university hospital, J Infect Dev Ctries; 13(1):50-55.
Ecker J. A., Massire C., Hall T. A., Ranken R., . Pennella T. T., Agasino Ivy C, Blyn LB, Hofstadler SA, Endy TP, Scott PT, Lindler L, Hamilton T, Gaddy C, Snow K, Pe M, Fishbain J, Craft D, Deye G, Riddell S, Milstrey E, Petruccelli B, Brisse S, Harpin V, Schink A, Ecker DJ, Sampath R, Eshoo MW., (2006) Identification of Acinetobacter Species and Genotyping of Acinetobacter baumannii by Multilocus PCR and Mass Spectrometry, Journal Of Clinical Microbiology, 44( 8): 2921–2932.Evans B. A. and Amyesb S. G. B. (2014) OXA -Lactamases. Clin Microbiol Rev; 27(2): 241–263.Falagas ME, Rafailidis PI. (2007) Attributable mortality of Acinetobacter baumannii: no longer a controversial issue. Crit Care; 11: 134.
Forbes BA, Sahm DF, Weissfeld AS. (2007) Bailey & Scott's diagnostic microbiology. 12th ed. St Louis, MO: Mosby.
Ganjo AR, Maghdid DM, Mansoor IY, Kok DJ, Severin JA, Verbrugh HA, Kreft D, Fatah MH, Alnakshabandi AA, Dlnya A, Hammerum AM, Ng K, Goessens W. (2016).OXA-Carbapenemases Present in Clinical Acinetobacter baumannii-calcoaceticus Complex Isolates from Patients in Kurdistan Region, Iraq. Microb Drug Resist. 22(8):627-637.
Ghaima K. K., Saadedin MK. SH. And JassimA. K. (2016). Isolation, molecular identification and antimicrobial susceptibility of Acinetobacter baumannii isolated from Baghdad hospitals. International Journal of Scientific and Research Publications, 6 (5): 352.
Ghajavand H. , Esfahani B. N. , Havaei S. A. , Moghim S. , and Fazeli H. (2015). Molecular identification of Acinetobacter baumannii isolated from intensive care units and their antimicrobial resistance patterns. Adv Biomed Res. 4: 110.
Giannouli M, Cuccurullo S, Crivaro V, Popolo A, Brnarardo M, Tomasone F, Amato G, Brisse S, Triassi M, Utili R, Zarrilli R.. (2010). Molecular Epidemiology of Multidrug-Resistant Acinetobacter baumannii in a Tertiary Care Hospital in Naples, Italy, Shows the Emergence of a Novel Epidemic Clone. J Clin Microbiol. 48: 1223-1230.
Golanbar G. D. , Lam CK, Chu Y. M., Cueva C, Tan S. W., Silva I., and Xu HH.. (2011) Phenotypic and molecular characterization of Acinetobacter clinical isolates obtained from inmates of California correctional facilities. J Clin Microbiol;49:2121e31.
Gordon NC, Wareham DW. (2009) Evaluation of CHROMagar Acinetobacter for Detection of Enteric Carriage of Multidrug-Resistant Acinetobacter baumannii in Samples from Critically Ill Patients. Journal of Clinical Microbiology. 47: 2249 -2251.
Henig O, Weber G, Hoshen MB, Paul M, German L, Neuberger A Gluzman I, Berlin A, Shapira C, Balicer RD. (2015) Risk factors for and impact of carbapenem-resistant Acinetobacter baumannii colonization and infection: matched case-control study. Eur J Clin Microbiol Infect Dis. 34: 2063-8.
Howard A, O'Donoghue M, Feeney A, Sleator RD. (2012) Acinetobacter baumannii. Clin Microbiol Rev. 3:243–250.
Ibrahim Mutasim E. ( 2019) Prevalence of Acinetobacter baumannii in Saudi Arabia: risk factors, antimicrobial resistance patterns and mechanisms of carbapenem resistance. Ann Clin Microbiol Antimicrob, 18: 1.
Jafari R, Karbasizade V. (2014). Frequency and Antimicrobial Susceptibility of Acinetobacter baumannii in Burn infections in Isfahan, Iran. Advances in Bioresearch; 5 (2): 148-152.
Murray CK, Hospenthal DR. (2008) Acinetobacter infection in the ICU. Crit Care Clin. 24: 237-248.
Nageeb W., Kamel M., Zakaria S., Metwally L (2014) Phenotypic characterization of Acinetobacter baumannii isolates from intensive care units at a tertiary-care hospital in Egypt. East Mediterr Health J. 3;20(3):203-11.
Ni HB, Zhang Z, Qin HD. (2011) Protective effect of glutamine in critical patients with acute liver injury. World J Emerg Med; 2: 210–215.Sadeghi Parisa, Khosravi Azar Dokht, Shahraki Abdolrazagh Hashemi, and BeiranvMaryam (2016) Identification of clinical isolates of Acinetobacter baumannii from Iran and study of their heterogeneity. Journal of the Chinese Medical Association 79, 382e386.
Scott, P. T., K. Petersen, J. Fishbain, D. W. Craft, A. J. Ewell, K. Moran, D. C. Hack, G. A. Deye, S. Riddell, G. Christopher, J. D. Mancuso, B. P. Petruccelli, T. Endy, L. Lindler, K. Davis, E. G. Milstrey, L. Brosch, J. Pool, C. L. Blankenship, C. J. Witt, J. L. Malone, D. N. Tornberg, A. Srinivasan, and the Centers for Disease Control and Prevention. (2004). Acinetobacter baumannii infections among patients at military medical facilities treating injured U.S. service members, 2002–2004. Morbid. Mortal. Wkly. Rep. 53: 1063–1066.
Sevillano E. and Gallego (2011) Molecular techniques for detection and control of nosocomial infections caused by Acinetobacter baumannii. Science against microbial pathogens: communicating current research and technological advances, 495-503.
Shali A. (2012). Identification of multidrug – resistant genes in Acinetobacter baumannii in Sulaimani city Kurdistan regional government of Iraq. Asian Journal of Medical Sciences; 4(5): 179-183.
Turton JF, Woodford N, Glover J, Yarde S, Kaufmann ME, Pitt TL.(2006) Identification of Acinetobacter baumannii by detection of the blaOXA-51-like carbapenemase gene intrinsic to this species. J Clin Microbiol.;44(8):2974-6.
Turton JF, Ward ME, Woodford N, Kaufmann ME, Pike R, Livermore DM, Pitt TL. (2006b). The role of ISAba1 in expression of OXA carbapenemase genes in Acinetobacter baumannii. FEMS Microbiol Lett. 258(1):72–7.
Valencia, R., Arroyo, L. A., Conde, M., Torres M. J, Fernández-Cuenca F, Garnacho-Montero J, Cisneros JM, Ortíz C, Pachón J, Aznar J. (2009). Nosocomial outbreak of infection with pan-drug resistant Acinetobacter baumannii in a tertiary care university hospital. Infection Control and Hospital Epidemiology, 30(3), 257-263.
Visca P, Seifert H, Towner KJ. (2011) Acinetobacter infection--an emerging threat to human health. IUBMB Life; 63: 1048-54.
Zarrilli R, Giannouli M, Tomasone F, Triassi M, Tsakris A. (2009) Carbapenem resistance in Acinetobacter baumannii: the molecular epidemic features of an emerging problem in health care facilities. J Infect Dev Ctries. 3: 335-341.
Zeka AN, Poirel L, Sipahi OR, Bonnin RA, Arda B, Ozinel M, Ulusoy S, Bor C, Nordmann P. (2014) GES-type and OXA-23 carbapenemase-producing Acinetobacter baumannii in Turkey. J Antimicrob Chemother ;69(4):1145-6.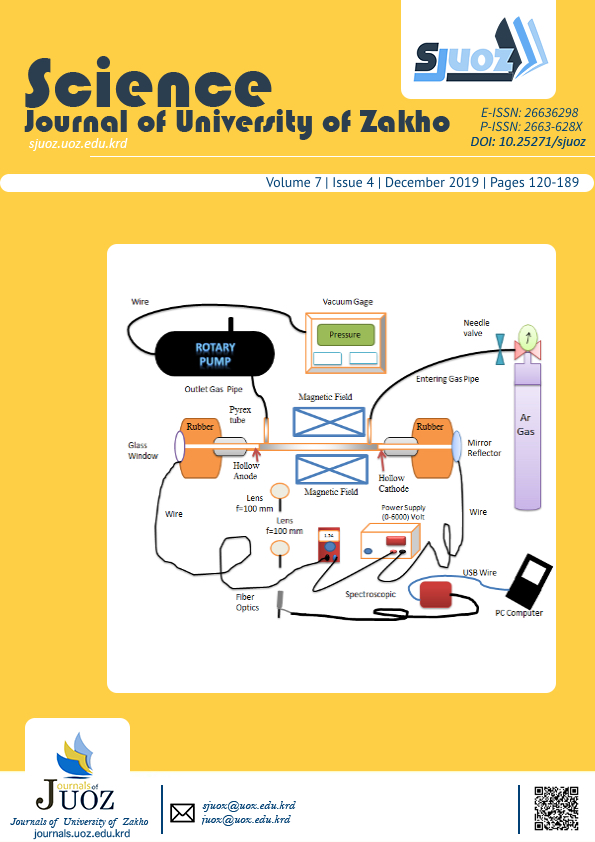 How to Cite
Abdullah, Z., & Merza, N. (2019). Phenotypic and Molecular detection of Acinetobacter baumannii isolated from patients in Duhok city-Iraq. Science Journal of University of Zakho, 7(4), 132-137. https://doi.org/10.25271/sjuoz.2019.7.4.644
Section
Science Journal of University of Zakho
Copyright (c) 2019 Zainab H. Abdullah, Narmin S. Merza
This work is licensed under a Creative Commons Attribution-NonCommercial-ShareAlike 4.0 International License.
Authors who publish with this journal agree to the following terms:
Authors retain copyright and grant the journal right of first publication with the work simultaneously licensed under a Creative Commons Attribution License [CC BY-NC-SA 4.0] that allows others to share the work with an acknowledgment of the work's authorship and initial publication in this journal.
Authors are able to enter into separate, additional contractual arrangements for the non-exclusive distribution of the journal's published version of the work, with an acknowledgment of its initial publication in this journal.
Authors are permitted and encouraged to post their work online.