Diagnosis of Toxoplasmosis in Sheep Using Serological (Elisa) and Molecular Technique in Duhok Governorate-Kurdistan Region
Farhad B. Mikaeel

University of Duhok

Jassim Abdo

University of Duhok

Lokman T. Omer

University of Duhok
Keywords:
Toxoplasmosis, Sheep, ELISA, PCR
Abstract
Toxoplasmosis is an important zoonotic diseases in human and animals. The disease caused by the protozoan Toxoplasma gondii. It  is an  economically important disease of livestock, especially sheep and goats. The present work aimed to diagnose toxoplasmosis in sheep   using two methods, serological (ELISA) and molecular tools (PCR) and comparing the serological data with the molecular results to determine the sensitivity and the specifity of the molecular tools. The study was carried out at Duhok Research Center, University of Duhok. Ninety sex whole blood samples were collected from in aborted ewes in Duhok governorate during the period September 2013- September 2014.The samples were collected from different localities including Aqra, Dohuk district, Shikhan and Zakho    The serological tests showed that22(22.91 %) of the samples were positive from examined sheep serum by ELISA, while 23(23.93%) by using PCR assay. PCR was performed on all DNA of sheep blood samples to amplify B1 gene as a target sequence. Good correlation between the results of PCR and ELISA  were detected, there's no statistically significant  difference, It can be concluded that ELISA combined with the PCR technique is a recommended tool for accurate diagnosis of Toxoplasmosis but PCR is more specific for detection of T. gondii with sensitivity of 95.45 % and specificity of 97.29%.When taking the ELISA as a reference test. The results of PCR assay showed it's important in the diagnosis of the carrier infected cases more than ELISA techniques.
References
Al-Abady, F.A., Salman, A.N., Hadi, Z.S., (2014). Diagnostic study for some causes of abortion by Enzyme Linked Fluorescent Assay (ELFA) among women in Thi-Qar governorate. Basrah Journal Science, 32(2): 231-247.
Ali Akber A., Hanna L.Y., Hussain A., Abod K., Mohammed N., Taleb S., Awad A., (2014). Seroprevalence study of toxoplasmosis in Iraq on some of ruminant animals. The Iraqi Journal of Agricultural Scirnces, 45(1): 92-98.
Al-Sanjary, R.A., Hussein, T.H., (2012). Using species-specific PCR technique to detect Toxoplasma gondii in broiler chickens. Iraqi Journal of Veterinary Science, 26(2): 53-56.
Behbehani, K., Al-Karmi , T., (1980). Epidemiology of toxoplasmosis in Kuwait. I. Detection of antibodies to Toxoplasma gondii and percentage distribution among the inhabitants. Trans. R. Soc. Trop. Med. Hyg., 74, 209–212.
Burg, J. L., Grover, C.M., Pouletty, P., Boothroyd, J.C., (1989). Direct and sensitive detection of a pathogenic protozoan, Toxoplasma gondii, by polymerase chain reaction. J. Clin. Microbiol. 27, 1787-1792.
Buxton, D., Maley, S.W., Wright, S.E., Rodger, S., Bartley, P., Innes, E.A., (2007). Toxoplasma gondii and ovine toxoplasmosis: new aspects of an old story. Vet. Parasitol., 149:25–28.
Buxton, D., and Rodger, S., (2008). Toxoplasmosis and neosporosis. In: Diseases of sheep, 4th (Aitken, ID.) edn., Wiley-Blackwell, Hoboken.
Caballero-Ortega, H., Palma, J., García-Márquez, L., Gildo-Cárdenas, A., Correa, D. (2008). Frequency and risk factors for toxoplasmosis in ovines of various regions of the State of Colima, Mexico. Parasitology, 135:1385-1389.
Denmark, I., Chessum, B., (1978). Standardization of enzyme-linked Diseases of sheep, 4th (Aitken, ID.) edn., Wiley-Blackwell, Hoboken.
Denmark, I., Chessum, B., (1978). Standardization of enzyme-linked immunosorbent assay (ELISA) and the detection of Toxoplasma antibody. Medical Laboratory Science, 35:227- 232.
Dubey, J.P., (2000). Sources of Toxoplasma gondii infection in pregnancy. Until rates of congenital toxoplasmosis fall, control measures are essential. BMJ, 321(7254): 127-8.
Dubey, J. (2008). The history of Toxoplasma gondii -the first 100 years. J. Euk. Microbiol. 55: 467-475.
Dubey, J.P., (2009). Toxoplasmosis in sheep—The last 20 years. Vet. Parasitol., 163: 1–14.
Dubey, J.P.,( 2010). Toxoplasmosis of animals and humans, 2nd ed. CRC Press, Boca Raton, Florida, USA, pp. 1–313.
Dubey, J.P., Kirkbride, C.A., ( 1990). Toxoplasmosis and other causes of abortions in sheep from the north central United States. J. Am. Vet. Med. Assoc., 196:287–290.
Dubey, J.P., Towle, A., (1986). Toxoplasmosis in sheep: A Review and Annotated Bibliography. Commonwealth Institute of Parasitology, St. Alberts, Herts, UK, pp. 1–152.
Edwards, J.F., Dubey, J.P., (2013). Toxoplasma gondii abortion storm in sheep on a Texas farm and isolation of mouse virulent atypical genotype T. gondii from an aborted lamb from a chronically infected ewe. Veterinary Parasitology, 192:129–136.
El-Madawy, S.R., Metawea, F.Y., (2013). Serological assays and PCR for detection of Toxoplasma gondii infection in an ostrich farm at Ismailia Provine, Egypt, IOSR Journal of Agriculture and Veterinary Science, 2(3): 56-60.
Habibi, G.R., Imani, A.R., Gholami, M.R., Hablolvarid, M.H., Behroozikhah, A.M., Lotfi, M., Kamalzade, M., Najjar, E., Esmaeil-Nia, K., Bozorgi, S., ( 2012). Detection and identification of Toxoplasma gondii type one infection in sheep aborted fetuses in Gazvin province of Iran. Iranian J. Parasitol., 7(3): 64-72.
Jones, C.D., Okhravi, N., Adamson, P., Tasker, S., Lightman, S., (2000). Comparison of PCR detection methods for B1, P30, and 18S rDNA genes of T. gondii in aqueous humor. Invest Ophthalmol Vis Sci, 41(3): 634-644.
Mazumder, P., Chuang, H.Y., Wentz, M.W., Wiedbrauk , D.L., ( 1988). Latex agglutination test for detection of antibodies to Toxoplasma gondii . J. Clin. Microbiol., 26: 2444–2446.
Moazeni Jula, F., Moazeni Jula, G., Nowzari, N., Kavari, H., Hashemzadeh Farhang, H., (2013). A Serological and Molecular study on Toxoplasma gondii infection in sheep and goat in Tabriz. Arch. Razi. Inst., 68(1): 29-35.
Neil, A. and Lappin, M.R. (1991). Clinical and Epidemiological aspects of FIV and Toxoplasma coinfections, Journal of the American Animal Hospital Association, 27(211): 211.
Nguyen, T.D., De Kessel, M., Bigaignon, G., Hoet, P., Pazzaglia, G., Lamments, M., Delmee, M. (1996). Detection of Toxoplasma gondii tachyzoites and bradyzoites in blood, urine and brain of infected mice. Clinical and diagnostic laboratory immunology, 3(6): 635-639.
Nishikawa, Y., Clavria, F.G., Fujisaki, Naqasswa, H., (2002). Studies on serological cross-reaction of Neospora caninum with Toxoplasma gondii and Hammondia heydorni. j vetmed Sci, 64(2):161-4.
Ramadan, M.Y., Abdel- Mageed, A.F., Khater, H.F., (2007). Seroprevalence and preliminary treatment of toxoplasmosis of pregnant goats in Kalubyia Governorate, Egypt. Acta Sci. Vet., 36 (3):295- 301.
Ramzan, M., Akhtar, M., Muhammad, F.,Hussain, I., Hiszczyńska-Sawicka, E.,Haq, A., Mahmood, M. and Hafeez, M. (2009) Seroprevalence of Toxoplasma gondii in sheep and goats in Rahim Yar Khan (Punjab), Pakistan. Tropical Animal Health and Production, 41:1225-1229.
Sharif, M.1., Sarvi, S.h., Shokri, A., Hosseini, Teshnizi, S., Rahimi, M.T., Mizani, A., Ahmadpour, E., Daryani, A. (2014). Toxoplasma gondii infection among sheep and goats in Iran: a systematic review and meta-analysis, Parasitol Res. Jan, 114(1):1-16.
Switaj, A., Master, M., Skrzypczak, and Zaborowski, P. (2005). Recent trends in molecular diagnostics for T. gondii infections, Clinical Microbiology and Infection, 11(3):170-176.
Oncel, T., and Vural, G., (2006). Occurrence of Toxoplasma gondii antibodies in sheep in Istanbul, Turkey, VETERINARSKI ARHIV, 76(6): 547-553.
Sharma, S., Sandhu, K.S., Bal, M.S., Kumar, H., Verma, S., Dubey, J.P. (2008). Serological survey of antibodies to Toxoplasma gondii in sheep, cattle, and buffaloes in Punjab, India. J. Parasitol,. 94(5):1174-5.
Tavassoli, M., Esmaeilnejad, B., Tabatabaei, M., et al., (2009). A survey on infection of animals with Toxoplasma gondii using PCR and genetic differences using RFLP in Urmia, Iran. Pazhoohesh va Sazandegi, 58:61-66.
Tavassoli, M., Ghorbanzadehghan, M., Esmaeilnejad, B., (2013). Detection of Toxoplasma gondii in sheep and goats blood samples by PCR-RFLP in Urmia. Vet. Res. Forum, 4(1):43 – 47.
Tenter, A., Heckeroth, A., Weiss, L., (2001). Toxoplasma gondii: from animals to humans. Internl. J. Parasitol., 31:217-220.
Tenter, A.M., Heckeroth, A.R., Weiss, L.M., (2000). Toxoplasma gondii: from animals to humans. Int. J. Parasitol., 30:1217– 1258.
Van der Puije, W.N.A., Bosompem, K.M., Canacoo, E.A., Wastling, J.M., Akanmori, B.D., (2000). The prevalence of anti-Toxoplasma gondii antibodies in Ghanaian sheep and goats. Acta Tropica, 76:21–26.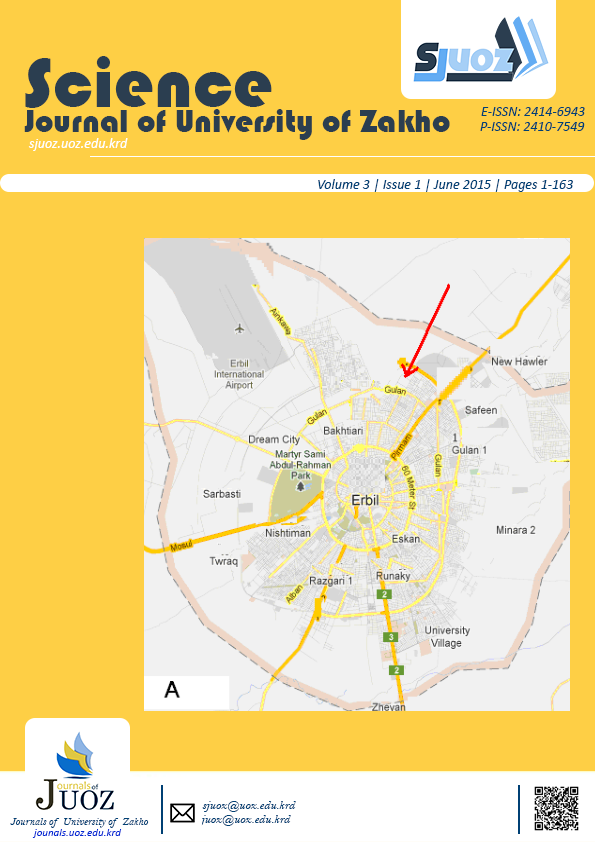 How to Cite
Mikaeel, F., Abdo, J., & Omer, L. (2015). Diagnosis of Toxoplasmosis in Sheep Using Serological (Elisa) and Molecular Technique in Duhok Governorate-Kurdistan Region. Science Journal of University of Zakho, 3(1), 32-38. Retrieved from https://sjuoz.uoz.edu.krd/index.php/sjuoz/article/view/83
Section
Science Journal of University of Zakho
Authors who publish with this journal agree to the following terms:
Authors retain copyright and grant the journal right of first publication with the work simultaneously licensed under a Creative Commons Attribution License [CC BY-NC-SA 4.0] that allows others to share the work with an acknowledgment of the work's authorship and initial publication in this journal.
Authors are able to enter into separate, additional contractual arrangements for the non-exclusive distribution of the journal's published version of the work, with an acknowledgment of its initial publication in this journal.
Authors are permitted and encouraged to post their work online.