Seasonal Assessment of Chemical and Physical Characterization of Khabur River, Zakho District, Kurdistan Region/Iraq -A Case Study
Musher R. A. Al- Barwary

Dept. of Environmental Science, Faculty of Science, University of Zakho, Kurdistan Region, Iraq
Keywords:
Waste water, Khabur River, Physical and chemical parameters, Zakho city
Abstract
The river Khabur, the life line of more than 500 thousand of people, supplies water for the important requirements of life. In this work, a total of 192 samples of water were collected at Khabur River, Zakho District. The samples were collected monthly at four different seasons like spring, summer, autumn and winter from March, 2019 to February 2020. The samples of water were examined for total hardness (TH) , total alkalinity (TA),  pH, Calcium( Ca2+) , Electrical conductivity (EC), Nitrate (NO3-), total dissolved solids (TDS), Sulfate (SO4 2−) , phosphate, magnesium (Mg2+) BOD, and DO according to the standard methods . The results of the chemical and physical characteristics indicate the water river samples with the following parameters. The total mean values of temperature ranged from (14.461± 14.1469) oC , pH varied from (7.831 ± 0.2842). Conductivity ranged from (560. 25 ±110. 805) µS/cm).Total alkalinity varied from (194.19 ± 69.591) mg/L. Total dissolved solids varied from (355.99 ±71.581) mg/L. Dissolved oxygen varied from (8.219 ± 0.7989) mg/L. Biochemical oxygen Demand (BOD) ranged from (9.857± 6.0760) mg/L. Total hardness varied from ( 535.02 ±78.014) mg/l. Calcium (Ca2+)  varied from (409.19 ± 46.875) mg/l. Magnesium (Mg2+) ranged from ( 127.58 ± 46.875) mg/L. Chloride (CL-) varied from ( 26.938 ± 21.2133) mg/L. Nitrate (NO3-) ranged from ( 4.449 ± 2.0327) mg/L. Sulfate (SO4 2−) varied from( 43.24 ±22.479) mg/l. And phosphate ranged from (4.839 ± 1.9139) µg/L. Gradual increase in total alkalinity and hardness towards the downstream is, due to effluents in the Khabur River. Untreated from sewage discharge on river water it causes of high organic matter, phosphate and Nitrate, at high contents in Khabur River .TDS and EC were found moderate in all locations at Khabur River. The total hardness exceeded the permissible limit in all sites. The (Ca2+) and (Mg2+) were exceeded the permissible limit in all sites. In the present study an attempt had been made to determine the levels of wastewater that ultimately discharged into Khabor River without proper treatment.
References
APHA (American Public Health Association) . (2017). Standard methods for the examination of water and wastewater.23rd ed., Washington, DC, USA. pp 22831
Ayoub, M. B., Yousif, Kamil M. 2015. Water Quality Index of the little Khabur River in Zakho city Kurdistan Region . The 7th Intern . Conf. on Sustainable Development in Building and Environ.–SuDBE2015, Reading, UK, Ref. No. 3005
Ackson Adiyiah Nyantakyi, Bernard Fei- Baffoe, Osei Akoto, 2020. Seasonal Variations in Physicochemical and Nutrient Water Quality of River Tano in Ghana. International Journal of Environmental Chemistry.Volume 4, Issue 1, June 2020, Pages: 1-1
Bishnu Kant Shukla1 , Pushpendra Kumar Sharma2* and Mohd Asif Khan3 2021. Physico-Chemical Study of Some Surface Water Bodies of Punjab Journal of Physics: Conference Series 1531 (2020) 012121 IOP Publishing doi:10.1088/1742-6596/1531/1/012121
Bilyaminu Garba Jega,  O. O. Adebisi  S. S. Manga   A. Muhamma 2020. Vol 1 No 3 (2020) Physicochemical Properties of Tagangu Seasonal River Receiving Abattoir Wastewater Discharge, Aliero, Kebbi State, NigeriaVol 1 No 3 (2020)
MohdYawar Ali Khan 2021, Evaluation of physicochemical and heavy metals characteristics in surface water under anthropogenic activities using multivariate statistical methods, Garra River, Ganges Basin, India .Envion Eng Res > Volume 26(6); 2021
Musher Rashed Ahmed 2015 . Influence of sewage water on the water quality of Khabor river in Zakho city at the second international conference on ecology, environment and energy ICEEE2015
Kamil . 2016 effectiveness of chlorine treatment on physicochemical charaterisics of water supplies for Zakho city Kurdistan of Iraq,International Journal of Current Research Vol. 8, Issue, 10, pp.40319-40324, October, 2016
Lilia Zaou .2020 . Assessment of water quality bounamoussa river in el tarf region using water quality index (Algeria) International Physical Medicine & Rehabilitation Journal .Volume 4 Issue 6 – 2020.
NidhiGuptaaPankajPandeyaJakirHussain 2017. Effect of physicochemical and biological parameters on the quality of river water of Narmada, Madhya Pradesh, Indi . Volume 31, Issue 1, April 2017, Pages 11-23
O. I. Solana1*, F. A. Omotola1 ,G. B. Ogungbayi1 , O. T. Opafola 2020 Quantification of metals, physicochemical and microbiological properties of consumed sachet/surface waters in Ayetoro Community, Ogun State, Nigeria . J. Mater. Environ. Sci., 2020, Volume 11, Issue 6, Page 856-867
Riedh Abass Abdul- jabbar 2020 . Pollution treatments of Tigris River through the chemical and physical characterization in Waset Governorate .Eurasian Journal of Biosciences, 2020 - Volume 14 Issue 2, pp. 4409-4414
Saurabh Mishra1, 3, Amit Kumar 2021 .Estimation of physicochemical characteristics and associated metal contaminationrisk in river Narmada, India . Environ Eng Res > Volume 26(1); 2021
WHO (2012)., Guidelines for Drinking-water Quality., Second edition, Addendum to 2, Health Criteria and Other Supporting Information
WHO (2011)., Guidelines for Drinking-water Quality., Second edition, Addendum to 2, Health Criteria and Other Supporting Information
Yumin Wang, Ran Yu, and Guangcan Zhu 2019.Evaluation of Physicochemical Characteristics in Drinking Water Sources Emphasized on Fluoride: A Case Study of Yancheng, ChinaInt J Environ Res Public Health v.16(6); 2019 Mar.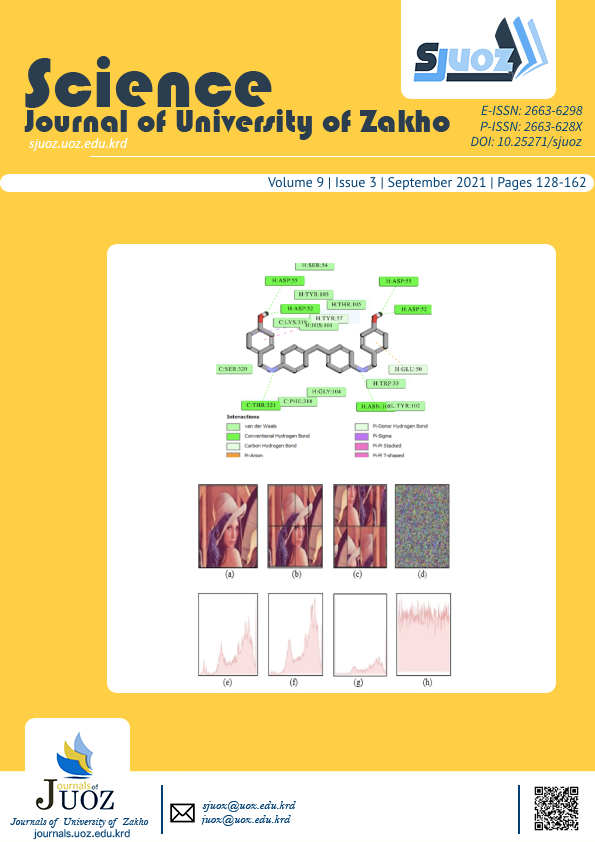 How to Cite
Al- Barwary, M. (2021). Seasonal Assessment of Chemical and Physical Characterization of Khabur River, Zakho District, Kurdistan Region/Iraq -A Case Study. Science Journal of University of Zakho, 9(3), 149-157. https://doi.org/10.25271/sjuoz.2021.9.3.814
Section
Science Journal of University of Zakho
Copyright (c) 2021 musheer ahmed
This work is licensed under a Creative Commons Attribution-NonCommercial-ShareAlike 4.0 International License.
Authors who publish with this journal agree to the following terms:
Authors retain copyright and grant the journal right of first publication with the work simultaneously licensed under a Creative Commons Attribution License [CC BY-NC-SA 4.0] that allows others to share the work with an acknowledgment of the work's authorship and initial publication in this journal.
Authors are able to enter into separate, additional contractual arrangements for the non-exclusive distribution of the journal's published version of the work, with an acknowledgment of its initial publication in this journal.
Authors are permitted and encouraged to post their work online.