Synthesis of Assigned Structure of Cairomycin A, 6-Isopropyl-2,5-Diketopiperazine-3-Acetic Acid and Its Β-Lactam Analogue N`- (3-Methyl-1-Hydroxybutyr-2-Yl) Azetidin-2-One-4-Carboximide
Faiq H. S. Hussain

Dept. of Medical Analysis, Faculty of Science, Tishk International University, Erbil, Kurdistan Region-Iraq
Keywords:
Cairomycin A, 2,5-Diketonpiperazine, β-Lactam, Azetidine, Antimicrobial
Abstract
In the present investigation, the research carried out into the total synthesis of the assigned structure of cairomycin A, 6-isopropyl-2,5-diketopiperazine-3-acetic acid from its precursors L-valine and L-aspartic acid, and its analogue N`-(3-methyl-1-hydroxybutyr-2-yl)azetidin-2-one-4-carboximide from 4-vinylazetidi-2-one through two different sequence reactions. Structures of the synthesized products were identified by using chemical and physical methods such as elemental analysis, IR, 1H-NMR and MS. The obtained results were compared with those reported, it was found that neither of the synthesized compounds was Cairomycin A.
References
Abraham, W. R. (2005). Controlling pathogenic gram-negative bacteria by interfering with their biofilm formation. Drug Design Reviews-Online, 2(1), 13-33.
Borthwick, A. D. (2012). 2, 5-Diketopiperazines: synthesis, reactions, medicinal chemistry, and bioactive natural products. Chemical reviews, 112(7), 3641-3716.
Brennan, J., Richardson, G., & Stoodley, R. J. (1980). Synthesis of 7-oxo-3-oxa-1-azabicyclo [3.2. 0] heptane-2-carboxylates: analogues of clavulanic acid. Journal of the Chemical Society, Chemical Communications, (2), 49a-49a.
Cavilier, F., Girand, M., Bernard, M., and Martinez, J. (2001). Original and General Strategy of Dimerization of Bioactive Molecules in Peptides: The Wave of the Future; Lebl, M., Houghten, R.A., Eds.; American Peptide society; San Diego, 152-155.
Corey, E. J., & Schmidt, G. (1979). Studies on the total synthesis of rifamycin. A method for the stereospecific synthesis of the carbonyl-conjugated 1, 3-diene unit [C (15) to C (20)]. Tetrahedron Letters, 20(25), 2317-2320.
Delaforge, M., Bouillé, G., Jaouen, M., Jankowski, C. K., Lamouroux, C., & Bensoussan, C. (2001). Recognition and oxidative metabolism of cyclodipeptides by hepatic cytochrome P450. Peptides, 22(4), 557-565.
Dinsmore, J.C., and Beshore, D.C. (2002). Recent Advances in the Synthesis of Diketopiperazines, Tetrahedron, 58(17), 3297-3312.
Fischer, P. M. (2003). Diketopiperazines in peptide and combinatorial chemistry. Journal of peptide science: an official publication of the European Peptide Society, 9(1), 9-35.
Greenstein, J.P. and Winitz, M. (1961) Chemistry of the Amino Acids. John Wiley & Sons, New York, 763.
Houston, D. R., Synstad, B., Eijsink, V. G., Stark, M. J., Eggleston, I. M., & Van Aalten, D. M. (2004). Structure-based exploration of cyclic dipeptide chitinase inhibitors. Journal of medicinal chemistry, 47(23), 5713-5720.
Kumar, A., Singh, M., & Chauhan, V.S. (1985). Synthesis of cairomycin A. The Journal of antibiotics, 38(10), 1420-1422.
Lemieux, R. U., & Rudloff, E. V. (1955). Periodate–permanganate oxidations: I. Oxidation of olefins. Canadian Journal of Chemistry, 33(11), 1701-1709.
Moriconi, E. J., & Meyer, W. C. (1971). Reaction of dienes with chlorosulfonyl isocyanate. The Journal of Organic Chemistry, 36(19), 2841-2849.
Nicholson, B., Lloyd, G. K., Miller, B. R., Palladino, M. A., Kiso, Y., Hayashi, Y., & Neuteboom, S. T. (2006). NPI-2358 is a tubulin-depolymerizing agent: in-vitro evidence for activity as a tumor vascular-disrupting agent. Anti-cancer drugs, 17(1), 25-31.
O'Neill, J. C., & Blackwell, H. E. (2007). Solid-phase and microwave-assisted syntheses of 2, 5-diketopiperazines: small molecules with great potential. Combinatorial chemistry & high throughput screening, 10(10), 857-876.
Pietsch, H. (1976). Synthese von S-Aspartyl-S-phenylalaninmethylester (aspartam) aus S-4-vinylazetidin-2-on. Tetrahedron Letters, 17(45), 4053-4056.
Schwarz, H., Bumpus, F. M., & Page, I. H. (1957). Synthesis of a Biologically Active Octapeptide Similar to Natural Isoleucine Angiotonin Octapeptide1. Journal of the American Chemical Society, 79(21), 5697-5703.
Shimi, I.R., and Fathy, Sh. (1981). Isolation of Cairomycins A and C, Antimicrobial Agents and Chemotherapy, 19(6), 941-944.
Sinha, S., Srivastava, R., De Clercq, E., & Singh, R. K. (2004). Synthesis and antiviral properties of arabino and ribonucleosides of 1, 3‐dideazaadenine, 4‐nitro‐1, 3‐dideazaadenine and diketopiperazine. Nucleosides, Nucleotides and Nucleic Acids, 23(12), 1815-1824.
Sun, X., Rai, R., MacKerell Jr, A. D., Faden, A. I., & Xue, F. (2014). Facile one-step synthesis of 2, 5-diketopiperazines. Tetrahedron Letters, 55(11), 1905-1908.
Suzuki, K., Sasaki, Y., Endo, N. O. B. U. Y. O. S. H. I., & Mihara, Y. U. I. C. H. I. (1981). Acetic acid-catalyzed diketopiperazine synthesis. Chemical and Pharmaceutical Bulletin, 29(1), 233-237.
Vollhardt, K., and Schore, N. (2007). Organic Chemistry: Structure and Function, 5th ed. New York, NY: W.H. Freeman and Company.
Wang, C., Zong, L., & Tan, C. H. (2015). Enantioselective oxidation of alkenes with potassium permanganate catalyzed by chiral dicationic bisguanidinium. Journal of the American Chemical Society, 137(33), 10677-10682.
Zervas, L., Winitz, M., & Greenstein, J. P. (1957). Studies on arginine peptides. I. Intermediates in the synthesis of N-terminal and C-terminal arginine peptides. The Journal of Organic Chemistry, 22(11), 1515-1521.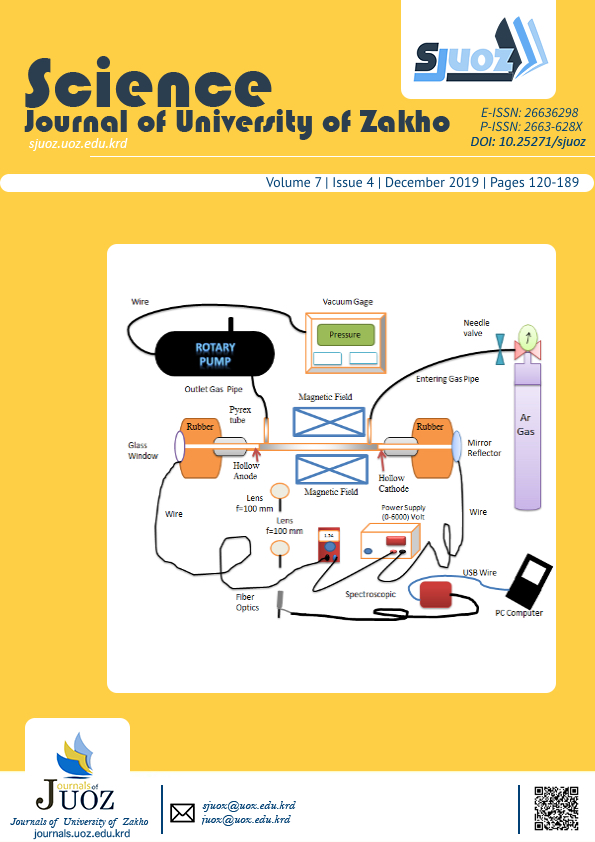 How to Cite
Hussain, F. (2019). Synthesis of Assigned Structure of Cairomycin A, 6-Isopropyl-2,5-Diketopiperazine-3-Acetic Acid and Its Β-Lactam Analogue N`- (3-Methyl-1-Hydroxybutyr-2-Yl) Azetidin-2-One-4-Carboximide. Science Journal of University of Zakho, 7(4), 144-151. https://doi.org/10.25271/sjuoz.2019.7.4.638
Section
Science Journal of University of Zakho
Copyright (c) 2019 Faiq H. S. Hussain
This work is licensed under a Creative Commons Attribution-NonCommercial-ShareAlike 4.0 International License.
Authors who publish with this journal agree to the following terms:
Authors retain copyright and grant the journal right of first publication with the work simultaneously licensed under a Creative Commons Attribution License [CC BY-NC-SA 4.0] that allows others to share the work with an acknowledgment of the work's authorship and initial publication in this journal.
Authors are able to enter into separate, additional contractual arrangements for the non-exclusive distribution of the journal's published version of the work, with an acknowledgment of its initial publication in this journal.
Authors are permitted and encouraged to post their work online.