Effect of Different Protein Sources with Different Levels on Growth Performance and Carcass Dissection of Japanese Quail (Coturnix Coturnix Japonica)
Dejeen A. Mohammed

Dept. of Animal Production, College of Agricultural Engineering Sciences, University of Duhok, Kurdistan Region - Iraq

Jameela H. Salih

Dept. of Animal Production, College of Agricultural Engineering Sciences, University of Duhok, Kurdistan Region - Iraq

Shekhmous H. Hussen

Dept. of Animal Production, College of Agricultural Engineering Sciences, University of Duhok, Kurdistan Region - Iraq
Keywords:
Quail, Protein Source, Growth, Carcass, Globulin
Abstract
The fish meal and soybean meal are the most used protein sources in poultry rations, especially in quail birds due to their higher requirements of crude protein that affecting their growth rate. The objective was to investigate the effect of source of dietary protein and its levels on growth traits, carcass characteristics and some blood parameters. This study was conducted at poultry farm in Duhok city/College of agricultural engineering sciences/Animal production Department/ Kurdistan Region- Iraq, 2020. A total of 360 one-day unsexed chicks of J. quail (Coturnix Coturnix Japonica) were divided equally into two groups (treatments) according to protein source (fishmeal and soybean meal groups), each group involved three levels of crude protein (20, 23 and 26 % CP), and each level had three replicates. The birds distributed randomly on the cages which contained 20 birds / replicate. The main results were as follow; fishmeal source of diet protein surpassed significantly soybean in live body weight (LBW), weight gain (WG), feed conversion ratio (FCR) and carcass characteristics. The level of 26 % crude protein (CP) in the diet recorded the best LBW, WG and FCR; while the level of 23 % CP surpassed both 20 % and 26 % in mortality rate and carcass dissections. However, total protein, hemoglobin and albumen parameters in the blood were not affected significantly (p>0.05) neither by protein source nor by its levels in the quail rations. As conclusion, fish meal was better than soybean meal; and 26 % CP was the best level.
References
Ayasan,T. 2013. Effects of dietary inclusion of protexin (probiotic) onhatchability of Japanese quails. Indian Journal of Animal Sciences 83 (1): 78–81.
Baylan, M., Canogullari, S., Sahin, A., Copur, G., and Baylan, M. 2009. Effects of different selection methods for body weight on some genetic parameters. J. Anim. Vet. Adv. 8:1385–1391.
Bonos, E.M., Christaki, E.V., and Florou-Paneri, P.C. 2010. Performance and carcass characteristics of Japanese quail as affected by sex or manna oligosaccharides and calcium propionate. The South African Journal of Animal Science, Vol. 40 (3), 173-184.
Church, D.C. 1991. The nutrients, their metabolism, and feeding standards. In: Church, D.C. (ed.) Livestock Feeds and Feeding, 3rd ed. Prentice Hall. Englewood Cliffs, New Jersey.
Cufadar, Y., Olgun, O., Bahtiyarca, Y., and Yıldız, A.O. 2010. Effects of dietary energy and protein on performance, reproduction traits and nitrogen-excretion of breeder chukar partridges (Alectoris chukar). Revue de Medicine Veterinaire; 161(4):151-156.
Dahouda, M., Adjolohoun, S., Montchowul, E.H., Senou, M., and Hounsou, N.M.D. 2013. Growth Performance Of Quail (Conturnix conturnix) Fed On Diet Containing Either Animal Or Vegetable Protein Sources. International Journal of Poultry Sciences 13(7):398-400.
Drumond, E.S.C., Pires, A.V., Veloso, R.C., Bonafe, C.M., Pereira, I.G., Costa, L.S., Abreu, L.R.A. 2015. Performance of meat type quails in diallel cross. Arq. Bras. Med. Vet. Zootec; 67 (1): 235-241.
Duncan, D.B. 1955. Multiple range and multiple F tests. Biometrics, 11: 1-42.
Farahat, G. S. Nadia, M., and Omhashem, Y. M. 2010. Genetic parameter estimates for glutathione peroxidase and some blood constituents and their association with some growth traits in Japanese quail. Egypt. poult. Sci. (30) (iii): (847-873).
Hussen, S. H. 2000. Interaction between some environmental factors and different genotypes in some Egyptian local strains of chickens. Ph.D. thesis, Ain Shams Univ., Faculty of Agric., Cairo, Egypt.
Hussen, S. H. 2020. Carcass Characteristics in Three Lines of Quail (Coturnix coturnix spp) and Their Crosses II- The Percentages. Syrian Journal of Agricultural Research – SJAR 7(3): 454-466.
Hussen, S.H. Abdulrahman, Al‐Khdri1 A.M., and Hassan, A.M. 2016. Response to Selection for Body Weight in Japanese quail (Coturnix coturnix japonica). Iranian Journal of Applied Animal Science 6(2), 453-459.
Hussen, S.H. and Saleh, J. H. 2019. Comparison among three quail (Coturnix coturnix spp) lines in their productive performance. Syrian Journal of Agricultural Research – SJAR 6(4): 516-527.
IndexMundi, 2020. Fishmeal vs Soybean meal- price rate of change comparison. https://www.indexmundi.com/commodities/?commodity=fish- meal&commodity=soybean-meal
Karaman, E., Narinc, D., Firat, M.Z. and Aksoy, T. 2013. Nonlin-ear mixed effects modeling of growth in Japanese quail. Poult. Sci. 92, 1942-1948.
Kaur, S., Mandal, A.B., Singh, K.B., and Kadam, M.M. 2008. The response of Japanese quails (heavy body weight line) to dietary energy levels and graded essential amino acid levels on growth performance and immuno-competence. Livest. Sci. 117:255- 262.
Kayang, B.B., Vignal, A., Inoue-Murayama, M., Miwa, M., Monvoisin, J.L., Ito, S., and Minvielle. E. 2004. A first generation micro satellite linkage map of the Japanese quail. Anim. Genetics, 35: 195-200.
Kosshak, A.S., Dim, N.I., Momoh, O.M., and Gambo, D. 2014. Effect of sex on carcass characteristics and correlation of body weight and blood components in Japanese quails. Journal of Agriculture and Veterinary Science (IOSR-JAVS). Volume 7(11), Ver. III, PP 72-76.
Lee,T.K, Shim, K.F., and Tan, E.L. 1979. Part III. Interaction of Protein levels during the growing and laying periods for Japanese quail. Singapore J. Prim. Ind.,7(3): 69 76.
Lesson, S. and Summers, J.D. 2005. Commercial poultry nutrition, 3rdedition, University books, P. O. Box. 1326, Guelph, Ontario, Canada ISBN 978-1-904761-78-5.
Marks, H.L. 1993. Divergent selection for growth in Japanese quail under split and complete nutritional environments. 6. Differential body weights in reciprocal crosses. Poult. Sci. 72: (in press).
Meshabaz, R.A., Sulaiman, K.M., Hussen S.H., Berwary, M.S., Saleh, J.H., Ahmed, S.A., and Mohammed, N, J. 2017. Hematological study in three lines of quail and their crosses. Science Journal of University of Zakho, 5(3), 249-253.
Minvielle, F. 1998. Genetics and breeding of Japanese quail for production around the world 6th Proc. Asian Poult. Congr., World's Poult. Sci. Assoc., Japan Branch, Nagoya, pp. 122-127.
NRC. 1994. Nutrient Requirements of Domestic Animals.-Nutrient Requirements of Poultry. National Research Council, National Academy Press, Washington, DC.
SAS Institute. (2014). Statistical Analysis System (SAS, institute, Inc.), version 9.4. Cary NC, USA.
Vali,,N., Edris, M.A., and.Rahmani, H.R. 2005. Comparison between hatching of two quail strains. Pakistan J.Biolog.Sci., 8 (7): 1062-1063.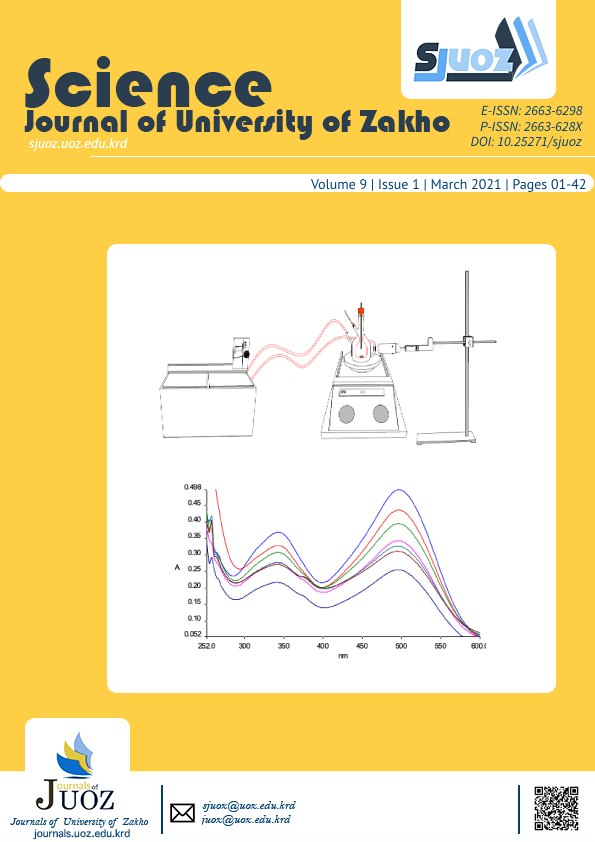 How to Cite
Mohammed, D., Salih, J., & Hussen, S. (2021). Effect of Different Protein Sources with Different Levels on Growth Performance and Carcass Dissection of Japanese Quail (Coturnix Coturnix Japonica). Science Journal of University of Zakho, 9(1), 1-7. https://doi.org/10.25271/sjuoz.2021.9.1.766
Section
Science Journal of University of Zakho
Copyright (c) 2021 Dejeen A. Mohammed, Jameela H. Salih, Shekhmous H. Hussen
This work is licensed under a Creative Commons Attribution-NonCommercial-ShareAlike 4.0 International License.
Authors who publish with this journal agree to the following terms:
Authors retain copyright and grant the journal right of first publication with the work simultaneously licensed under a Creative Commons Attribution License [CC BY-NC-SA 4.0] that allows others to share the work with an acknowledgment of the work's authorship and initial publication in this journal.
Authors are able to enter into separate, additional contractual arrangements for the non-exclusive distribution of the journal's published version of the work, with an acknowledgment of its initial publication in this journal.
Authors are permitted and encouraged to post their work online.