Trichodina Sp. as Bioindicator for Evaluation of Biochemical Oxygen Demand (Bod5) in Aquaculture Fish Farms (Ponds)
Karwan Sallo Najm Al-Marjan

Hawler Polytechnique University

Shamall M.A. Abdullah

Salahaddin University
Keywords:
BOD5, Trichodina, Water pollution, Erbil
Abstract
The present study include the using of the prevalence of the fish infestation by the protozoan Trichodina sp. as bioindicator for evolution of the biological oxygen demand BOD5 (lowering down of the dissolved oxygen DO) from Ainkawa fish hatchery. For this purpose, two handered and fourty (240) finger ling fishes of Cyprinus carpio were collected from six ponds (40 samples from each pond) and fishes were examined from  December, 2012 to the end of february, 2013. Biological oxygen demands were measured by azid modification of Winkler method (through measuring of dissolved oxygen DO) for each pond. Results reveal that there are a direct relationship between the prevalence of fish infestation by the Trichdina sp. and the values of BOD5. The prevalence of fish infestation in each pond increased (57.5, 40, 27.5, 45, 15, and 42.5% respectively) with the increase of the values of BOD5 (9.2 , 8.0, 5.7, 8.1, 2.9 and 8.0 mg.l-1, respectively).
References
Abdullah, S. M. A. (2002). Ecology, taxonomy and biology of some parasites of fishes from Lesser Zab and Greater Zab rivers in north of Iraq. Ph. D. Thesis, College. Education. (Ibn Al-Haitham), University. Baghdad: 153. (In Arabic).
Al-Marjan, K. S. N. and Abdullah, S. M. A. (2009). Some ectoparasites of the Common Carp (Cyprinus carpio) in Ainkawa fish hatchery, Erbil provice. Duhok, Journal of Duhok University (Special Issue), 14(1): 102-107.
Asmat, G. S. M. (2001). Occurrence and morphology of Trichodinella epizootica (Raabe, 1950) Šrámek-Huśek, 1953 in India. Chittagong Univ. Journal of Science, 25(2): 37-43.
Dogiel, V.A. (1961) Ecology of the parasites of freshwater fish. In: Parasitology of Fishes (ed. by Dogiel, V. A., Petrushevski, C. K. and Polyanski, Yn. I.), pp. 1-48, Oliver and Boyd, London (English translation by Z. Kabata).
Dujin, C. V. F. (1973) Diseases of Fishes. Third Edition, I, Life Books, London.
Kugel, B. ; Hoffman, R.W., and Fries, A. (1990) Effect of low pH on the chorion of rainbow trout and Brown trout. Journal of Fish Biology. 37: 301-310.
Maiti S. k. (2004). Hand Book of Environmental Studies. Vol.(1), Water Analysis. ABP Publisher. Jaipur, India.
Mhaisen, F. T. (2014). Index-catalogue of parasites and disease agents of fishes of Iraq, Unpubl. (from Mama, K. S. and Abdullah, S. M. A. (2010). Infections of Common Carp with Ciliated Protozoans Parasites from Ainkawa Fish Hatchery in Kurdistan Region, Iraq. Aquaculture Europe.
Mama, K. S. and Abdullah, S. M. A. (2010). Infections of Common Carp with Ciliated Protozoans Parasites from Ainkawa Fish Hatchery in Kurdistan Region, Iraq. Aquaculture Europe.
Othman, K. I. (2013). Isolation and Identification of Fungi and Fungus–like Organisms from Different Water Resources in the Erbil City. M. Sc. Thesis, College of science. Univesity of Salahaddin :126 pp.
Palm, O. and Harry, W. (2005). Seasonal dynamics of Trichodina spp. on whiting (Merlangius merlangus) in relation to organic pollution on the eastern Black Sea coast of Turkey. Parasitology 96:149-153.
Peter, H. and Ludemann, D. (1972). Examination, Assessment, Conditioning, Chemistry, Bacteriology and Biology. Walter de Gruyter Company. Berlin. 389pp.
Smith, S. and Schwarz, M. (2009). Commercial fish and shellfish technology fact sheet dealing with Trichodina and Trichodina-like species, Virginia Comparative Extension. Publication, No. 600-205.
Shamsaddin, M.; Nader, I. A., and Al- Zzawi, M. J. (1971). Parasites of common fishes from Iraq with special reference to larval form of Contracaecum (Nematoda: Heterocheilidae). Bull. Biological Research Center. Baghdad, 5: 66-78.
Wellborn, T. L. (1967) Trichodina of freshwater fishes of the south eastern U.S. Journal of Protozoology, 14(3): 399-412.
Yeomans W. E. ; J. C. Chubb and R. A .Sweeting . (1997). Use of protozoan communities for pollution monitoring. Parasitologia, 39(3):201-212.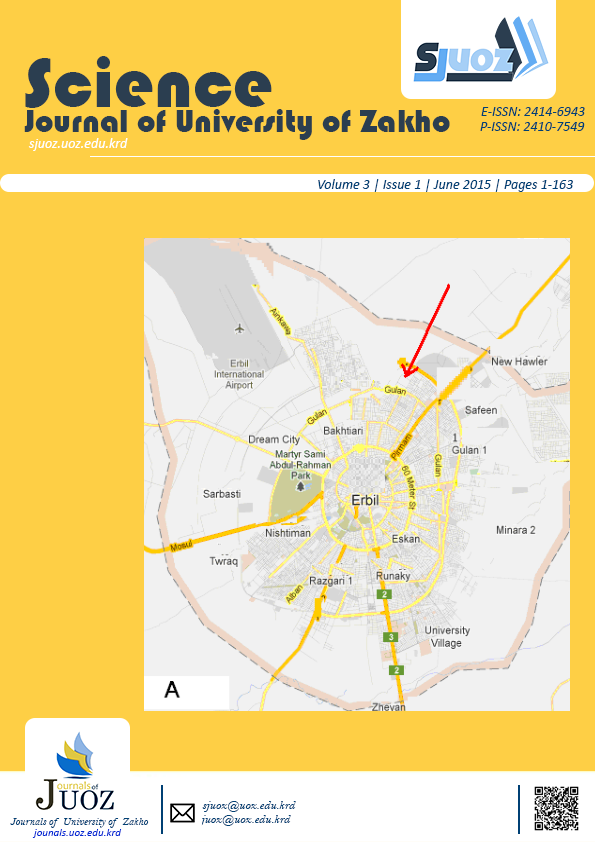 How to Cite
Al-Marjan, K., & Abdullah, S. (2015). Trichodina Sp. as Bioindicator for Evaluation of Biochemical Oxygen Demand (Bod5) in Aquaculture Fish Farms (Ponds). Science Journal of University of Zakho, 3(1), 27-31. Retrieved from https://sjuoz.uoz.edu.krd/index.php/sjuoz/article/view/80
Section
Science Journal of University of Zakho
Authors who publish with this journal agree to the following terms:
Authors retain copyright and grant the journal right of first publication with the work simultaneously licensed under a Creative Commons Attribution License [CC BY-NC-SA 4.0] that allows others to share the work with an acknowledgment of the work's authorship and initial publication in this journal.
Authors are able to enter into separate, additional contractual arrangements for the non-exclusive distribution of the journal's published version of the work, with an acknowledgment of its initial publication in this journal.
Authors are permitted and encouraged to post their work online.