Occurrence of Tomato Leaf Miner Tuta Absoluta Meyrick(Lepidoptera:Gelechiidae) in Duhok Region (A)
Lazgeen H. Assaf

University of Duhok

Feyroz R. Hassan

University of Duhok

Halgurd I. Rasheed

University of Duhok

Mohammad A. Sadiq

University of Duhok

Rezgar M. Ismael

University of Duhok

Mohammad Sh. Ahmed

University of Duhok

Salah A. Saeed

University of Duhok

Farhad M. T. Salih

University of Duhok
Keywords:
Tuta absoluta, population dynamics, Pheromone traps, Tomato
Abstract
The aim of this work is to investigate the population density and infestation percentage of Tuta absoluta on tomato crop Lycopersicum esculentumMill under field conditions in three locations at Duhok province/ Kurdistan region/ northern of Iraq in 2012. The average number of mines/ leaflet, larvae/ leaf and larvae/ fruit during the study season were 2.33, 0.34 and 0.61 respectively. The results showed a significant differences in infestation percentage and number of male per trap among the three locations. The highest percentage of infestation was recorded in September as 74.00, 72.00 and 60.00 for Summel, Shekhan and Zawita respectively. The maximum number of males/ trap/ week was 1205.40 recorded on 26/8/2012 in Summel. Concerning the use of pheromone trap for pest monitoring, linear regression analysis results was significant between trap catches and the number of mines per leaf and the infestation rate of leaves
References
Abbes, K. and ChermitiB. 2011.Comparison of two Marks of Sex Pheromone DispensersCommercialized in Tunisia for their Efficiency to Monitor andto Control by Mass-Trapping Tuta absoluta underGreenhouses. Tunisian J. of Plant Protection. 6(2) 133-148, 2011.
Abdul Razzak AS, Al-Yasiri II, Fadhil HQ (2010). First record of tomato borer (tomato moth) Tuta absoluta (Meyrick) (Lepidoptera: Gelechiidae) on tomato crop in Iraq, 2010. Arab and Near East Plant Protection Newsletter no. 51, p 31.
Allache F andDemnati F 2012. Population Changes of Tuta absoluta (Mey.) (Lepidoptera, Gelichiidae): A NewIntroduced Tomato Crop Pest at Biskra in Algeria. Jordan J. of Agricultural Sciences, 8(3) 2012.
Cônsoli, F.L., Parra, G.R.P., and Hassan, S.A.1998. Side-effects of insecticides used intomato fields on the egg parasitoidTrichogramma pretiosum Reley (Hym.,Trichogrammatidae), a natural enemy of Tutaabsoluta (Merick) (Lep., Gelechiidae). J. Appl.Entomol. 122: 43-47.
Desneux N, Wajnberg E, Wyckhuys KAG, Burgio G, Arpaia S, Narva´ez-Vasquez CA, Gonza´lez-Cabrera J, Catala´n Ruescas D, Tabone E, Frandon J, Pizzol J, Poncet C, Cabello T & Urbaneja A (2010) . Biological invasion of European tomato crops by Tutaabsoluta: ecology, geographic expansion and prospects for biological control. J of Pest Science, 83, 1–19.
EPPO. 2010. List of biological control agents widely used in the EPPO region. http:// archives.eppo.org/ EPPOStandards/ biocontrol_web/bio_list.htm.
Garcia, M.F. and Espul, J.C. 1982. Bioecologia de la polilladel tomae (Scrobipalpulaabsoluta) en Mendoza,Republica Argentina. Rev. Invest. Agropecuarias INTA, 17,135-146.
Harizanova V., Stoeva A. and Mohamedova M. 2009. Tomato leaf miner, Tuta absoluta (Povolny) (Lepidoptera: gelechiidae) – first record inBulgaria. Agricultural science and technology 1(3) 95 - 98, 2009.
Lacordaire A.I. and Feuvrier, E.2010. Tomate, traquer Tuta absoluta. Phytoma, 632, 40-44.
Leite, G.L.D., Picanço, M., Guedes, R.N.C. and Zanuncio, J.C.2001. Role of plant age in the resistance of Lycopersicumhirsutum f. glabratum to the tomato leafminer Tuta absoluta (Lepidoptera: Gelichiidae). Sci. Hort., 89, 103-113.
Miranda, M.M.M., Picanço, M.C., Zanuncio, J.C and Guedes,R.N.C. 1998. Ecological life table of Tuta absoluta(Meyrick) (Lepidoptera: Gelichiidae). Biocont. Sci. andTech., 8, 597-606.
Nannini M., Atzori F., Foddi F., Pisci R. andSanna F. 2010. A survey of Tuta absoluta (Meyrick) (Lepidoptera: Gelichiidae) outbreaks in tomato greenhouses in southern Sardinia (Italy). International Symposium on Plant Protection
Oliveira, A.C.R.D., Veloso, V.D.R.S., Barros, R.G.,Fernandes, P.M. and Souza, E.R.B.D. 2008. Captura deTuta absoluta (Meyrick) (Lepidoptera: Gelichiidae) comarmadilha luminosa na cultura do tomateiro tutrado.Pesqui. Agropecu. Trop., 38(3), 153-157.
Pereyra, P.C. and Sanchez, N. (2006). Effect of two Solanaceous plants on developmental and population parameters of the tomato leafminer, Tuta absoluta(Meyrick) (Lepidoptera: Gelechiidae). Neotropical Entomology 35: 671-676.
Ramirez, L, Ramirez, N., Fuentes, L.S., Jiminez, J. andHernandez-Fernandez, J. 2010. Estandarización de unbioensayo y evaluación preliminar de tres formulacionescomerciales de Bacillus thuringiensis sobre Tuta absoluta(Meyrick) (Lepidoptera: Gelechiidae). Rev. Colomb.Biotecnol., 12(1), 12-21.
Torres, J.B., C.A. Faria, W.S. Evangelista & D. Pratissoli. 2001.Within-plant distribution of the leaf miner Tuta absoluta(Meyrick) immatures in processing tomatoes, with notes onplant phenology. Int. J. Pest Manag. 47: 173-178.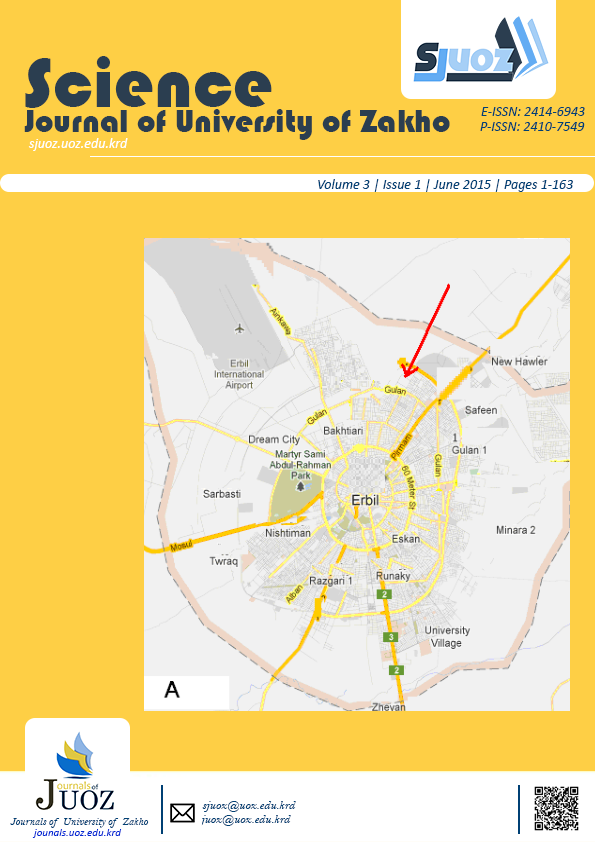 How to Cite
Assaf, L., Hassan, F., Rasheed, H., Sadiq, M., Ismael, R., Ahmed, M., Saeed, S., & Salih, F. (2015). Occurrence of Tomato Leaf Miner Tuta Absoluta Meyrick(Lepidoptera:Gelechiidae) in Duhok Region (A). Science Journal of University of Zakho, 3(1), 79-87. Retrieved from https://sjuoz.uoz.edu.krd/index.php/sjuoz/article/view/101
Section
Science Journal of University of Zakho
Authors who publish with this journal agree to the following terms:
Authors retain copyright and grant the journal right of first publication with the work simultaneously licensed under a Creative Commons Attribution License [CC BY-NC-SA 4.0] that allows others to share the work with an acknowledgment of the work's authorship and initial publication in this journal.
Authors are able to enter into separate, additional contractual arrangements for the non-exclusive distribution of the journal's published version of the work, with an acknowledgment of its initial publication in this journal.
Authors are permitted and encouraged to post their work online.