Cytogenetic Analysis of Peripheral Blood Lymphocytes of Workers Occupationally Exposed to Benzene in A Fuel Station in Erbil City- Iraq
Hazha J. Hidayat

University of Salahaddin

Mohammed S. Ismael

University of Salahaddin

Hewa H. Hasan

University of Salahaddin
Keywords:
Genotoxicity, Lymphocytes, Petrol station workers, Chromosomal aberrations
Abstract
The objective of the present study was to evaluate genotoxic effects in petrol station workers, who were previously exposed occupationally to benzene in comparison with a selected control group, through inhalation and skin contamination, by using the cytokinesis- blocked micronucleus (CBMN) and chromosomal aberration tests carried on  peripheral blood lymphocytes. The study included  (35) male petrol station worker and 25  control subjects. Metaphase chromosome preparations were analyzed, chromosome aberrations in peripheral blood lymphocytes, were examined. The results showed that the frequency of cell with aberrations in exposed workers was significantly higher (P≤0.01) than that of control subjects. Most chromosome aberration found in exposed group was acentric fragment, chromosome break, dicentric. Furtheremore, also the frequency of micronucle( MN) was highly significant in benzyne exposed groups as compared with control person  (P≤0.01). In conclusion significant excess of chromosomal aberrations in workers who exposed occupationally to benzene, where compare to the matched controls.
References
Agency fo Toxic Sabstance and Disease Registry Division of Toxicology and Human Health Science. Atlanta, 2015.

Aida Moohammadaree, MS, ChanipornPuaninta MS, (1998) Chromosome aberrations and DNA damage in petrol pump workers in Chiang Mai Chiang Mai . Medicine Journal 51 ( 1 ) : 7 - 14.

Billet S, Paget V, Garco G (20101) Benzene induced mutational patteren in the tumour suppressor gene P53 analysed by use of a functional assay, the functional allel in yeast, in human lung cells.Arch Toxicol 84(2)99-107.

Channarayappa (2010) Elucidation of molecular mechanisims of DNA damage and their cytological deletion. Journal of pharmaceutical and biochemical science 2(10).

Eastmond DA, Tucker JD (1989) Identification of aneuploidy-inducing agents using cytokinesis-blocked human lymphocytes and an anti-kinetochore antibody.Environmental and Molecular Mutagenesis(13): 34–43.

Fenech M, Holland N, Chang WP, Zeiger E, and Bonassi S (1999) The Human micronucleus project-an international collaborative study on the use of the micronucleus technique for measuring DNA damage in humans. Mutation Research (428): 271-283.

FenechM (1993) The cytokinesis-block micronucleus technique: a detailed description of the method and its application to genotoxicity studies in human populations. Mutation Research 285: 35–44.

Ji Z, Weldon RH, Marchetti F (2012) Comparison of aneuploidy of chromosome 21, X and Y in blood lymphocytes and sperm of workers exposed to benzne. Environ Mol Mutagen 53(3):218-226.

Lau A, Belanger CL, Winn LM, 2009 In utero and acute exposure to benzene : Investigation of DNA double –strand breaks and DNA recombination in mice . Mutat Res 676(1-2):74-82.

Pandey AK, Gurbani D, Bajpayee M (2009) In silico studies with human DNA topoisomerase II alpha to unravel the mechanisims of in vitro genotoxicity of benzene and its metabolites. Mut Res 661:57-70.

Smith MT, Zhang L, Wang Y (1998) Increased translocations and aneusomy in chromosomes 8 and 21among workers exposed to benzene. Cancer Research (58):2176-81.

Syder RS, andKocsis DD (2005) Current concepts of chronic benzene toxicity. Critical Reviews in Toxicology(3): 265-288 .

U.S. Environmental Protection Agency .2002.Toxicological Review of Benzen (Noncancer Effect) "http://www.epa.gov/iris/toxreview/0276-tr.pdf.

Vasiliou V, Ross D, andNebert DW (2006) Update of the NAD(p)H:quirone oxidoreductase (NQO) gene family. Human Genetics( 2): 239-35 . .

Yokozawa T, Kim HJ, Okubo T, Chu D, Juneja LR (2007)Influence of Amla (EmblicaofficinalisGaertn.) prevents dyslipidaemia and oxidative stress in the ageing process. British Journal Of Nutrition 2( 97) : 1187-95 .

Zhang FH, Ye LL, Wang JW (2014) Effect of polymorphic metabolizing genes on micronucleus frequencies among benzene shoe workers in china . Int Hgy Enviom Health 217 (7):726-734.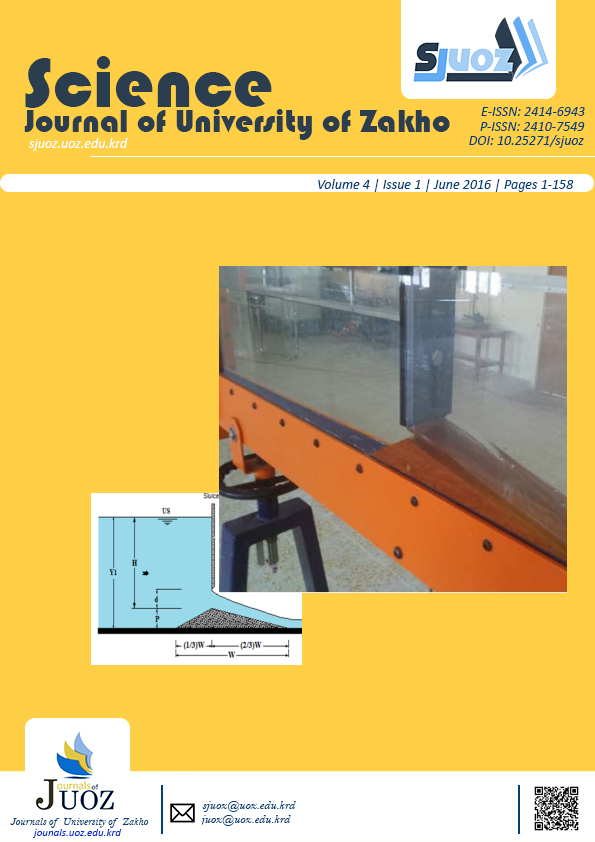 How to Cite
Hidayat, H., Ismael, M., & Hasan, H. (2016). Cytogenetic Analysis of Peripheral Blood Lymphocytes of Workers Occupationally Exposed to Benzene in A Fuel Station in Erbil City- Iraq. Science Journal of University of Zakho, 4(1), 56 - 62. Retrieved from https://sjuoz.uoz.edu.krd/index.php/sjuoz/article/view/305
Section
Science Journal of University of Zakho
Authors who publish with this journal agree to the following terms:
Authors retain copyright and grant the journal right of first publication with the work simultaneously licensed under a Creative Commons Attribution License [CC BY-NC-SA 4.0] that allows others to share the work with an acknowledgment of the work's authorship and initial publication in this journal.
Authors are able to enter into separate, additional contractual arrangements for the non-exclusive distribution of the journal's published version of the work, with an acknowledgment of its initial publication in this journal.
Authors are permitted and encouraged to post their work online.