A New Name in Pterocephalus (Caprifoliaceae) from Kurdistan-Iraq
Saleem Shahbaz E. Shahbaz

Dept. of Agricultural Engineering, Faculty Science, University of Duhok, Kurdistan Region, Iraq

Vameen Abozaid

Dept. of Biology, Faculty of Science, University of Zakho, Zakho, Kurdistan Region, Iraq
Keywords:
Pterocephalus strictus, Involucre, Involucel, Plumose calyx, New name
Abstract
Pterocephalus tetraflorus S. E. Shahbaz, nom, nova, is proposed as a new name for Pterocephalus strictus Boiss. et Hohen, described by Boissier in1843, followed by Shahina and John in 2013. The description of P. tetraflorus is amended with characters of mature flowers and achenes, illustrated and its diagnostic characters, geographical distribution and habitats are presented. The species P. tetraflorus is closely related to P. strictus, but can be easily separated by forming only four-flowered capitula against numerous flowered-capitula for P. strictus and other Pterocephalus species.
References
Verlaque, R. 1986a. l~tude biosyst~matique et phylog~n~tique des Dipsacaceae. IV. Tribu des Scabioseae (phylum No 1, 2, 3). - Rev. Cytol. Biol. V6g&. - Bot. 9: 5-72..
Verlaque, R. 1986b. l~tude biosyst~matique et phylog6n&ique des Dipsacaceae. V. Tribu des Scabioseae (phylum No 4) et conclusion. - Rev. Cytol. Biol. V~g6t. - Bot. 9: 97-176.
Ahmad, S. A. 2013. Flora of Hawraman Mountain. A dissertation submitted to the council of the faculty of agricultural sciences at the University of Sulaimani in partial fulfillment of the requirements for the degree of doctor of the philosophy of sciences in Agriculture-Plant Taxonomy.
Davis, P. H. ed. 1972. Flora of Turkey and the East Aegean Islands, Volume four, Dipsacaceae pages 582-625, Edinburgh: University Press.
IUCN Red List 2012. Guidelines for Using the IUCN Red List Categories and Criteria (PDF), Version 13, IUCN, March 2017, retrieved 2018-01-04.
Kriechbaum, M and; Kletter, C. 2001. Tibetan medicinal plants. Stuttgart: Medpharm. p. 270. ISBN 0-8493-0031-2.
Nicolson, Dan,1991. A history of botanical nomenclature. Annals of the Missouri Botanical Garden. 78: 33–56. doi:10.2307/2399589. .
Rechinger, KH. (ed).1963–2005. Flora Iranica, No. 1-176. Akad. Druck-u. Verlagsanstalt, Graz.
Reveal JL, Chase MW. 2011. APG III: Bibliographical information and synonymy of Magnoliidae. Phytotaxa 19: 71−134. http:/mapress.com/phytotaxa/backissues.htm.
Shahina A. Khazanfar and John R. Edmondson, 2013. Flora of Iraq, Vol. 5, Part 2. Lythraceae to Campanulaceae, pages 307-312. With the collaboration of the staff of the national herbarium of Iraq of the Ministry of Agriculture, Baghdad.
Stevens, P. F. 2001 onwards. Angiosperm Phylogeny Website. Version 14, July 2017 [and more or less continuously updated since]. will do. http://www.mobot.org/
The Plant List 2013. Version 1.1. Published on the Internethttp://www.theplantlist.org/ (accessed 1st January).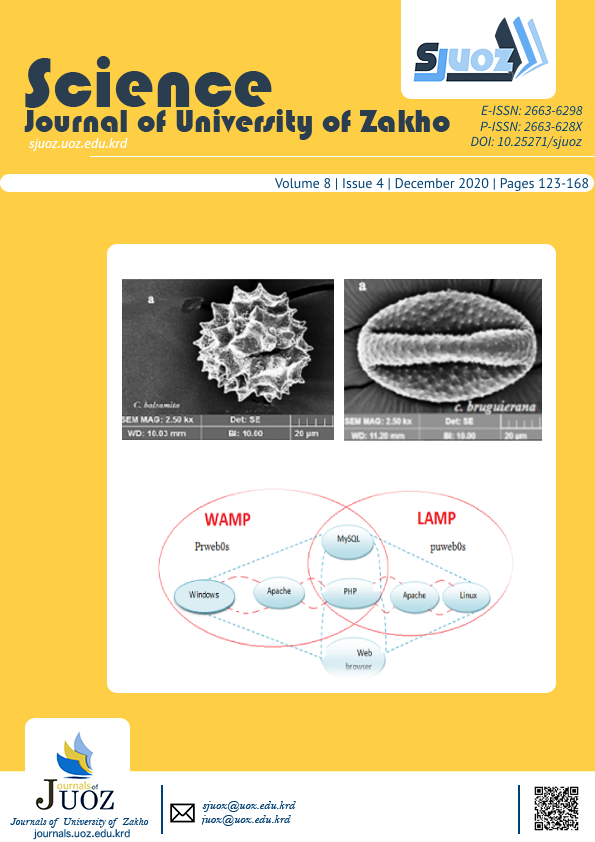 How to Cite
Shahbaz, S. S., & Abozaid, V. (2020). A New Name in Pterocephalus (Caprifoliaceae) from Kurdistan-Iraq. Science Journal of University of Zakho, 8(4), 139-144. https://doi.org/10.25271/sjuoz.2020.8.4.772
Section
Science Journal of University of Zakho
Copyright (c) 2020 Saleem Shahbaz Esmael Shahbaz
This work is licensed under a Creative Commons Attribution-NonCommercial-ShareAlike 4.0 International License.
Authors who publish with this journal agree to the following terms:
Authors retain copyright and grant the journal right of first publication with the work simultaneously licensed under a Creative Commons Attribution License [CC BY-NC-SA 4.0] that allows others to share the work with an acknowledgment of the work's authorship and initial publication in this journal.
Authors are able to enter into separate, additional contractual arrangements for the non-exclusive distribution of the journal's published version of the work, with an acknowledgment of its initial publication in this journal.
Authors are permitted and encouraged to post their work online.