Catalytic Preparation, Characterization and Performance Isomerization of M-Xylene by Modified Montmorillonite Prepared by Microwave
Zoubida Chemat- Djennia

Chimie Université M'hamed Bougara

Pemanos Yelda Bakoz

University of Zakho

Boudjema Hamada

Chimie Université M'hamed Bougara
Keywords:
modified montmorillonite clay, xylene, isomerisation, microwave
Abstract
The preparation and the structural characterization of aluminium inter-foliated montmorillonite (Algerien clay) has revealed that calcination by microwave finish in 10 minutes, present results showed a similar characterisation of height  performance as well as of classic calcinations (5 hours). The textural measurement of this four matrix shows that the decking of montmorillonite by the metallic polycations create an important micro porous system. The catalytic properties of this new solid micro porous using a transformation of the m-xylene as a test reaction, show a great selectivity of isomerisation by dismutation reaction to o- and p-xylene
References
L. S. Belaroui, J. M. M. Millet et A. Bengueddach, Catal. Tod. 89 (2004) 279-286.
F. Belkhadem, J. M. Clacens, A. Bengueddach et F. Figueras, Appl. Catal. A : Gen. 298 (2006) 188-193.
S. M. Bradley et R. A. Kydd, J. Catal. 141 (1993) 239.
D. W. Breck, "Zeolite Molecular sieves", FL, (1984) 49
A. De Andrés, J. Merino, J. G. Galván et E. Ruiz-Hitzky, Mater. Res. Bull. 34 (1999) 641.
P. Duchaufour, ''Précis de pédologie'' Ed. Masson et Cie, Paris, (1974).
F. Figueras, Catal. Rev. Sci. Eng. 30 (1988) 457.
A. Gil, L.M. Gandia, Catal. Rev.-Sci. Eng. 42 (2000) 145.
G. Graph, Purchasing Maganine, 19 Juin (2003)
R. Issaadi, F. Garin, C. E. Chitour et G. Maire, Appl. Catal. A: general, 207 (2001) 323-332.
F. Kapteijn, J. van de Graaf et J. Moulijn, Proc. 4th Workshop on the Optimisation of Catalytic Membrane Reactor Systems, Oslo (1997) 67.
Kirk-Othmer Encycl. of Chemical Technology, Xylenes and Ethylbenzene, Ed. 4 John Wiley & Sons, New York (1998) p. 831.
S. Laforge, D. Martin, J. L. Paillaud et M. Guisnet, J. Catal. 220 (2003) 92.
J. A. Martens, J. Perez-Pariente, E. Sastre, A. Corma et P. A. Jacobs, Apll. Cata. 45 (1988) 85.
J.A. Martens, W. Souverijns, W. Van Rhijn et P.A. Jacobs in: G. Ertl, H. Knötzinger, J. Weitkamp (Eds.), Acidity and Basicity of Zeolites, Handbook of Heterogeneous Catalysis, Wiley-VCH, Weinheim, Vol. 3 (1997) p. 340.
J. T. Miller et T. D. Nevitt, US patent 4487983 (1984).
S. Morin, N. S. Gnep et M. Guisnet, J. Cata. 159 (1996) 296.
G. Pu, L. F. Nazar et A. D. Bain, Chem. Mater., 3 (1991)
R. Schoonheydt, T. Pinnavaia, G. Lagaly et N. Gangas , Pillared clays and pillared layered solids, IUPAC, Pure Appl. Chem., 71 (1999) 2367-2371.
A. Schutz, D. Plee, F. Borg, P. Jacobs, G. Poncelet et J. J. Fripiat, in Proc. Inter. Clay Conf. , Denver, (1985).
L. Storaro, M. Lenarda, R. Ganzerla et A. Rinaldi, Microporous and Microporous Materials 6 (1996) 55-63.
C.L. Thomas, I. Hechevand et G. Stecker, Ind., Eng. Chem. 42 (1950) 766-877.
M. Tsapatsis, G. Xomeritakis, H. Hillhouse, S. Nair, V. Nikolakis, G. Bonilla et Z. Lai, Cat. Tech. 3 (1999) 148.
M. S. Tzou , Clay Catalysts pillared by metal hydroxypolymers, UMI dissertation information service, (1983).
K. Urabe, N. Kouno, H. Sakurai et Y. Izumi, Adv. Mater. 3 (1991) 558.
D.E.W. Vaughan, R. J. Lussier et J. S. Magee, U.S. Patent. (4,179, 090) (1979).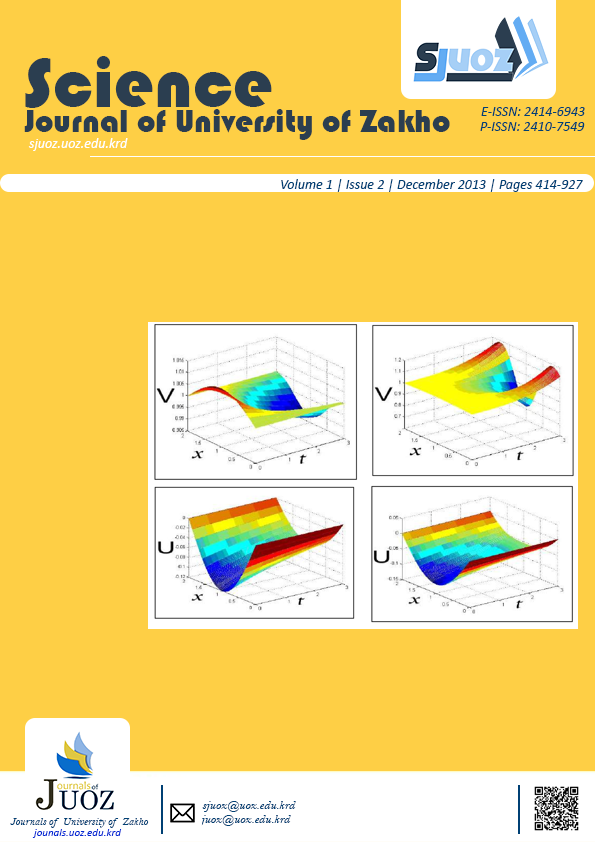 How to Cite
Chemat- Djennia, Z., Bakoz, P., & Hamada, B. (2013). Catalytic Preparation, Characterization and Performance Isomerization of M-Xylene by Modified Montmorillonite Prepared by Microwave. Science Journal of University of Zakho, 1(2), 768-779. Retrieved from https://sjuoz.uoz.edu.krd/index.php/sjuoz/article/view/387
Section
Science Journal of University of Zakho
Authors who publish with this journal agree to the following terms:
Authors retain copyright and grant the journal right of first publication with the work simultaneously licensed under a Creative Commons Attribution License [CC BY-NC-SA 4.0] that allows others to share the work with an acknowledgment of the work's authorship and initial publication in this journal.
Authors are able to enter into separate, additional contractual arrangements for the non-exclusive distribution of the journal's published version of the work, with an acknowledgment of its initial publication in this journal.
Authors are permitted and encouraged to post their work online.