Cloud Computing Loading Time Over Different Operating Systems
Kamaran H.A Faraj

Dept. of Computer Science, Cihan University, Sulaimaniya, University of Sulemani, Iraq

Asan B. Kanbar

Dept. of Computer Science,Cihan University, Sulaimaniya, Iraq

Jaza Gul-Mohammed

Faculty of Engineering, University of Sulemani, Sulemani, Iraq

Wafaa M. Hmeed

Dept. of Computer Science, Cihan University, Sulaimaniya, Iraq

Shagul F. Karim

College of Agricultural engineering science, University of Sulemani, Sulemani, Iraq
Keywords:
Cloud Computing, Electronic Time Loading, Traditional Time Loading, Parallel Processing Systems, Operating Systems
Abstract
Since the traditional time loading (TTL) very primitive before the era of information communication technology (ICT) and it was really not depended on the result of time-loading due to the old version of computer architecture (i.e. serial processing). Nevertheless, the parallel processing systems open a wide area of researching for electronic time loading (ETL) over different operating systems by programing languages (i.e. python or private home page (Php)). The electronic time loading (ETL) for cloud Computing (CC) is a hot experimental topic.  ETL for CC is not only one parameter (i.e. a web technologies type or a web applications type or an infrastructures type or an architectures type). Moderately, the term CC refers to the evolution of the information technology (IT). As we realized the ETL is very important for reducing time wasting. The reducing time-waste loading over different web operating systems or CC is a target in this paper.  Finally, this paper test the Electronic Loading Time of CC over different operating systems with different types of network (i.e. public and private) discovering the least ETL. Hence the benchmarking TTL is not applicable (N/A) due to the activity from a person to others is very changeable and not depended on it at all.  This paper shows the total time and load time over different OS in seconds, and find out the least time loading required this work is a good solution of the response time over different operating system in open source-LOS and non-open source WOS.
References
A. Adekotujo ,A. Odumabo ,A. Adedokun ,O. Aiyeniko, A Comparative Study of Operating Systems: Case of Windows, UNIX, Linux, Mac, Android and iOS, International Journal of Computer Applications (0975 – 8887) Volume 176 – No. 39, July 2020
A.Tripathi, "Web Operating Systems", Amity School of Engineering and Technology,Amity University, Noida, India 2014.
A.Vahdat, E.Belani, P.Eastham, C.Yoshikawa, T.Anderson, D.Culler, M.Dahlin,"WebOS: Operating System Services for Wide Area Applications", Computer Science Department, University of Texas, Austin, 1998.
Chunnjie LUO , Jianfeng ZHAN, Zhen JIA, Lei WANG, Gang LU, Lixin ZHANG , Chng-Zhong XU, Ninghui SUN, "Cloudrank-D: Benchmarking And Ranking Cloud Computing Systems For Data Processing Applications", Springer-Verlag Berlin Heidelberg 2012
Clouds with CloudWorkBench", International Conference on Performance Engineering Companion (ICPE '19 Companion), April 7–11, 2019, Mumbai, India, https://doi.org/10.1145/3302541.3310294.
D. Therrien, "Fact Sheet Cloud Computing", Office of the Privac Commissioner of Canada, May 2016.
D.Kirshna, R.Meshach, "Cloud Computing Along Web-OS", Pollachi, International Journal of Computational Engineering Research,Vol, 03,Issue, 10, 2013.
H. Abusaimeh, "Cloud Web- Based Operating System (Cloud Web Os)", International Journal of Computer Science & Information Technology (IJCSIT) Vol 6, No 2, April 2014.
H. Unger, P.Kroph," Overview About The Resource Scheduling In The Web Operating System(WOS™", FB Informatik,Universität Rostock, Canada, 2000.
H.Steen, Tiger, "Web Operating System for Modern Smartphones", Master of Science Thesis, Chalmers University Of Technology, Göteborg, Sweden, June 2011.
J.Duan, P.Fasker, A.Fesak, T.Stuart, "Benefits and Drawbacks of Cloud-Based ersus Traditioerp Systems", Tilburg University, Netherlands, 2012
Joel Scheuner, Philipp Leitner," Performance Benchmarking of Infrastructure-as-a-Service (IaaS)
L.Hasan, E. Abuelrub, "Assessing The Quality Of Web Sites", Department of Management Information Systems, Zarqa Private University, Jordan, 2011.
Mishra SK, Sahoo B, Parida PP Load balancing in cloud computing: a big picture. J King Saud Univ Comp Infor Sci:1–32, (2018)
R. Sharma, "Applications of Web based Operating System" Department of Computer Science NITK, Surathkal, India, Volume: 1; Issue: 2; June – 2013
R.Mondal, D.Sarddar, "Web OS in CloudComputing: A Case study", Int. J. Advanced Networking and Applications, 2016
R.Sachdeva, P.Sharma, N.Kataria," Web Operating System Impediments", AP, Dept. of Computer Science, Dev Samaj College for Women, Ferozepur City, India 2015.
Rajat, Ajay Kumar Bharti, Performance Analysis of Cloud Computing, IJSRD - International Journal for Scientific Research & Development| Vol. 6, Issue 09, 2018 | ISSN (online): 2321-0613,2018.
Scot Schultz," Measuring modern high-performance computing", HPC/Technical Computing, Nvidia networking business unit, USA, October 19, 2020
Shubham kumar sahu, 2Dr. R.K. Khare,Survay on Web Based Operating System, JETIR, Volume 6, Issue 6, June 2019.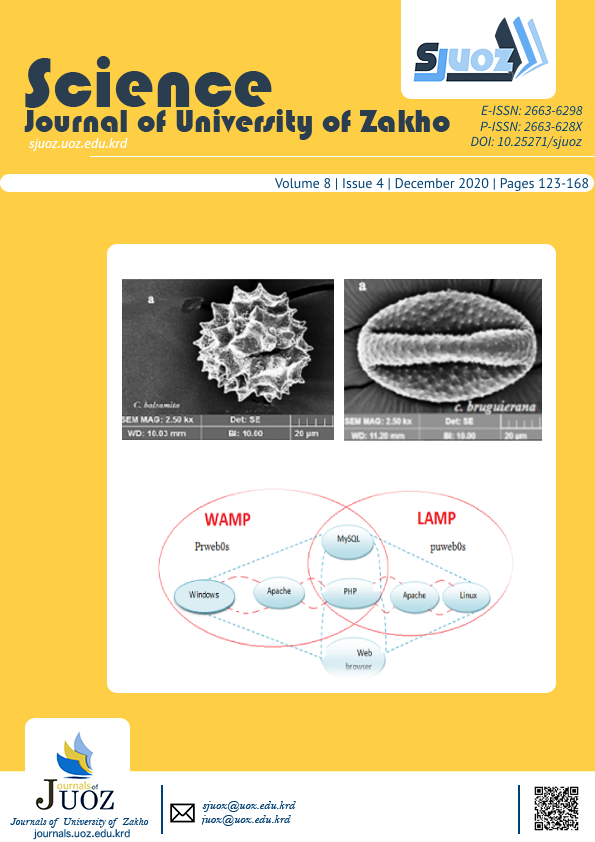 How to Cite
Faraj, K., Kanbar, A., Gul-Mohammed, J., Hmeed, W., & Karim, S. (2020). Cloud Computing Loading Time Over Different Operating Systems. Science Journal of University of Zakho, 8(4), 154-159. https://doi.org/10.25271/sjuoz.2020.8.4.756
Section
Science Journal of University of Zakho
Copyright (c) 2020 Asan Baker Kanbar
This work is licensed under a Creative Commons Attribution-NonCommercial-ShareAlike 4.0 International License.
Authors who publish with this journal agree to the following terms:
Authors retain copyright and grant the journal right of first publication with the work simultaneously licensed under a Creative Commons Attribution License [CC BY-NC-SA 4.0] that allows others to share the work with an acknowledgment of the work's authorship and initial publication in this journal.
Authors are able to enter into separate, additional contractual arrangements for the non-exclusive distribution of the journal's published version of the work, with an acknowledgment of its initial publication in this journal.
Authors are permitted and encouraged to post their work online.