Separation and Spectroscopic Characterization of N-Paraffin Waxes and Isoparaffins from Three Local Crudes in Kurdistan Region of Iraq
Mohammed K. Younis

University of Zakho

Firas S. Al-Ghulami

University of Zakho

Fanar M. Saleem

University of Zakho
Keywords:
Crude oils, elution chromatography, FTIR, urea adduction
Abstract
Samples of light, medium and extra heavy Kurdistan  crude oils and have been de-asphalted and separated into fractions of saturates by elution liquid chromatography technique. The fractions obtained were separated into n-paraffins, isoparaffins by urea adduction  and analyzed using FTIR spectroscopy. The infrared data confirmed the presence of methyl and methylene groups in the saturate fractions of the crude oils. Tawke paraffins fraction have highest value of methyl index, while Jamjamal have the lowest, it means that it has the longest chains of saturate hydrocarbon more than others, while Taqtaq isoparaffins have the highest value, Jamjamal has the lowest.
References
Adedosu, T.A., Sonibare, O.O., 2005. Journal of Applied Science 5, 906-909.
Altgelt, K.H., Boduszynski, M.M., 1994. Composition and Analysis of Heavy Petroleum Fractions. Marcel Dekker, New York.
ASTM, 2003. Annual Book of Standard Petroleum Products and Lubricants. American Society for Testing and Material, Philadphia, USA.
ASTM, D-2549-85. 1985. Separation of Representative Aromatics and Non Aromatics Fractions of High Boiling Oils by Elution Chromatography. Annu. Book Stand.
ASTM, D-2786-86. 1986. Hydrocarbon Type Analysis of Gas saturates fractions by High Voltage Mass pectrometry. Annu. Book Stand.
Considine, D.M., Considine, G.D., 1984. Encyclopedia of Chemistry, 4th ed. Van Nostrand Rein-hold Co., New York.
Francis, W., Peters, M.C., 1980. Fuels and Fuel Technology, 2nd ed. Pergamon Press.
Gonzalez, E.B., Andersen, S.I., Garcia-Martinez, J.A., Lira-Galeana, C., 2001. Energy & Fuels 16, 732-741.
Hirsh, D.E., Hopkins, R.L., Coleman, H.J., 1972. Anal. Chem. 44.
Hobson, G.D., Pohl, W., 1973. Modern Petroleum Technology, 4th ed. Applied Science Publishers, Barking, England.
IP, 2002. Standards Methods for Analysis and Testing of Petroleum and Related Products. the Institute of Petroleum, London.
Khadim, M.A., Sarbar, M.A., 1999. Journal of Petroleum Science and Engineering 23, 213-221.
Lappas, A.A., Patiaka, D., Ikonomou, D., Vasalos, I.A., 1997. Ind. Eng. Chem. Res. 36.
Mystry, B.D., 2009. Handbook of spectroscopic data chemistry. Oxford Book Company, Delhi.
Obali, M., 1988. Commun. Fac. Sci. Uni. Ank. Serie B 35, 41-52.
Odebunmi, E.O., Adeniyi, S.A., 2007. Bull. Chem. Soc. Ethiop. 21, 135-140.
Ryan, P.R., Geoffrey, C.K., Lateefah, A.S., Sunghwan, K., M., A.G., 2004. Am. Chem. Soc. Div. Fuel Chem. 49.
Said, E.A., AI-Sammaraie, F.M., Daoud, D.S., Allos, E.l., 1988. Pet. Res. 7.
Shiping, X., Yongge, S., 2005. Organic Geochemistry 36, 1334-1338.
Silverstein, R.M., Webster, F.X., Kiemle, D.J., 2005. Spectrometric Identification of Organic Chemicals, 7th ed. John Wiley and Sons, Inc., United State of America.
Speight, J.G., 1990. Fuel Science and Technology Handbook. Marcel Dekker, New York.
Speight, J.G., 1999. The Chemistry and Technology of Petroleum 3rd ed. Marcel Dekker, New York.
Surinder, P., 2010. Petroleum Fuels Manufacturing Handbook, 1st ed. McGraw-Hill, New York.
Thornton, D.P., 1977. Energy Technology Handbook. McGraw-Hill, New York.
UOP, 1985. Laboratory Test Methods for Petroleum and its Products. University Oil Products CO., Chicago, USA, UOP, 64.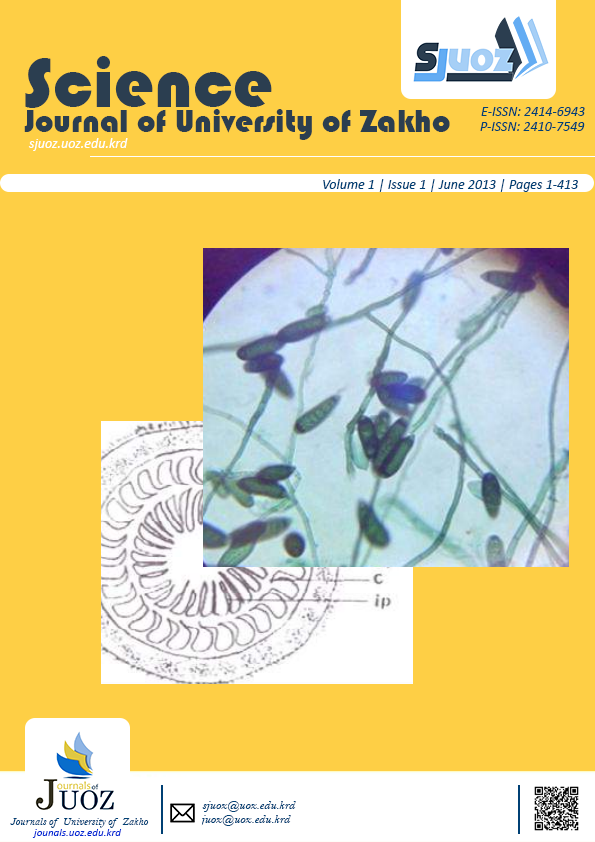 How to Cite
Younis, M., Al-Ghulami, F., & Saleem, F. (2013). Separation and Spectroscopic Characterization of N-Paraffin Waxes and Isoparaffins from Three Local Crudes in Kurdistan Region of Iraq. Science Journal of University of Zakho, 1(1), 286-291. Retrieved from https://sjuoz.uoz.edu.krd/index.php/sjuoz/article/view/90
Section
Science Journal of University of Zakho
Authors who publish with this journal agree to the following terms:
Authors retain copyright and grant the journal right of first publication with the work simultaneously licensed under a Creative Commons Attribution License [CC BY-NC-SA 4.0] that allows others to share the work with an acknowledgment of the work's authorship and initial publication in this journal.
Authors are able to enter into separate, additional contractual arrangements for the non-exclusive distribution of the journal's published version of the work, with an acknowledgment of its initial publication in this journal.
Authors are permitted and encouraged to post their work online.