Protective Role of Melatonin in L-Name Induced Hypertension in Male Albino Rats
Aveen R. Khdhr

Soran University

Almas M. R. Mahmud

University of Salahaddin
Keywords:
melatonin, L-NAME, hypertension, NO, oxidative stress
Abstract
The objective for the present study is to investigate the effects of melatonin (MEL) on systolic blood pressure (SBP), some biochemical parameters; serum (malondialdehyde (MDA), superoxide dismutase (SOD), reduced glutathione (GSH), nitric oxide (NO)) in NG-nitro-L-arginine methyl ester hydrochloride (L-NAME) treated rats. The male albino rats divided into five groups treated for 4 weeks: Group 1: Control rats. Group 2: L-NAME (35 mg/100 ml drinking water). Group 3: L-NAME (35 mg/100 ml drinking water) + melatonin (30 mg/Kg diet). Group 4: L-NAME (35 mg/100 ml drinking water) + melatonin (60 mg/Kg diet). Group 5: L-NAME (35 mg/100 ml drinking water) + melatonin (120 mg/Kg diet). A significant elevation in SBP and serum MDA were detected in L-NAME treated rats. Co-administration of melatonin with L-NAME prevented increasing in SBP and serum level of MDA in a dose dependent manner. On the other hand serum levels   of SOD and GSH were decreased in response to L-NAME treatment, while, co-treatment with melatonin increased SOD and GSH in a dose dependent manner. The decrease serum NO level in response to L-NAME was significantly increased by melatonin but its level was decreased by increasing melatonin doses. In conclusion:  L-NAME induced hypertension model was associated with decreased NO level, interestingly; melatonin increased serum NO in L-NAME treatments, but with increasing dose of MEL, NO level was decreased. Furthermore; MEL through its antioxidant properties reduced oxidative stress and prevented lipid peroxidation.
References
Andrew, P.J., and Mayer B., (1999). Enzymatic function of nitric oxide synthases. Cardiovasc Res. 43: 521– 31.
Badyal, D.K., Lata H. and Dadhich A.P., (2003). Animal models of hypertension and effects of drugs. Indian Journal of pharmacology. 35: 349-362.
Chuang, J.I., Chen S.S. and Lin M.T., (1993). Melatonin decreases brain serotonin release, arterial pressure and heart rate in rats. Pharmacology. 47: 91-97.
Deniz, E., Colakoglu N., Sari A., Sonmez M.F., Tugrul I., Oktar S., Ilhan S. and Sahna E., (2006). Melatonin attenuates renal ischemia-reperfusion injury in nitric oxide synthase inhibited rats. Acta Histochem. 108(4): 303-9.
Ding, Y., Gonick H.C. and Vaziri N.D., (2001). Lead- induced hypertension: increased hydroxyl radical production. Am J Hypertension. 14: 169-175.
Girouard, H., Chulak C.H., Lejossec M., Lamontagne D. and De Champlain J., (2001). Vasorelaxant effects of the chronic treatment with melatonin on mesenteric artery and aorta of spontaneously hypertensive rats. J Hypertens. 19: 1369-1377.
Guyton, A.C. and Hall J.E., (2006). Textbook of medical physiology.12th edition. W.B. Saunders Company, Philadelphia.
Hara, M., Yoshida M., Nishijima H., Yokosuka M., Iigo M., Ohtani-kaneko R., Shimada A., Hasegawa T., Akama Y. and Hirata K., (2001). Melatonin, a pineal secretory product with antioxidant properties, protects against cisplatin-induced nephrotoxicity in rats. J pineal Res. 30: 129-138.
Huk, I., Nanobashivili J., Neumayar C., Punz A., Mueller M., Afkhampour K., Mittlboek M., Losrt U., Polterauer P., Rath E., Patton S. and Malinski T., (1997). L-arginine treatment alters the kinetics of nitric oxide and superoxide release and reduces ischemia / reperfusion injury in skeletal muscle. Circulation. 34(7):63-69.
K-Laflamme, A., Wu L., Foucart S. and de Champlain J., (1998). Impaired basal sympathetic tone and alpha 1-adrenergic responsiveness in association with the hypotensive effect of melatonin in spontaneously hypertensive rats. Am J Hypertens. 11: 219-229.
Kojsova, S., Jendekova L., Zicha J., Kunes J., Andriantsitohaina R. and Pechanova O., (2006). The effect of different antioxidants on nitric oxide production in hypertensive rats. Physiol Res.55 (1): S3-S16.
Kopkan, L. and Majid S.A., (2005). Superoxide contributes to development of salt sensitivity and hypertension induced by nitric oxide deficiency. Hypertension. 46: 1026.
Kunes, J., Hojna S., Kadlecova M., Dobesova Z., Rauchova H., Vokurkova M., Loukotova J., Pechanova O. and Zicha J., (2004). Altered balance of vasoactive systems in experimental hypertension; the role of relative NO deficiency. Physiological Research. 53: S 23-S 34.
Kurtz, A. and Wagner C., (1998). Role of nitiric oxide in the control of renin secretion. Am J Physiol Renal Physiol. 275: F849- F862.
Landmesser, U., Dikalov S., Price S.R., McCann L., Fukai T., Holland S.M., Mitch W.E. and Harrison D.G., (2003). Oxidation of tetrahydrobiopterin leads to uncoupling of endothelial cell nitric oxide synthase in hypertension. J Clin Invest. 111: 1201–1209.
Pacher, P., Beckman J.S. and Liaudet L., (2007). Nitric oxide and peroxynitrite in health and disease. Physiol. Rev. 87: 315-424.
Paulis, L. and Simko F., (2007). Blood pressure modulation and cardiovascular protection by melatonin: Potential mechanism behind. Physiol. Res. 56: 671-687.
Pechanova, O., Dobesova Z., Cejka J., Kunes J. and Zicha J., (2004). Vasoactive systems in L-NAME hypertension: the role of inducible NO synthase. J Hypertens. 22: 167-173.
Pechanova, O., Zicha J., Paulis L., Zenebe W., Dobesova Z., Kojsova S., Jendekova L., Sladkova M., Dovinova I., Simko F. and Kunes J., (2006). Effect of N-acetylcysteine and melatonin in adult SHR with established hypertension. Submitted to Eur J Pharmacol. Pediatr Nephrol. 22: 2011–2022.
Pierpaoli, W. and Regelson W., (1994). Pineal control of aging: effect of melatonin and pineal grafting on aging mice. Proc Nat / Acad Sci U S A. 91: 787-791.
Rodriguez, C., Mayo J.C., Sainz R.M., Antoli I., Herrera F., Martin V. and Reiter R.J., (2004). Regulation of antioxidant enzymes: a significant role for melatonin. J. Pineal. Res. 36: 91-9.
Tan, D.X., Reiter R.J., Manchester L.C., Yan M.T., El-Sawi M., Sainz R.M., Mayo J.C., Kohen R., Allegra M. and Hardeland R., (2002). Chemical and physical properties and potential mechanisms: Melatonin as a broad spectrum antioxidant and free radical scavenger. Curr Top Med Chem. 2: 181–197.
Uzun, H., Simsek G., Aydin S., Unal E., Karter Y., Yelmen N.K., Vehid S., Curgunlu A. and Kaya S., (2005). Potential effects of L-NAME on alcohol-induced oxidative stress. World J Gastroenterol.11(4):600-604.
Wu, W.R. and De Champlain J., (1998). Enhanced inhibition by melatonin of a-adrenoceptorinduced aortic contraction and inositol phosphate production in vascular smooth muscle cells from spontaneously hypertensive rats. J Hypertens. 16: 339-347.
Zanchi, A., Schaad N.C., Osterheld M.C., Grouzmann E., Nussberger J., Brunner H.R. and Waeber B., (1995). Effects of chronic NO synthase inhibition in rats on renin-angiotensin system and sympathetic nervous system. American Journal of Physiology. 268: H2267- H2273.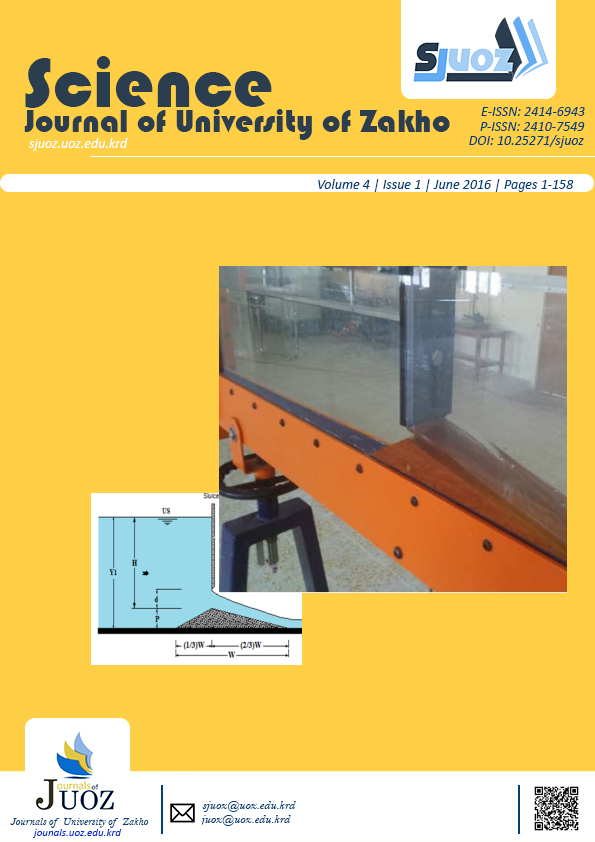 How to Cite
Khdhr, A., & Mahmud, A. (2016). Protective Role of Melatonin in L-Name Induced Hypertension in Male Albino Rats. Science Journal of University of Zakho, 4(1), 18 - 24. Retrieved from https://sjuoz.uoz.edu.krd/index.php/sjuoz/article/view/300
Section
Science Journal of University of Zakho
Authors who publish with this journal agree to the following terms:
Authors retain copyright and grant the journal right of first publication with the work simultaneously licensed under a Creative Commons Attribution License [CC BY-NC-SA 4.0] that allows others to share the work with an acknowledgment of the work's authorship and initial publication in this journal.
Authors are able to enter into separate, additional contractual arrangements for the non-exclusive distribution of the journal's published version of the work, with an acknowledgment of its initial publication in this journal.
Authors are permitted and encouraged to post their work online.