Preliminary Phytochemical Screening of Iris Persica L. (Flowers, Leaves, Bulbs and Rhizomes) Collected in Kurdistan Region-Iraq.
Hawraz I. M. Amin

University of Salahaddin

Ahmed A. Amin

University of Salahaddin

Faiq H.S. Hussain

University of Salahaddin

Giovanni Vidari

University of Pavia-Italy
Keywords:
Iris persica, Phytochemical Constituents, Qualitative Analysis
Abstract
The curative properties of medicinal plants are perhaps due to the presence of various secondary metabolites. This paper reports the first investigation of phytochemical constituents present in the methanolic extracts of flowers, leaves, bulbs and rhizomes of Iris persica L. (Iridaceae), collected in Korek Mountain (Rawanduz) in the Kurdistan Region-Iraq, which is used by local people for the treatment of wound inflammation and tumor. The phytochemical analysis was performed to detect the presence of flavonoids, polyphenols, terpenoids, protiens and reducing sugar in all extracts of Iris persica. While tannins and saponins were found in bulb and rhizome extracts only, alkaloids, steroids, aminoacids and anthraquinons were found to be absent in all extracts.
References
Amin Mir, M., Sawhney, S., Jassal, M. (2003). Qualitative and Quantitative Analysis of Phytochemicals of Taraxacum officinale. Wudpecker Journal of Pharmacy and Pharmocology, 2(1), 001 - 005.

Guo-Yong, X., Xiao-Ying, Q., Rui, L., Qi, W., Bin-Bin, L., Guo-Kai, W., Guang-Kai, X., Rui, W., and Min-Jian, Qin. (2013). New Isoflavones with Cytotoxic Activity from the Rhizomes of Iris germanica L. Natural Product Research, 27(23), 2173-2177.

Kaššák, P. (2012). Secondary metabolites of the choosen genus Iris species. Acta Universitatis Agriculturae et Silviculturae Mendelianae Brunensis, LX(8), 269–280.

Mati, E., and De Boer, H. (2011). Ethnobotany and Trade of Medicinal Plants in the Qaysari Market, Kurdish Autonomous Region, Iraq. J. Ethnopharmacol. 133(2), 490-510.

Minakshi, Ch., and Sushma, M. (2006). Evaluation of Phytoconstituents of Terminalia arjuna for Wound Healing Activity in Rats. Phytotherapy research, 20, 799-805.

Mohammad, A., and Arun, K. (2009). Anti-inflammatory Activity of Ethanolic Extract of Dalbergia sissoo (Roxb.) Bark. Malaysian Journal of Pharmaceutical Sciences, 7(1), 39–50.

Nezahat, K., Ali, Ç., and Abdulkadir, S. (2011). Ecological Response of Some Iris L. Taxa (Iridaceae) in Turkey. Bangladesh J. Bot. 40(2), 177-184.

Rajesh H., Rao, S., Megha, R., Prathima, K., Rejeesh, E., and Chandrashekar, R. (2013). Phytochemical analysis of methanolic extract of Curcuma longa Linn rhizome. International Journal of Universal Pharmacy and Bio Sciences, 2(2), 39-45.

Raphael I. (1969). Natural products (A laboratory guide). Academic press, London and New York.

Sabrin, I., Gamal, M., and Nawal, M. (2012). New Constituents from the Rhizomes of Egyptian Iris germanica L. Molecules, 17, 2587-2598.

Sawant, R., and Godghate, A. (2013). Qualitative Phytochemical Screening of Rhizomes of Curcuma longa Linn. International Journal of Science, Environment and Technology, 2 (4), 634 – 641.

Saxena, J., and Sahu, R. (2012). Evaluation of Phytochemical Constituents in Conventional and Non Convential Species of Curcuma. IRJP, 3(8), 203-204.

Townsend, C., and Guest, E. (1985). Flora of Iraq (8th ed.). Iraq: Baghdad-Ministry of Agriculture & Agrarian Reform.

Wirginia K., Elwira S., Jarosław W., Otgonbataar U., Paweł G. and Krystyna S. (2013). Major secondary metabolites of Iris spp. Phytochem Review, 12(4), 01-30.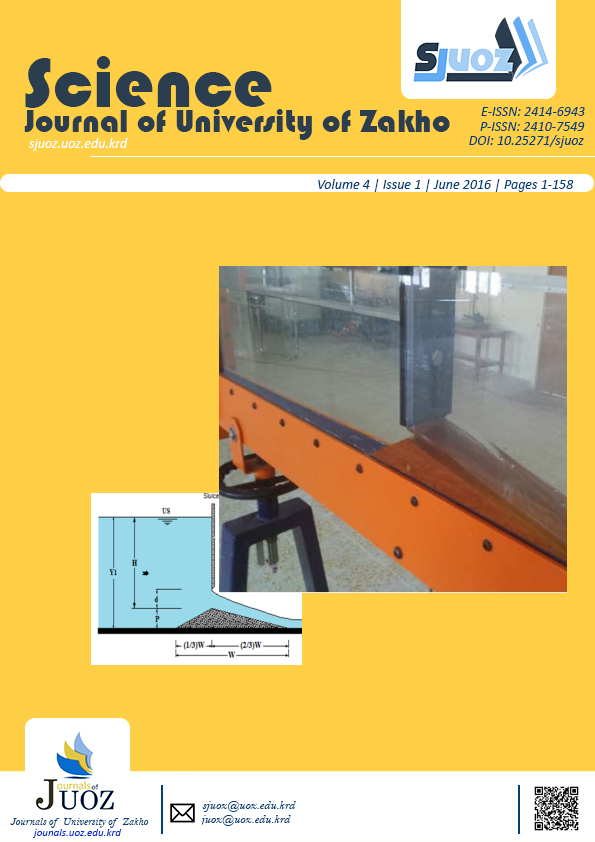 How to Cite
M. Amin, H., Amin, A., Hussain, F., & Vidari, G. (2016). Preliminary Phytochemical Screening of Iris Persica L. (Flowers, Leaves, Bulbs and Rhizomes) Collected in Kurdistan Region-Iraq. Science Journal of University of Zakho, 4(1), 81 - 86. Retrieved from https://sjuoz.uoz.edu.krd/index.php/sjuoz/article/view/308
Section
Science Journal of University of Zakho
Authors who publish with this journal agree to the following terms:
Authors retain copyright and grant the journal right of first publication with the work simultaneously licensed under a Creative Commons Attribution License [CC BY-NC-SA 4.0] that allows others to share the work with an acknowledgment of the work's authorship and initial publication in this journal.
Authors are able to enter into separate, additional contractual arrangements for the non-exclusive distribution of the journal's published version of the work, with an acknowledgment of its initial publication in this journal.
Authors are permitted and encouraged to post their work online.