Effect of Different Potting Mixes on Germination and Vegetative Growth of Sweet Pepper Plant (Capsicum Annum L.) Under Greenhouse Conditions
Omar A. O. Rekani

University of Duhok

Hajar A. Ameen

University of Duhok

Sarwar M. R. Ahmed

University of Duhok
Keywords:
Compost, Germination, Organic fertilizer, Sweet Pepper, Peatmoss, Yield production
Abstract
Sweet pepper is a high nutrient demanding vegetable crop. Fertilizer use and management is therefore of highly important to sustain growth and high yield. However, this study aimed to evaluate the effect of using different types of organic fertilizer on germination and vegetative growth of sweet pepper plant, that have bell-shaped (Capsicum annum L), grown in pots culture under greenhouse condition. The study was conducted at the College of Agriculture, Duhok Governorate, Kurdistan region, Iraq during March 15th, 2015, to June 25th, 2015. The treatments that have been compared in this study were: T1 (Control 100% soil); T2 Municipal Solid Waste compost taken from Kashe factory (1:1 V/V); T3 Sheep manure (1:1 V/V); and T4Peat moss (1:1 V/V).The experiment was randomized complete design with three replicate. The parameters that have been measured were: germination percentage, plant height; number of leave per plant; leaf area and plant fresh and dry weight per pot. In most cases all the studied growth parameters were significantly higher in pot treated by peatmoss and sheep manure compared to control and Municipal Solid Waste compost. Germination percentage was also significantly enhanced in treatment amended by peatmoss and sheep manure. Municipal waste compost was significantly reduced the all the plant growth parameter and germination percentage as well. Depending on these results it can be suggested that organic fertilizers particularly peatmoss and sheep manure can be used to enhance growth and productivity in plant pepper. It was also claimed that the amount of municipal waste compost that was used in this experiment might be too high so further study should be conducted with different ratio on the quality of this type of organic fertilizer.
References
Abdrabbo, M. A. A. and Farag, A. A. (2008). Using Different Mixtures of Organic and Inorganic Materials Plus Levels of Rabbit Manure to Grow Pepper And Eggplant In Pot Culture. Proceeding of the First Egyptian Conference on Rabbit Sciences, (pp.29-30), Egypt.
Abu Rayyan, A. m. and Abu Irmaileh, B. E. (2015). Organic Germinating Media for Vegetable Seeds. Jordan Journal of Agricultural Sciences, 11(1), pp. 139 – 146.
Abul-Soud, M., Abdrabbo, M. A. and Farag A. A. (2014). Increasing Soil Organic Matter Content as a Key Factor for Sustainable Production of Sweet Pepper. International Journal of Plant & Soil Science, 3(6); pp.707-723.
Abu-Zahra, T. R. (2012). Vegetative, Flowering and Yield of Sweet Pepper as Influencedby Agricultural Practices. Middle-East Journal of Scientific Research,11(9); pp. 1220-1225.
Bhardwaj, R.L., (2014). Effect of growing media on seed germination and seedling growth of papaya cv.'Red lady', African journal of plant science,8(4), pp.178-184.
Ikeh, A.O., Ndaeyo, N.U., Uduak, I.G., Iwo, G.A., Ugbe, L.A., Udoh, E.I. and Effiong, G.S.(2012). Growth and yield responses of pepper (Capsicum frutescens l.) to varied poultry manure rates in Uyo, Southeastern Nigeria. ARPN Journal of Agricultural and Biological Science, 7(9), pp.735-742.
ISTA, (1996). International Seed Testing Association. Zurich, Switzerland.
Jahromi, M. G., Aboutalebi, A., and Farahi, M. H. (2012). Influence of different levels of garden compost (garden wastes and cow manure) on growth and stand establishment of tomato and cucumber in greenhouse condition. African Journal of Biotechnology, 11(37); pp. 9036-9039.
Jalaluddin, M. and Hamid, M.A.R.I.A. (2011). Effect of adding inorganic, organic and microbial fertilizers on seed germination and seedling growth of sunflower. Pak. J. Bot, 43(6), pp.2807-2809.
Komla, A. N. (2013). Effect of Organic Mulch on Growth and Yield of Sweet Pepper (Capsicum annuum L.). Ph.D dissertation, University of Ghana).
Ling, Q., Qinping, W., Jiarui, L., Xiaowei, W. and Jun, L. (2005). Effects of peat on water conserving properties of sandy soil. Transactions of the Chinese Society of Agricultural Engineering, 21(10); pp.163–175.
Mass, E.V. (1986). Salt tolerance of plants.Applied Agricultural Research, 1:12-26.
Nguyen, T. H., &Shindo, H. (2011). Effects of different levels of compost application on amounts and distribution of organic nitrogen forms in soil particle size fractions subjected mainly to double cropping. Agricultural Sciences,2(03); pp. 213-219
Roy, S. S, Pall, K. K. & Khan, M. S. I. (2011). Nitrogen and phosphorus efficiency on the fruit size and yield of Capsicum. Journal of Experimental Sciences, 2(1); pp. 32-37.
Watson, D. J., & WATSON, M. A. (1953). Comparative physiological studies on the growth of field crops. Annals of Applied Biology, 40(1), pp. 1-37.
Zayed, M., Hassanein, M., Esa, N. and Abdallah, M. (2013). Productivity of pepper crop (Capsicum annuum L.) as affected by organic fertilizer, soil solarization, and endomycorrhizae. Annals of Agricultural Sciences, 58(2); pp.131-137.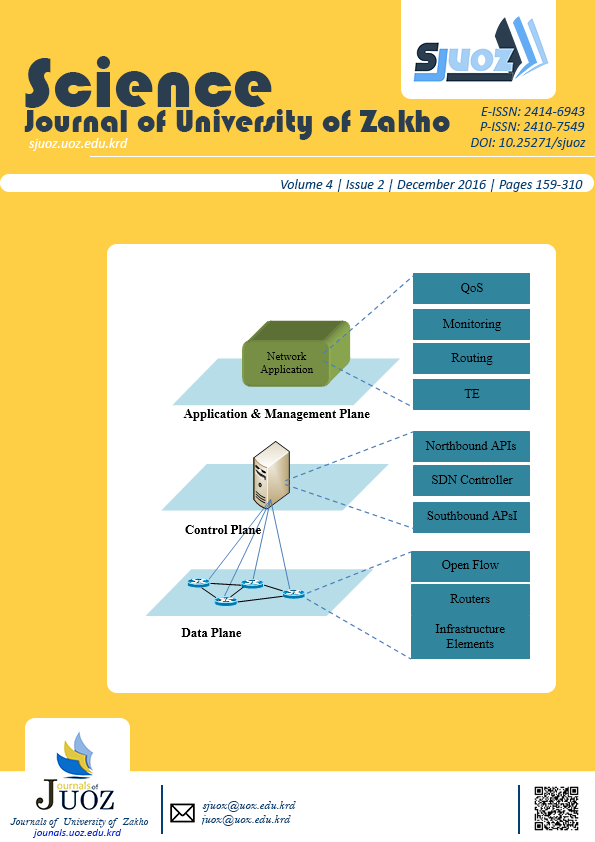 How to Cite
Rekani, O., Ameen, H., & Ahmed, S. (2016). Effect of Different Potting Mixes on Germination and Vegetative Growth of Sweet Pepper Plant (Capsicum Annum L.) Under Greenhouse Conditions. Science Journal of University of Zakho, 4(2), 187-193. Retrieved from https://sjuoz.uoz.edu.krd/index.php/sjuoz/article/view/334
Section
Science Journal of University of Zakho
Authors who publish with this journal agree to the following terms:
Authors retain copyright and grant the journal right of first publication with the work simultaneously licensed under a Creative Commons Attribution License [CC BY-NC-SA 4.0] that allows others to share the work with an acknowledgment of the work's authorship and initial publication in this journal.
Authors are able to enter into separate, additional contractual arrangements for the non-exclusive distribution of the journal's published version of the work, with an acknowledgment of its initial publication in this journal.
Authors are permitted and encouraged to post their work online.