Prevalence of Intestinal Parasites under Fingernails of Primary School Children in Zakho, Kurdistan Region
Keywords:
Parasites, fingernails, children, Zakho, Kurdistan, Iraq
Abstract
In this study, 103 fingernails samples were collected (31 female and 72 male) from primary school children aged between 6 to12 years, which lived in Zakho city during the period from March to November, 2015. Each fingernail sample was immersed in normal saline, and subsequently centrifuged for 5 minutes at 2500 rpm. The supernatant was discarded; a few drops of the sediment of each sample were placed on the center of a clean glass slide with a drop of iodine or eosin, and then examined microscopically. The results revealed a total rate of 25.24% of infection with parasites. The recorded parasites with their rates included: eggs of Enterobius vermicularis, Hymenolepis nana, Ascaris lumbricoides and Trichuris trichaura (7.76, 5.82, 2.91 and 0.97 %, respectively) and cysts of Entamoeba histolytica and Giardia lamblia (4.85 and 2.91 %). According to age, the highest percentage of infection occurred in 9 years old children. Regarding the gender, males showed a higher rate of infection than females (17.47 % versus 7.76%, respectively). These results clarify the role of fingernails in the transmission of parasitic infections, which requires continuous cleaning and cutting.
References
Abdullah, I. A., and Al-Shirifi, H. M. (2005).The role of fingernails in transmitting the infection with intestinal parasites among pupils of primary schools in Al-Taamem Province-Iraq. Al-Rafidan Scientific J., 16(8): 225-226.
Al-Nafoly, D. M. Y. (2010). Prevalence of intestinal Parasite under finger nail of primary school students in Sinjar, Tal-Afer region and Mosul city. Tikrit Journal of Pure Science, 15(2): 201-205.
Ayeh-Kumi, P. F.;Quarcoo, S.;Kwakye-Nuako, G.;Kretchy, J. P.;Osafo-Kantanka, A., and Mortu, S. (2009). Prevalence of intestinal parasitic infections among food vendors in Accra, Ghana.Journal of Tropical Medicine and Parasitology. 32(1): 1-8.
Fan, P. C.; Chung W. C.; Fan, C. K.; Huang, P., and Yen, C. W. (1998).Current status of Enterobius vermicularis infection among school children in Taiwan and offshore island. Chin. J. Parasitol. 11: 47- 65.
Harhay, M. O.; Horton J., and Olliaro, P. L. (2010).Epidemiology and control of human gastrointestinal parasites in children. Expert Rev. Anti. Infect.Ther., 8: 219–234.
Hassan, S. B., and Nazir, H. S. (2010).The role of the fingernails and feet in the prevalence of pollution in the intestinal parasites and stages between students Duhok-province of northern Iraq. J. Anbar University of Pure Sciences, 4(2): 28-35.
Hotez, P. J.;Brindley, P. J.;Bethony, J. M.; King, C. H.; Pearce, E. J., and Jacobson, J. (2008). Helminth infections: the great neglected tropical diseases. J.Clin.Invest., 118:1311–1321.
Kagei, N. (1983). Techniques for the measurement of environmental pollution by infective stage of soil transmitted helminths. Yokogowa M., collected papers on the control of soil transmitted helminthiasis. APCO Tokyo, 11: 27-46.
Khan, M. Y. (1979). An analytical study of factors related to infestation by intestinal parasites in rural school children (report of a pilot study). Public Health. 93: 82–88.
Luong, T. V. (2003). De-worming school children and hygiene intervention. Int. J. Environ. Health Res., 13: S15–S159.
Mahmud, M. A.;Spigt, M., Bezabih, A. M.;Pavon, I. L.;Dinant, G. J., and Velasco, R. B. (2013).Risk factors for intestinal parasitosis, anaemia, and malnutrition among school children in Ethiopia.Pathog.Glob.Health, 107: 58– 65.
Moses, A.;Uchenna, U., and Michael, E. (2013).Prevalence of intestinal parasites from the fingers of school children in Ohaozara, Ebonyi State, Nigeria. American Journal of Biological, Chemical and Pharmaceutical Sciences, 1(5): 22 -27.
Mustafa, U.; Adnan, S.;Gonul, A.;Hatice, O., and Suleyman, A. (2001).Environmental pollution with soil – transmitted helminths in Sanliurfa, Turkey.Memorial Institute Oswaldo Cruz, Rio de Janeiro. 96(7): 903-909.
Palmer, S.R., and Biffin, A.H. (1990) Cryptosporidiosis in England and Wales: prevalence and clinical and epidemiological features. British Medical Journal 300, 774–777.
Quihui, L.;Valencia, M. E.; Crompton, D. W. T.; Phillips S.; Hagan P., and Morales G. (2006). Role of the employment status and education of mothers in the prevalence of intestinal parasitic infections in Mexican rural schoolchildren. BMC Public Health, 6:225. doi.10.1187/1471-2458-6- 225.
Roche, J., and Benito, A. (1990).Prevalence of intestinal parasites with special reference to Entamoeba histolytica on the Island of Bioko (Equatorial Guinea). Am. J. Trop.Med. Hyg., 60(2): 257-262.
Sackey, M. E.;Weigel, M. M., and Armijos, R. X. (2003).Predictors and nutritional consequences of intestinal parasitic infections in rural Ecuadorian children. Journal of Tropical Pediatrics, 49(1): 17-23.
Stephenson, L. S.; Latham, M. C.,Kinoti, S. N.;Kurz, K. M., and Brigham, H. (1998). Improvement in physical fitness in Kenya schoolboys infected with hookworm, Trichuris trichiura and Ascaris lumbricoides following a single dose of Albendazole. Trans. R. Soc. Trop. Med.Hyg., 84: 277- 282.
WHO (1987).Public health significance of intestinal parasitic infections.Bull World Health Organ, 65(5):575–588.
WHO (2006).Regional Office for South East Asia. Guidelines on Standard Operating Procedure for Microbiology 2006.[cited Aug 2011] Available from: http://www.searo.who.int/en/Section10/Section17/ Section53/Section482_1804.htm.
WHO (2010).Neglected Tropical Diseases - PCT Databank.
Zuk, M., and McKean, K. A. (1996).Sex differences in parasite infections: patterns and processes.Int.J.Parasitol.,(26):1009–1023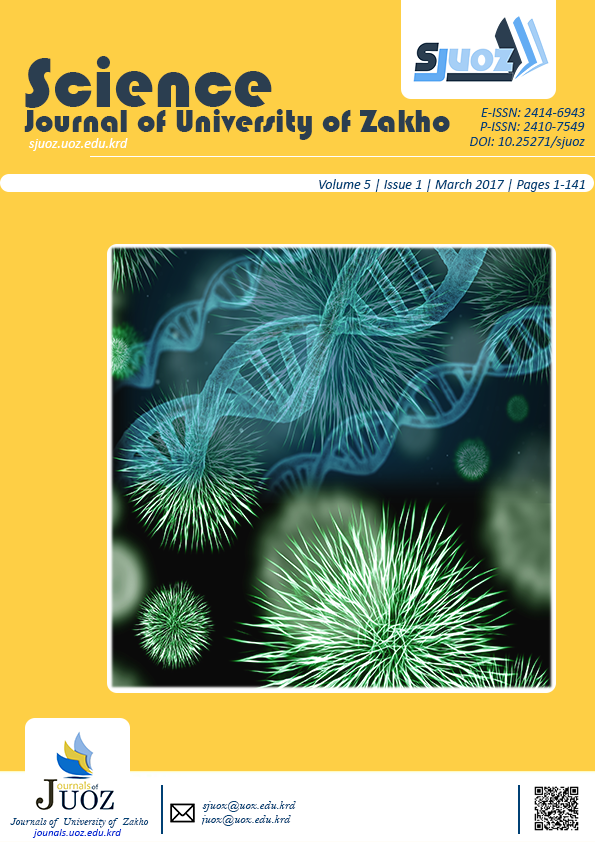 Downloads
How to Cite
Jameel, A. Y., Issa, A. R., Amidy, K. S., Mero, W. M. S., Sabri, M. A., & Khdihir, M. A. (2017). Prevalence of Intestinal Parasites under Fingernails of Primary School Children in Zakho, Kurdistan Region. Science Journal of University of Zakho, 5(1), 25–27. https://doi.org/10.25271/2017.5.1.295
Section
Science Journal of University of Zakho
License
Authors who publish with this journal agree to the following terms:
Authors retain copyright and grant the journal right of first publication with the work simultaneously licensed under a Creative Commons Attribution License [CC BY-NC-SA 4.0] that allows others to share the work with an acknowledgment of the work's authorship and initial publication in this journal.
Authors are able to enter into separate, additional contractual arrangements for the non-exclusive distribution of the journal's published version of the work, with an acknowledgment of its initial publication in this journal.
Authors are permitted and encouraged to post their work online.