Molecular Characterization of Fasciola Spp. Isolated From the Gallbladder of Infected Cattle in Duhok Province, Kurdistan Region Iraq
Ahmed B. Mohammed

University of Zakho

Awat Mustafa

University of Zakho

Araz R. Issa

University of Zakho

Wijdan M.S. Mero

University of Zakho
Keywords:
Fasciola hepatica, Cattle, ITS-2 ribosomal DNA, Duhok
Abstract
Fascioliasis caused by the liver flukes of the genus Fasciola is considered as the most significant Trematodes infection of ruminants in both temperate and tropical countries. In the present study fifty adult Fasciola flukes (Platyhelminthes: Trematoda: Digenia) were collected from the bile ducts and gallbladder of infected bovine hosts (cattle) slaughtered at Duhok abattoir, Kurdistan region, Iraq.  Genomic DNA extraction was performed using a Genomic DNA Extraction kit. ITS-1 and ITS-2 ribosomal DNA sequences have been used to characterize these liver flukes as a specific marker. The PCR products were separated by electrophoresis in 1.5% agarose gel, visualized by staining with ethidium bromide, and photographed. ITS-2 marker for F. hepatica was amplified successfully and the length of produced band for ITS-2 was 330 bp. The present study is the first trail for molecular characterization of F. hepatica in cattle in Duhok, Kurdistan Region, Iraq  using the ITS-2 rDNA as a reliable genetic marker.
References
Abdalnabi, R. A. (2012) Epidemiological study on Fasciola hepatica in children and animals at Babylon city. Al- Mustansiriyah Journal of Sciences, 23(6):19-26.

Agatsuma, T.; Arakawa, Y.; Iwagami, M.; Honzako, Y.; Cahyaningsih, U.; Kang, S., and Hong, S. (2000) Molecular evidence of natural hybridization between F. hepatica and F. gigantica. Parasitology International, 49 (3): 231-238.

Alasaad, S.; Huang C.Q.; Li Q.Y.; Granados, J.E.; Garcia-Romero, G.; Perez, J.M., and Zhu X.Q. ( 2007) Characterization of Fasciola samples from different host species and geographical location in Spain by sequence of internal transcribed spacers rDNA. Journal of Parasitology Research, 101:1245-1250.

Al-Delemi, J.K.A. (2005) Epidemiological and immunological study for Fasciola gigantica among cattle in Babylon province. Ph.D. thesis, College of Veterinary Medicine, University of Baghdad, Iraq.

Al-Habbib, W.M.S., and Al-Zako, S.S. (1981) The effect of different temperatures on the development of intra-Molluscan Stages of Fasciola Gigantica. Journal of thermal Biology, 6(4)373-377.

Ashrafi, K.; Valero, M.A.;Panova, M.;Periago, M.V.; Massoud, J., and Mas-Coma S. (2006) Phenotypic analysis of adults of Fasciola hepatica, Fasciola gigantica forms from endemic region of Gilan, Iran. Parasitology International, 55(4):249-260.

Ayoub, M. B.; Wahba, A. A., and Ibrahim, M. (2015) Molecular characterization of Fasciola spp. in sheep and cattle. Animal Health Research Journal, 3( 2): 67-75

Brown, H.W., and Neva, F. A. (1997) Basic clinical parasitology, 5th ed. Prentice-Hall International Inc.UK.

Caprino, P.; Ferranti, F.; Passa, G., and Quintiliani, A. (2007) A rare case of Obstructive jaundice and cholecystitis in hepatic Fascioliasis in Italy. Chirurgia Italiana. 59(6):891–894.

Chaichanasak, P.; Ichikawa, M.; Sobhon, P., and Itagaki, T. (2012) Identification of Fasciola flukes in Thailand based on their spermatogenesis and nuclear ribosomal DNA, and their intraspecific relationships based on mitochondrial DNA. Parasitology. Int., 61: 545–459.

Chen, M.G., and Mott, K.E. (2010) Progress in assessment of morbidity due to Fasciola hepatica infection: a review of recent literature. Tropical Diseases Bulletin. 87: 1–38.

Erensoy, A.; Kuk, S., and Ozden, M. (2009) Genetic Identification of Fasciola hepatica by ITS-2 sequence of nuclear ribosomal DNA in Turkey. Journal of Parasitology Research, 105:407- 412.

Hashimoto, K.; Watansobe, T; Lu, C.X; Init, D; blair, S., and Agatsuma, T. ( 1997) Mitochondrial DNA and Nuclear DNA indicate that the Japanese Fasciola species is F. gigantica. Journal of Parasitology Research, 83:220-225.

Hillis, D.M., and Dixon M.T. (1991) Ribosomal DNA: Molecular Evolution and Phylogenetic Inference. The Quarterly Review of Biology, 66(4): 411-454.

Huang, W.Y.; He, A.B.; Wang, C.R., and Zhu, X.Q. (2004) Characterization of Fasciola species from Mainland China by ITS-2 ribosomal DNA sequence. Veterinary Parasitology, 120:75-83.

Ichikawa, M., and Itagaki, T. (2012) Molecular analysis of aspermic Fasciola flukes From Korea on the basis of the nuclear ITS1 region and mitochondrial DNA markers and comparison with Japanese aspermic Fasciola flukes. Journal of Veterinary Medical Science, 74: 899–904.

Itagaki, T., and Tsutsumi, K. (1998) Triploid form of Fasciola in Japan: genetic relationships between Fasciola hepatica and Fasciola gigantica determined by ITS-2 sequence of nuclear rDNA. International Journal of Parasitology, 12:777-781.

Keiser, J., and Utzinger, J. (2007) Food-borne trematodiasis: current chemotherapy and advances with artemisinins and synthetic trioxolanes. Trends in Parasitology, 23(11): 555–562.

Khalil, K.Z. (2011) Prevalence of liver fluke and lungworm among slaughtered animals in Al-Najaf abattoir. Al-Qadisiya Journal of Medicine Sciences, 10(1):11-17.

Kostadiniva, A.; Georgieva, S.; Selbach, C.; Faltynkova, A.; Soldanova, M.; Sures, N., and Skirnisson, K. (2013) New cryptic species of 'revolutum' group of Echinostoma ( Digenea:Echinostomatidae) revealed by molecular and morphological data. Parasites and Vectors, 6 (64) DOI: 10.1186/1756-3305-6-64.

Lin, A.; Mu-Xin, C.; Alasaad, S.; Elsheikha, H., M.; Juan, L.; Hai-Long, L.; Rui-Qing, L.; Feng-Cai, Z.; Xing-Quan, Z. and Jia-Xu, C. ( 2011) Genetic characterization, species differentiation and detection of Fasciola spp. by molecular approaches. Parasite and Vectors, 4 (101) DOI: 1186/1756-3305-4-101.

Lotfy, W.M., and Hillyer, G.V. (2003) Fasciola species in Egypt. https://www.researchgate.net/publication/236153135.

Mas-Coma, M. S.; Bargues, M.D., and Valero, M. A. (2005) Fascioliasis and other plant-borne trematode zoonoses. International Journal for Parasitology, 35(11-12): 1255–1278.

Mas-Coma, S. (2004) Chapter 19: Human Fascioliasis. In: Cotruvo JA, Dufour A, Rees G, Bartram J, Carr R, et al. (Eds.), World Health Organization (WHO), Waterborne Zoonoses: Identification, Causes and Control. IWA Publishing, London.

Mas-Coma, S., and Bargues, M. D. (2009) Populations, hybrids and systematic concepts of species and subspecies in Chagas disease triatomine vectors inferred from nuclear ribosomal and mitochondrial DNA. Acta Trop, 110:112-136.

Mas-Coma, S.; Valer, M.A., and Bargues, M.D. (2009) Fasciola, lymnaeids and human fascioliasis, with a global overview on disease transmission, epidemiology, evolutionary genetics, molecular epidemiology and control. Chapter 2. Advances in Parasitology, 69: 41-146.

Periago, M.V.; Valero, M.A.; Elsayed, M.; Ashraf,i K.; El Wakeel, A.; Mohamed, M.Y., and Desquesnes , M. (2008) First phenotypic description of Fasciola hepatica/Fasciola gigantica intermediate from the human endemic area of the Nile Delta, Egypt. Infection , Genetic and Evolution, 8(1): 51-58.

Prasad, P.K.; Tandon, V., Biswal, D.K.; Goswami, L.M., and Chatterjee A. ( 2009) Use of sequence motifs as barcodes and secondary structures of internal transcribed spacer 2(ITS-2,rDNA) for identification of the Indians liver fluke,Fasciola(Trematoda:Fasciolidae), Bioinformation,314-320.

Prasad, P.K.; Tandon, V.; Biswal, D.K.; Goswami, L. M., and Chatterjee, A. (2008) Molecular identification of Indian liver fluke, Fasciola(Trematoda:Fasciolidae) based on ribosomal internal transcribed spacer regions) Journal Parasitology Research,103:1247-1255.

Ramadan, N.I.; Saber L.M., Abd El Latif M. M.; Abdalla, N. A., and Ragab H.M. (2010) Molecular Genetic Approach by using the RAPD-PCR Technique for Detection of Genetic Variability in Non- Human Isolates of Fasciola. Journal of American Science, 3(11):52-60.

Rokni, M.B.; Mirhendi, H.; Mizani, A.; Mohebali, M.; Sharbatkhori, M., and Kia E.B. (2010) Identification and differentiation of Fasciola hepatica and F. gigantica using a simple PCR-restriction enzyme method. Experimental Parasitology, 124: 209– 213.

Semyenova, S.; Morozova, E.V.; Vasilyev, V.A., and Ryskov, A. P. (2005) Polymorphism of internal transcribed spacer 2 (ITS-2) sequences and genetic relationships between F. hepatica and F. gigantica. Acta arasitologica, 50 (3):240-243.

Spithill, T.W., and Dalton, J.P. (1998) Progress in development of liver fluke vaccines. Parasitology Today, 14(6): 224–228.

Vaughan, J.L.; Charles J.A., and Boray, J.C. (1997) Fasciola hepatica infection in farmed emus (Dromaius novaehollandiae). Australian Veterinary Journal, 75(11): 811–813.

WHO (World Health Organization) (1995) Control of foodborne trematode infections. World Health Organ Tech Rep Ser, 849: 1–157.

Zhou, P.; Che N., Zhang, R-L., Lin, R-Q., and Zhu, X-Q. (2008) Food-borne parasitic zoonoses in China: perspective for control. Trends in Parasitology, 24(4): 190–196.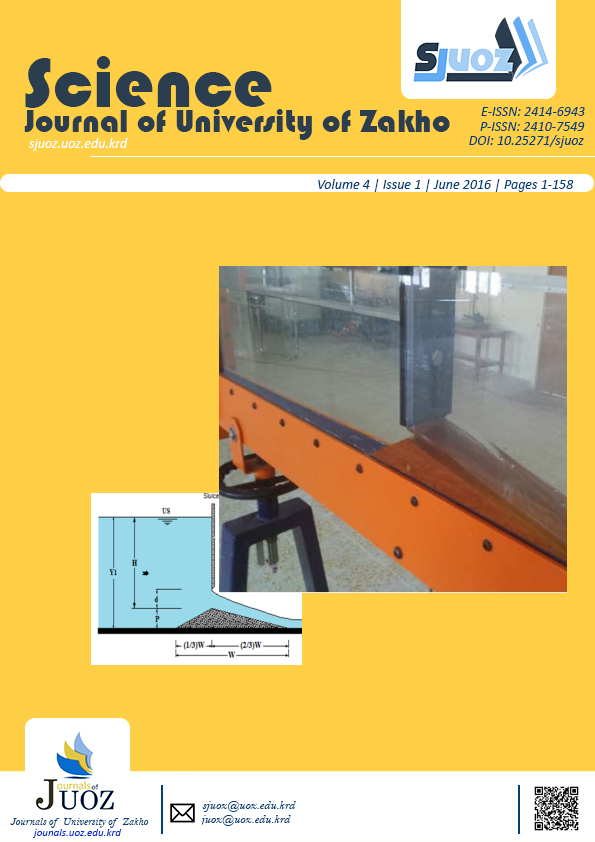 How to Cite
Mohammed, A., Mustafa, A., Issa, A., & Mero, W. (2016). Molecular Characterization of Fasciola Spp. Isolated From the Gallbladder of Infected Cattle in Duhok Province, Kurdistan Region Iraq. Science Journal of University of Zakho, 4(1), 37 - 42. Retrieved from https://sjuoz.uoz.edu.krd/index.php/sjuoz/article/view/303
Section
Science Journal of University of Zakho
Authors who publish with this journal agree to the following terms:
Authors retain copyright and grant the journal right of first publication with the work simultaneously licensed under a Creative Commons Attribution License [CC BY-NC-SA 4.0] that allows others to share the work with an acknowledgment of the work's authorship and initial publication in this journal.
Authors are able to enter into separate, additional contractual arrangements for the non-exclusive distribution of the journal's published version of the work, with an acknowledgment of its initial publication in this journal.
Authors are permitted and encouraged to post their work online.