Molecular Identification and Hemolytic Activity of Candida Species Isolated from Urine of Healthy and Diabetic Women in Kurdistan of Iraq
Zinah S. Oufi

Dept. of Biology, Faculty of Science, University of Zakho, Kurdistan Region, Iraq

Ahmed B. Mohammed

Dept. of Biology, Faculty of Science, University of Zakho, Kurdistan Region, Iraq

Samir Kh. Abdullah

Dept. of Medical Laboratory Technology, Alnoor University College, Nineva, Iraq
Keywords:
Hemolysin, Candida spp., Urine, Diabetic Mellitus, Sequencing, ITS
Abstract
A survey was carried out on the incidence of Candida yeasts in urine of healthy (non-diabetic) and diabetic women in Duhok and Zakho cities from February 2019 to April 2019. Out of 620 urine samples examined, 144 samples were found positive for Candida infection (23.2%). There were significant differences in incidence of Candida infection between urine of healthy and diabetic women as well as among age groups. All Candida isolates from positive samples were identified by using Chromogenic Candida Agar medium and confirmed by sequencing of the ITS1 and ITS4 region of rDNA. The identified Candida species were C.albicans, C.glabrata, C.krusei and C.tropicalis. The most common species was C.albicans (34%), followed by C.glabrata (29.9%), then C.tropicalis (13.8%), whereas, C.krusei (=Pichia kudriavzevii) displayed the least incidence (9.7%). All tested strains (n=83) for their hemolytic activity on Sabouraud's dextrose agar amended with sheep blood and glucose showed positive activity. Candida albicans and C.tropicalis displayed the highest hemolytic activity.
References
Achkar, J.M., & Fries, B.C.(2010). Candida infections of the genitourinary tract. Clinical Microbiology Reviews. 23 (2): 253–273.
Almeida, R. S., Wilson, D., & Hube, B. (2009). Candida albicans iron acquisition within the host. FEMS Yeast Research. 9 (7): 1000–1012.
Bhavan, P.S., Rajkumar, R., Radhakrishnan, S., Seenivasan, C.,& Kannan, S . ( 2010). Culture and Identification of Candida albicans from Vaginal Ulcer and Separation of Enolase on SDS-PAGE. International Journal of Biology. 2 (1) : 84–93.
Calderone, R. A., Fonzi, W. A., & Fonzi, W. A. (2001). 1-s2.0-S0966842X01020947-main (1). 9 (7): 327–335.
Ciardo, D.E., Schär, G., Böttger, E.C., Altwegg, M.,& Bosshard, P.P .(2006). Internal transcribed spacer sequencing versus biochemical profiling for identification of medically important yeasts. Journal of Clinical Microbiology. 44 (1): 77–84.
Falahati, M., Farahyar, S.,& Akhlaghi, L. (2016). Characterization and identification of candiduria due to Candida species in diabetic patients. Current Medical Mycology. 2 (3): 10–14.
Geerlings, S., Fonseca, V., Castro-Diaz, D., List, J.,& Parikh, S .(2014). Genital and urinary tract infections in diabetes: Impact of pharmacologically-induced glucosuria. Diabetes Research and Clinical Practice.103 :373–381.
Kauffman, C.A., Vazquez, J.A., Sobe, l.J.D., Gallis, H.A., McKinsey, D.S., Karchmer, A.W., & Dismukes, W.E.(2000). Prospective Multicenter Surveillance Study of Funguria in Hospitalized Patients. Clinical Infectious Diseases. 30 (1): 14–18.
Khudor, M. H., Abdullah, S . K.,& Al-Salman, M. (2002). Incidence of Candida and other yeasts in urine of asymptomatic pregnant women in Basrah city. Basrah Journal of Science.20 (1): 47–52.
Koga-Ito, C. Y., Lyon, J. P., Vidotto, V., & De Resende, M. A. (2006). Virulence factors and antifungal susceptibility of Candida albicans isolates from oral candidosis patients and control individuals. Mycopathologia. 161 (4): 219–223
Lima, G. M. E., Nunes, M.O., Chang, M.R., Tsujisaki, R.A., Nunes, J.O., & Taira ,C.L. ( 2017). PaniagoAMM. Identification and antifungal susceptibility of Candida species isolated from the urine of patients in a university hospital in Brazil. Revista Do Instituto de Medicina Tropical de Sao Paulo. 59.
Linares, C. E. B., De Loreto, É. S., Silveira, C. P., Pozzatti, P., Scheid, L. A., Santurio, J. M., & Alves, S. H. (2007). Enzymatic and hemolytic activities of Candida dubliniensis strains. Revista Do Instituto de Medicina Tropical de Sao Paulo. 49 (4): 203–206.
Luo, G., Samaranayake, L. P., Cheung, B. P. K., & Tang, G. (2004). Reverse transcriptase polymerase chain reaction (RT-PCR) detection of HLP gene expression in Candida glabrata and its possible role in in vitro haemolysin production. Apmis, 112 (4–5):283–290.
Luo, G., Samaranayake, L.P., Yau, J.Y.Y.( 2001). Candida species exhibit differential in vitro hemolytic activities. Journal of Clinical Microbiology. 39 (8): 2971–2974.
Manns, J. M., Mosser, D. M., & Buckley, H. R. (1994). Production of a hemolytic factor by Candida albicans. Infection and Immunity. 62 (11): 5154–5156.
Mohammad, A., & Said, A .(2015) Idenification of Candida albicans In Urinary Tract Infection By Using Polymerase Chain Reaction Technique. International Journal of Recent Research and Applied Studies. 24 (3) :116–120.
Mohammed, A.B., Ali, J.H.,& Abdullah, S.K .(2017) Identification of Candida Spp. Isolated From Urine by Phenotypic Methods and Multiplex PCR in Duhok, Iraq. Science Journal of University of Zakho. 5 (1) :11–15.
Moors, M. A., Stull, T. L., Blank, K. J., Buckley, H. R., & Mosser, D. M. (1992). A Role for Complement Receptor-like Molecules in Iron Acquisition by Candida albicans. Journal of Experimental Medicine. 175 (6): 1643–1651.
Navin,. Paul,. Elizabeth Mathai,. Abraham, . & Dilip Mathai.(2004). Emerging Microbiological Trends in Candiduria,. Journal of Infection. 39 (11): 1743–1744.
Ortiz, B., Pérez-Alemán, E., Galo, C., & Fontecha, G.(2018). Molecular identification of Candida species from urinary infections in Honduras. Revista Iberoamericana de Micologia. 35 (2):73–77.
Ozhak-Baysan, B., Ogunc, D., Colak, D., Ongut, G., Donmez, L., Vural, T., & Gunseren, F.( 2012). Distribution and antifungal susceptibility of Candida species causing nosocomial candiduria. Medical Mycology. 50 (5): 529–532.
Pandey, M.,& Pandey, A. ( 2013). Emergence of Non-albicans Candida in urine of diabetic patients at Gwalior (M.P.), India. Journal of Dental and Medical Science. 4 (5): 11–14.
Papon, N., Courdavault, V., Clastre, M.,& Bennett, R.J.( 2013). Emerging and Emerged Pathogenic Candida Species: Beyond the Candida albicans Paradigm. PLoS Pathogens. 9 (9): e1003550.
Paul, L., Fidel, J., Vazquez, J.A., Sobel, J.D.( 1999). Candida glabrata: Review of Epidemiology, Pathogenesis, and Clinical Disease with Comparison to C. albicans. Clin Microbiol Rev. 12 (1): 80-96.
Pfaller, M.A., Houston, A., & Coffmann,S.( 1996). Application of CHROMagar Candida for rapid screening of clinical specimens for Candida albicans, Candida tropicalis, Candida krusei, and Candida (Torulopsis) glabrata. Journal of Clinical Microbiology. 34 (1): 58–61.
Pope, L. M., & Cole, G. T. (2002). Comparative Studies of Gastrointestinal Colonization and Systemic Spread By Candida Albicans and Nonlethal Yeast in the Infant Mouse. Scanning Electron Microscopy. 4: 1667–1676.
Seneviratne, C. J., Jin, L., & Samaranayake, L. P. (2008). Biofilm lifestyle of Candida: A mini review. Oral Diseases. 14 (7): 582–590.
Silva, S., Henriques, M., Martins, A., Oliveira, R., Williams, D., & Azeredo, J. (2009). Biofilms of non-Candida albicans Candida species: Quantification, structure and matrix composition. Medical Mycology, 47 (7): 681–689.
Watanabe, T., Takano, M., Murakami, M., Tanaka, H., Matsuhisa, A., Nakao, N., … Matsumoto, T. (1999). Characterization of a haemolytic factor from Candida albicans. Microbiology. 145 (3): 689–694.
White, T.J., Bruns,T., Lee, S,.& Taylor, J .(1990). Amplification and Direct Sequencing of Fungal Ribosomal RNA Genes for Phylogenetics. In:Innis, M., Genflond, D., Shinsky, J,. & White, T., :PCR protocols: A guide to methods and applications;Academic Press, New York.
Yang, Y.-L. (2003). Virulence factors of Candida species. Journal of Microbiology, Immunology, and Infection, 36 (4): 223–228.
Yismaw, G., Asrat, D., Woldeamanuel, Y.,& Unaka, l. C . (2013). Prevalence of candiduria in diabetic patients attending Gondar University Hospital, Gondar, Ethiopia. Iranian Journal of Kidney Diseases. 7 (2): 102–107.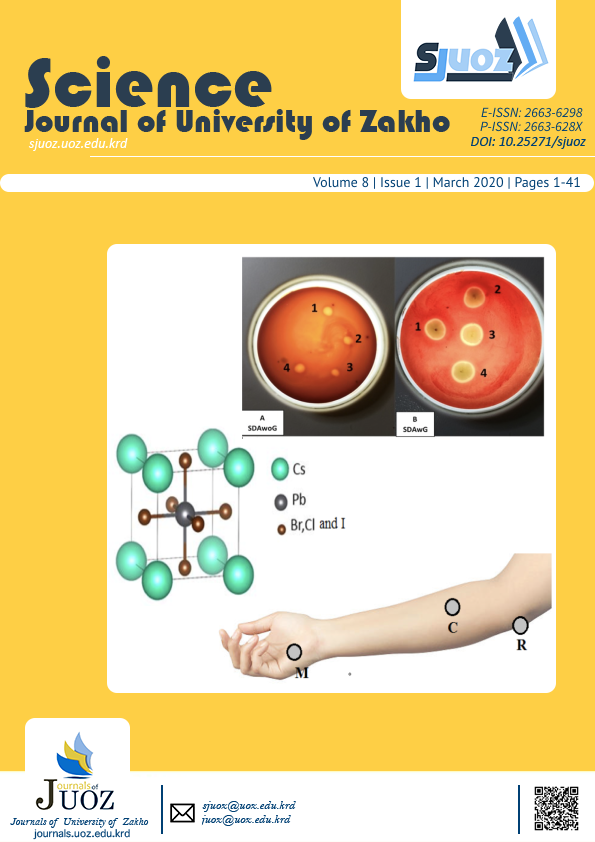 How to Cite
Oufi, Z., Mohammed, A., & Abdullah, S. (2020). Molecular Identification and Hemolytic Activity of Candida Species Isolated from Urine of Healthy and Diabetic Women in Kurdistan of Iraq. Science Journal of University of Zakho, 8(1), 1-6. https://doi.org/10.25271/sjuoz.2020.8.1.684
Section
Science Journal of University of Zakho
Copyright (c) 2020 zinah salem oufi, Ahmed Basheer Mohammed, Prof. Dr., Samir Khalaf Abdullah, Prof. Dr.
This work is licensed under a Creative Commons Attribution-NonCommercial-ShareAlike 4.0 International License.
Authors who publish with this journal agree to the following terms:
Authors retain copyright and grant the journal right of first publication with the work simultaneously licensed under a Creative Commons Attribution License [CC BY-NC-SA 4.0] that allows others to share the work with an acknowledgment of the work's authorship and initial publication in this journal.
Authors are able to enter into separate, additional contractual arrangements for the non-exclusive distribution of the journal's published version of the work, with an acknowledgment of its initial publication in this journal.
Authors are permitted and encouraged to post their work online.