Identification of Candida Spp. Isolated From Urine by Phenotypic Methods and Multiplex Pcr in Duhok, Iraq
Ahmed B. Mohammed

University of Zakho

Jumma H. Ali

Central Medical Laboratory

Samir K. Abdullah

University of Zakho
Keywords:
Candida species, Multiplex PCR, Urine, Chromogenic Candida agar, Iraq
Abstract
The present study was aimed to isolate and identify Candida species from urine samples obtained from patients with urinary tract infection from Duhok province. Species identification was based on colony color on chromogenic Candida agar as well as multiplex PCR method. Results revealed the prevalence of non-albicans Candida. C.krusei was the most frequently isolated species with the prevalence of 26.3% followed by C.kefyr 23.68%, C.glabrata (18.42% and C.albicans 15.78%. Multiplex PCR method seemed to be more accurate and reliable for identification of Candida yeast.
References
Adjapong, G.; Hale,M and Garill, A. (2014) An investigation of the distribution of Candida species in genitourinary candidiasis and pelvic inflammatory disease from three locations in Ghana. Afr. J. Microbiol.Res.,8:470-475.
Álvarez-Lerma , F.; Nolla-Sallas J. ; Palomar, M. ; Jordá R.; Carrasco, N and Bobillo, F. (2003) Candiduria in critically ill patients Admitted to intensive care medical units. Inten Care Med., 29:1069-1076.
Babic, M. and Hukic, M. ( 2010 ) Candida albicans and non-albicans species as etiological agent of vaginitis in pregnant and non-pregnant women. Bosnian Journal of Basic Medical Sciences., 10 (1) 89-97.
Badiee, P.; Nejabat, M., Alborzi, A.; Keshavarz F. and Shakiba, E. (2010) Comparative study of Gram stain, potassium hydroxide smear, culture and nested PCR in the diagnosis of fungal keratitis. Ophthalmic Research., 44 (4):251-256.
Behzadi, P.; Behzadi,E and Ranjber,R. (2015) Urinary tract infections and Candida albicans. Cent.European J.Urol.,68:96-101.
Brawner, D. L. (1991) Comparison between methods for serotyping of Candida albicans produces discrepancies in results. Journal of Clinical Microbiology Reviews., 29(5):1020-1025.
Bukhary, Z.A. (2008) Candiduria: A review of clinical significance and management. Saudi Journal of Kidney Diseases and Transplantation, 19 (3) 350-360.
Chang, H.C.; Leaw, S. N.; Huang, A.H. ; Wu, T.L. and Change T.C. (2001) Rapid identification of yeasts in positive blood cultures by Multiplex PCR method. Journal of Clinical Microbiology, 39(10): 3466-3471.
Ece, G. (2014) Distribution of yeast-like fungi at a university hospital in Turkey. Jundishapur J. Microbiol.,7 (12):e13141.
Ellis, D. (2007) Antifungal susceptibility testing. (Neo- Sensitab and E-test methods. Notes on disc diffusion and E- test methods). Mycology Online. The University of Adelaide CRICOS Provider No. 00123M.
Falagas, M. E. ; Roussos, N. and Vardakas, K. Z. (2010) Relative frequency of albicans and the various non-albicans Candida spp among candidemia isolates from inpatients in various parts of the world: a systematic review. Int. J. Infect. Dis.,14 (11):954-966.
Fisher, J.F.;Newman, C. L. and Sobel, J. D. (1995) yeasts in the urine:solutions for a budding problem. Clin. Infect. Dis., 20:183-189.
Fujita, S.I.; Senda, Y.; Nakaguchi, S. and Hashimoto, T. (2001) Multiplex PCR using internal transcribed spacer 1 and 2 regions for rapid detection and identification of yeast strains. Journal of Clinical Microbiology. 39(10): 3617-3622.
Hazen, K.C. (1995) New and emerging yeast pathogens. Clin. Microbiol. Rev., (8): 462–478.
Jaya, S. and Harita,V. (2013) Candida species from various clinical samples and their susceptibility patterns to antifungal. J.Med.Microbiol.Infec.Dis.,1(1):22-26.
Jordan, J. A. (1994) PCR identification of four medically important Candida species by using a single primer pair. Journal of Clinical Microbiology, 32(12): 2962-2967.
Kanbe T.; Horii T.; Arishima T.; Ozeki M. and Kikuchi, A. (2002) PCR-based identification of pathogenic Candida species using primer mixes specific to Candida DNA topoisomerase II genes. Yeast, 19:973–989.
Kauffman, C.A. (2005) Candiduria. Clin. Infec.t Dis. 41(6) 371-376.
Kirkpatrick, W. R. ; Turner, T. M.; Fothergill A.W.; McCarthy, D.I.; Redding, S.W.; Rinaldi, M.G. and Patterson, T.F. (1998) Fluconazole disk diffusion susceptibility testing of Candida species. J. Clin. Microbiol., 36:3429-3432.
Luo, G., and Mitchell, T.G. (2002) Rapid identification of pathogenic fungi directly from cultures by using Multiplex PCR. Journal of Clinical Microbiology, 40(8): 2860-2865.
Mahmoudabadi, Z.A.; Najafyan, M. and Alidadi, M. (2002) Clinical study of Candida vaginitis in Ahvaz, with microdilution assay in susceptibility testing of caspofungin against Aspergillus and Fusarium isolates. Antimicrob Agents Chemother., (46)3084.
Nucci, M. (2000) Candiduria in hospitalized patients: A review. Braz J Infect Dis. (4)168-172.
Ozhak-Baysan, B.; Ogunc, D.; Colak, D.; Ongut, G.; Donmez, L.; Vural , T. and Gunseren, F. (2012) Distribution and antifungal susceptibility of Candida species causing nosocomial candiduria. Med. Mycol.,50 (5):529-32.
Soll, D. R. (1992) High –frequency switching in Candida albicans. Clinical Microbiology Reviews, 5(2): 183-203.
Sullivan, D and Coleman D. (1998) Candida dubliniensis: Characteristics and Identification. J. Clin. Microbiol.,36 (2): 329–334.
Tietz, H. J.; Kussner, A.; Thonas, M.; De Andrade, M.P.; Presber, W. and Schinian G. (1995) Phenotypic and genotypic characterization of unusual vaginal isolates of Candida albicans from Africa. Journal of Clinical Microbiology, 33(9): 2462-2465.
Williamson, M.I.; Samaranayake L.P. and MacFarlane T. W. (1986) Biotype of oral Candida albicans and Candida tropicalis isolates. Journal of Medical and Veterinary Mycology, 24(1):81-84.
Zarei , M.Z.A.; Keradmand, A.R. and Enayatollahi, N. (2009) Frequency of candiduria in inpatients and outpatients in Department of Urology, Golestan Hospital, Ahvaz, Iran. IJKD, (3)114-115.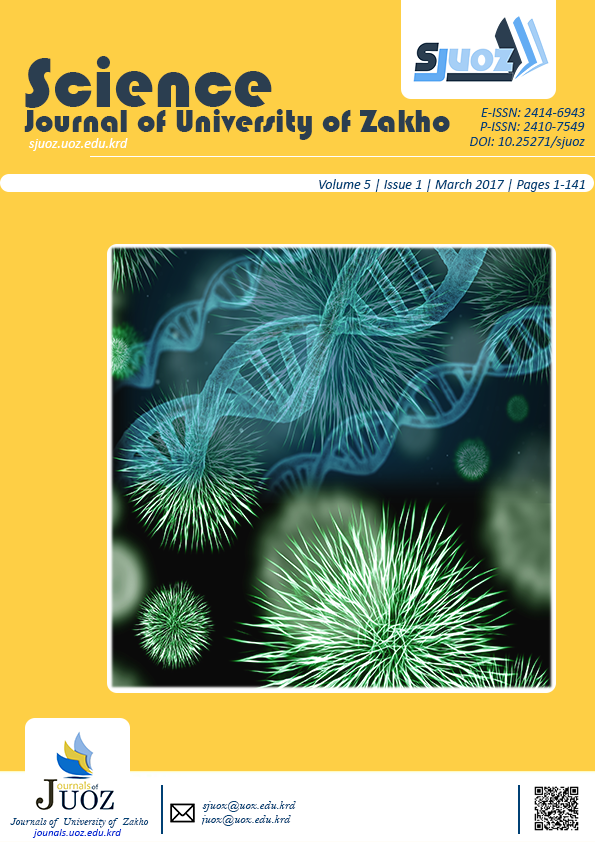 How to Cite
Mohammed, A., Ali, J., & Abdullah, S. (2017). Identification of Candida Spp. Isolated From Urine by Phenotypic Methods and Multiplex Pcr in Duhok, Iraq. Science Journal of University of Zakho, 5(1), 11-15. https://doi.org/10.25271/2017.5.1.292
Section
Science Journal of University of Zakho
Authors who publish with this journal agree to the following terms:
Authors retain copyright and grant the journal right of first publication with the work simultaneously licensed under a Creative Commons Attribution License [CC BY-NC-SA 4.0] that allows others to share the work with an acknowledgment of the work's authorship and initial publication in this journal.
Authors are able to enter into separate, additional contractual arrangements for the non-exclusive distribution of the journal's published version of the work, with an acknowledgment of its initial publication in this journal.
Authors are permitted and encouraged to post their work online.