Kinetic Study of Adsorption of Hexavalent Chromium in Aqueous Solution using Bay Leaf (Laurus Nobilis) as New Bio-Adsorbent
Suhad A. Yasin

University of Zakho

Amin K. Qasim

University of Zakho
Keywords:
Laurus nobilis, hexavalentChromium, adsorption kinetics, Waste water
Abstract
Laurus nobilis (Bay leaf), was examined for its capacity to remove hexavalent chromium Cr(VI) poisonous, from aqueous solution. The bio-adsorbent using bay leaf obtained from Laurus nobilis was investigated in batch experiments. The influence of main parameters such as chromium concentration, pH and shaking time are tests. The effect of beginning concentration of Cr(VI) ion (10 to 50 mg/dm ), pH (1 to 6) and shaking time (5 to 180 min) have been reported. The optimum pH was found to be pH 4.. Results show that the most appropriate model was pseudo second-order kinetic and it correlate with the trial statistics well.
References
1. Pellerin, C. and S.M. Booker, Reflections on hexavalent chromium: health hazards of an industrial heavyweight. Environmental health perspectives, 2000. 108(9): p. A402.
2. Saha, R., R. Nandi, and B. Saha, Sources and toxicity of hexavalent chromium. Journal of Coordination Chemistry, 2011. 64(10): p. 1782-1806.
3. Farinella, N., G. Matos, and M. Arruda, Grape bagasse as a potential biosorbent of metals in effluent treatments. Bioresource technology, 2007. 98(10): p. 1940-1946.
4. Dakiky, M., et al., Selective adsorption of chromium (VI) in industrial wastewater using low-cost abundantly available adsorbents. Advances in environmental research, 2002. 6(4): p. 533-540.
5. Yang, L. and J.P. Chen, Biosorption of hexavalent chromium onto raw and chemically modified Sargassum sp. Bioresource technology, 2008. 99(2): p. 297-307.
6. Dayan, A. and A. Paine, Mechanisms of chromium toxicity, carcinogenicity and allergenicity: review of the literature from 1985 to 2000. Human & experimental toxicology, 2001. 20(9): p. 439-451.
7. Ho, Y., et al., Study of the sorption of divalent metal ions on to peat. Adsorption Science & Technology, 2000. 18(7): p. 639-650.
8. Elovich, S.Y. and O. Larionov, Theory of adsorption from nonelectrolyte solutions on solid adsorbents. Russian Chemical Bulletin, 1962. 11(2): p. 198-203.
9. Weber, W.J. and J.C. Morris, Kinetics of adsorption on carbon from solution. Journal of the Sanitary Engineering Division, 1963. 89(2): p. 31-60.
10. Crini, G., et al., Removal of CI Basic Green 4 (Malachite Green) from aqueous solutions by adsorption using cyclodextrin-based adsorbent: Kinetic and equilibrium studies. Separation and Purification Technology, 2007. 53(1): p. 97-110.
11. Pradhan, S., S. Singh, and L.C. Rai, Characterization of various functional groups present in the capsule of Microcystis and study of their role in biosorption of Fe, Ni and Cr. Bioresource technology, 2007. 98(3): p. 595-601.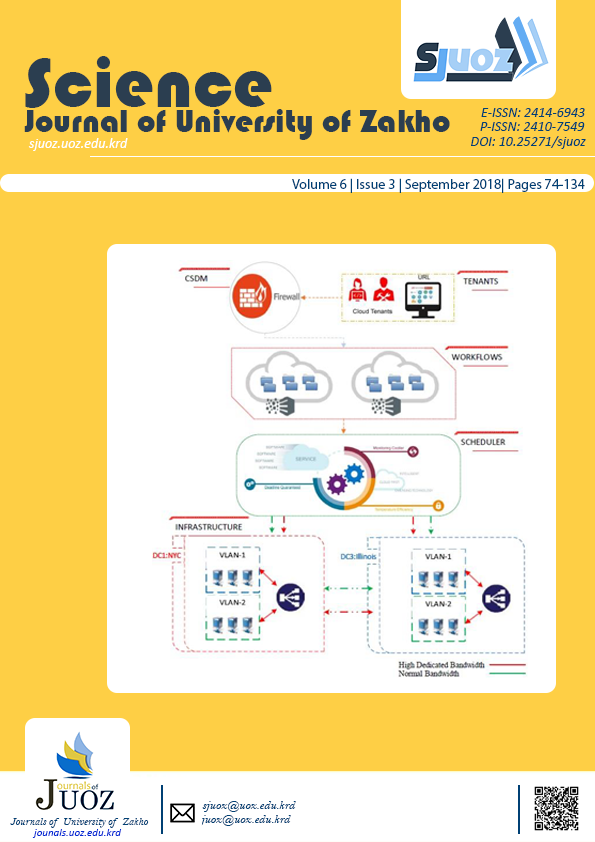 How to Cite
Yasin, S., & Qasim, A. (2018). Kinetic Study of Adsorption of Hexavalent Chromium in Aqueous Solution using Bay Leaf (Laurus Nobilis) as New Bio-Adsorbent. Science Journal of University of Zakho, 6(3), 104-107. https://doi.org/10.25271/sjuoz.2018.6.3.513
Section
Science Journal of University of Zakho
Authors who publish with this journal agree to the following terms:
Authors retain copyright and grant the journal right of first publication with the work simultaneously licensed under a Creative Commons Attribution License [CC BY-NC-SA 4.0] that allows others to share the work with an acknowledgment of the work's authorship and initial publication in this journal.
Authors are able to enter into separate, additional contractual arrangements for the non-exclusive distribution of the journal's published version of the work, with an acknowledgment of its initial publication in this journal.
Authors are permitted and encouraged to post their work online.