Study the Effects of Reactive Materials Replacement on Some Properties of Cement Mortar
Mohammed J. Kadhim

University of Mustansiriya

Raeid K. Mohammed Jawad

University of Mustansiriya

Hamza M. Kamal

University of Mustansiriya
Keywords:
Brick reactive powder, Rise Husk Ash, Compressive strength, Flexural strength
Abstract
This study involves natural--materials replacement and its reaction with cement mortar behavior for many mortar samples under variable curing time with constant water to cement ratio (W/C = 0.5).In this researchsomeproperties such as (compressive strength the surface hardness and water absorption test), were affected by adding small ratios ofpowder (from (RHA) and (BRP) particles)as replacements to the Ordinary Portland Cement (OPC) / type (I). The percentages of natural materials additives replacement on the mixture of mortar include (0, 5, 10, 15 and 20%) with constant (W/C) ratio. Also the amount of the fine aggregate used was three times the amount of cement. The results showed that, the compressive strength and splitting tensile strength and water absorption of the mortars for (replacement) gives better properties than mortar without replacement in all tests. Best enhancements in properties for mortars with pozzalanic replacements were achieved at (15%) for (RHA) and 10% for (RBP) replacement from weight of cement.
References
A. Hasanbeigi, L. Price, and E. Lin, Emerging Energy-efficiency and CO2 Emission-reduction Technologies for Cement and Concrete Production, Ernest Orlando Lawrence Berkeley national laboratory, No. LBNL-5434E, 2012.
Alireza, N.G., Suraya, A., Farah, N.A.A. and Mohamad Amran, M. (2010) "Contribution of Rice Husk Ash to the Properties of Mortar and Concrete: A Review" Journal of American Science, 6(3) pp. 157-165P.
B. B. Mukharjee, and S. V. Barai, Compressive Strength of Nano-Silica Incorporated Recycled Aggregate Concrete, IJARCSEIED, Vol.: 2 ,Issue: 1 , pp. 22-28,08-May,2014.
Chengzhi, Z., Aiqin, W., Mingshu, T. and Xiaoyu, Liu,(1996) "The Filling Role of Pozzolanic Material", Cement and Concrete Research, Vol.26, No.6, pp.943-947.
F. Shaikh , H. Odoh, and A. Tahn, Effect of nano silica on properties of concrete containing recycled coarse aggregates. Proceedings of the ICE - Construction Materials. 168 (2), pp. 68-76,2014.
G. Yadhu, and S. A. Devi, An Innovative Study on Reuse of Demolished Concrete Waste, JCEE, ISSN: 2165-784X,Vol. 5 • Issue 5 • 1000185, 2015.
Ghassan Abood Habeeb and Hilmi Bin Mahmud (2010), "Study on properties of rice husk ash and its use as cement replacement material", Department of Civil Engineering, University of Malaya, Kuala Lumpur, Malaysia, Material Research. vol.13 no.2 São Carlos.
Hosseini, A. Booshehrian, M. Delkash, S. Ghavami, and M.K. Zanjani, Use of Nano-SiO2 to Improve Microstructure and Compressive Strength of RecycledAggregate Concretes, Nanotechanlogy in Construction , Springer, Berlin, Heidelberg, ISBN978-3-642-00979-2, pp. 215-221, 2009.
K. Obla, H. Kim, and C. Lobo, Crushed Returned Concrete as Aggregates for New Concrete, RMC Research & Education Foundation Project , pp. 05-13, 2007.
R. Jina, and Q. Chen, Investigation of concrete recycling in the U.S. construction industry, Elsevier Ltd., Procedia Engineering 118, pp. 894 – 901, 2015.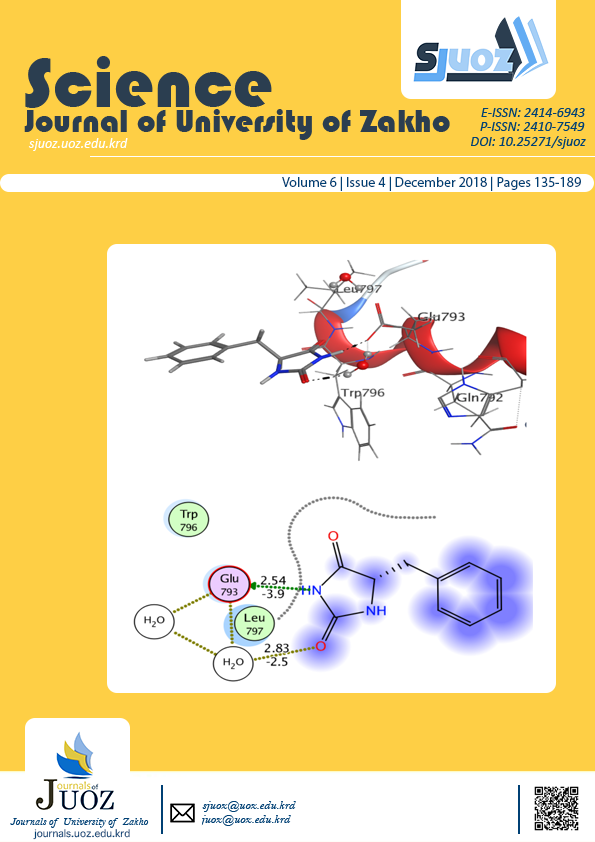 How to Cite
Kadhim, M., Mohammed Jawad, R., & Kamal, H. (2018). Study the Effects of Reactive Materials Replacement on Some Properties of Cement Mortar. Science Journal of University of Zakho, 6(4), 182-189. https://doi.org/10.25271/sjuoz.2018.6.4.543
Section
Science Journal of University of Zakho
Authors who publish with this journal agree to the following terms:
Authors retain copyright and grant the journal right of first publication with the work simultaneously licensed under a Creative Commons Attribution License [CC BY-NC-SA 4.0] that allows others to share the work with an acknowledgment of the work's authorship and initial publication in this journal.
Authors are able to enter into separate, additional contractual arrangements for the non-exclusive distribution of the journal's published version of the work, with an acknowledgment of its initial publication in this journal.
Authors are permitted and encouraged to post their work online.