Effects of Short-Term Cell Phone Exposure on Eeg, Ecg And Blood Pressure in Males And Females of Human
Habiba Siamand Khalid

University of Salahaddin

Bizhar Ramadhan Rasul

University of Salahaddin

Ismail Mustafa Maulood

University of Salahaddin
Keywords:
Cell phone, EEG, ECG, Blood pressure
Abstract
Mobile phones have become important devices of modern communication. As a result of the widespread increase in use of this technology, concerns have been raised regarding the potential impact on human health, particularly on the CNS. The aim of the present study is to investigate the effect of cell phone on EEG, ECG, blood pressure and in both sexes of human. Thirty two volunteers (16 males, 16 females) who had participated in the original study. During mobile exposure for a period of 30 minutes , EEG, ECG and some hemodynamic  were measured . The mobile phone which used in the study was a Nokia model .Statistical analysis revealed that alpha and beta amplitude during closed eye were increased after cell phone exposure for 30 minutes.  Alpha amplitude was also significantly elevated during opened eye. The result of  present study shown that  cell phone  exposure for (30)minutes didn't statistically change hemodynamic parameters ,however diastolic blood presser (DBP)and heart rate were slightly increased  . ECG waves and amplitude are also not changed  with exception of QT inter vale. In conclusion, the results suggested that cell phone exposure for 30 minutes affect alpha amplitude rather than beta amplitude values especially during closed eye. These changes of alpha waves represents the change in parieto-occiptal region of the brain.
References
Barret,K.E;Barnan,S.M;Barman,S;andBrooks;H.L(2010).Ganongs.Review of medical physiology 23rded.Mcgraw Hill Lange.New york

Cherry, N.J., 2002: "Schumann Resonances, a plausible biophysical mechanism for the human health effects of Solar/Geomagnetic Activity". Natural Hazards 26: 279-331.
Croft ,R. J., J. S. Chandler, A. P. Burgess, R. J. Barry, J. D. Williams, A. R. Clarke, "Acute Mobile Phone Operation Affects Neural Function in Humans," ClinNeurophysiol, 113, 2002, pp. 1623-1632.

Croft, R. J., Leung, S., Mckenzie, R. J. et al. Effects of 2G and 3G mobile phones on human alpha rhythms: resting EEG in adolescents, young adults, and the elderly. Bioelectromagnetics, 2010,31: 434–444.

Lebedeva, N.N., Sulimov, A.V., Sulimova, O.P., Kotrovskaya, T.I. and Galius, T., 2000: "Cellular phone electromagnetic field effects on the bioelectric activity of human brain". Crit. Rev Biomed Eng 28(1-2): 323-327.

Loughran, S. P., Wood, A. W., Barton, J. M., Croft, R. J., Thompson, B. and Stough, C. The effect of electromagnetic fields emitted by mobile phones on human sleep.Neuroreport, 2005, 16: 1973–1976

Nam KC, Kim SW, Kim SC, Kim DW.Effects of RF exposure of teenagers and adults by CDMA cellular phones.Bioelectromagnetics. 2006 Oct;27(7):509-

National Radiological Protection Board. Mobile phones and health 2004: report by the Board of NRPB. Chilton, Didot, Oxfordshire, National Radiological Protection Board, 2004, volume 15, no. 5; accessed 15 September 2006).

Regel, S. J., G. Tinguely, J. Schuderer, M. Adam, N. Kuster, H. P. Landolt, P. Achermann, "Pulsed Radio- Frequency Electromagnetic Fields: Dose-Dependent Effects on Sleep, the Sleep EEG and Cognitive Performance," J Sleep Res, 16(3), September 2007c, pp.253-258.

Regel, S. J., Gottselig, J. M., Schuderer, J. et al. Pulsed radio frequency radiation affects cognitive performance and the waking .Neuroreport, 2007a, 18: 803–807.

Regel, S. J., Tinguely, G., Schuderer, J. et al. Pulsed radio-frequency electromagnetic fields: dose-dependent effects on sleep, the sleep EEG and cognitive performance. J. Sleep Res., 2007b, 16: 253–258.

Reto, Huber,1 JurgenSchuderer, Thomas Graf,1 Kathrin Ju tz,1 Alexander A Borbe ly,1Niels Kuster,3 and Peter AchermannBioelectromagnetics 24:262 ,276 (2003)
Saladin, A (2003) Anatomy and Physiology,3rd edition The McGraw−Hill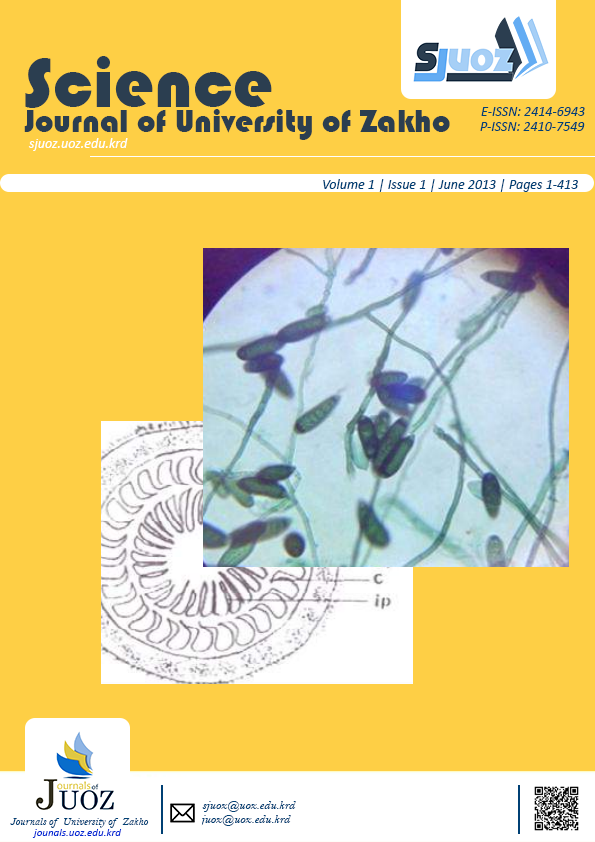 How to Cite
Khalid, H., Rasul, B., & Maulood, I. (2013). Effects of Short-Term Cell Phone Exposure on Eeg, Ecg And Blood Pressure in Males And Females of Human. Science Journal of University of Zakho, 1(1), 170-176. Retrieved from https://sjuoz.uoz.edu.krd/index.php/sjuoz/article/view/62
Section
Science Journal of University of Zakho
Authors who publish with this journal agree to the following terms:
Authors retain copyright and grant the journal right of first publication with the work simultaneously licensed under a Creative Commons Attribution License [CC BY-NC-SA 4.0] that allows others to share the work with an acknowledgment of the work's authorship and initial publication in this journal.
Authors are able to enter into separate, additional contractual arrangements for the non-exclusive distribution of the journal's published version of the work, with an acknowledgment of its initial publication in this journal.
Authors are permitted and encouraged to post their work online.