Fingerprinting a Number of Prunus Persica Varieties Cultivated In Duhok Province Using Srap Markers.
Avesta M. Ali

University of Duhok

Sabrya J. Zubair

University of Duhok

Dalal K. Sinjare

University of Duhok

Jaladet M. S. Jubrael

University of Duhok
Keywords:
Prunus persica, Fingerprinting, SRAP Marker, Duhok Province
Abstract
In order to evaluate the genetic relationship among the germplasms of Prunus persica, sequence related amplified polymorphism (SRAP) marker was used to analyze genetic diversity of nine genotypes of peach cultivated in Duhok Governorate/ Kurdistan Region- Iraq. Twelve primer pairs generated 658 bands,379 bands were polymorphism; level of polymorphism observed in the present study with 12 primers pairs was 60.89 %. Revealed by NTSYS software the SM coefficient of genetic similarity ranged from 0.056 to 0.35. A dendrogram was constructed based on SRAP data using UPGMA cluster method. The nine genotypes of peach were classified into three groups and five sub-groups which were basically corresponded with the genetic relationships based on SRAP marker data.
References
Ahmad, R., Potter, D., Southwick, M., 2004: Genotyping Of Peach And Nectarine Cultivars With Ssr And Srap Molecular Markers. J. Am. Soc. Hortic. Sci. 129, 204-210.

Bakht J., Jamal N. and Shafi M. (2012). Appraisal Of Genetic Diversity Of Different Peach Cultivars and Genotypes Through Rapd Markers. Pak. J. Bot., 44(5): 1527-1532

Dirlewanger, E., P. Cosson, M. Tavaud, M.J. Aranzana, C. Poizat, A. Zanetto, P. Arus, And F. Laigret. 2002. Development Of Microsatellite

Markers In Peach [Prunus Persica (L.) Batsch] And Their Use In Genetic

Diversity Analysis In Peach And Sweet Cherry (Prunus Avium L.). Theor.

Appl. Genet. 105:127–138

Graham, J., K. Smith, K. Mackenzie, L. Jorgenson, C. Hackett and W. Powell. 2004. The Construction Of A Genetic Linkage Map Of Red Raspberry Based On Aflp's Genomic Ssr Markers. Theor. Appl. Genet., 109: 740-749

Li, X., L. Shangguan, C. Song, C. Wang And Z. Gao Et Al., 2010. Analysis of Expressed Sequence Tags From Prunus Mume Flower And Fruit And

Development Of Simple Sequence Repeat Markers. Bmc Genet., 11: 66. Doi: 10.1186/1471-2156-11-66

Rohlf F.J. (2004) Ntsys-Pc Numerical Taxonomy And Multivariate Analysis System. Version 2.11v. Exeter Software, Setauket, New York.

Nagaty M. A., Salah El-Din El-Assal And mahmoud M. Rifaat ( 2011). Characterization of the Genetic Diversity of Peach Cultivars In Taif By Rapd-Pcr. American Journal Of Applied Sciences 8 (7): 708-715.

Nei, M., and W. H. Li. 1979. Mathematical Model for Studying Genetic Variation In Terms Of Restriction Endonucleases. Proc.Natl.Acad.Sci.Usa 76:5269-5273.

Uzun A., GulsenO., Seday U, Bircan M., and Yilmaz K.U. (2010)Srap Based Genetic Analysis Of Some Apricot Cultivars Romanian Biotechnological Letters Vol. 15, No. 4.

Verdei., Abbott A.G., Scalabrins, Jungs, Shu S., Marronif., Zhebentyayevat., Dettori M., Grimwood J., Cattonaro F., Zuccolo A., Rossinil., Jenkins J., Vendramine, Meisel L.A., Decroocq V., Sosinski B., Prochnik S., Mitros T., Policriti A., Cipriani G., Dondini L., Ficklin S., Mgoodstein D., Xuan P., Fabbroc., Aramini V., Copetti D., Gonzalez S., Shorner D., Falchi R., Lucas S., Mica E., Maldonado J., Lazzari B., Bielenberg D., Pirona R., Miculanm., Barakat A., Testolin R., Stella A., Tartarini S., Tonutti P., Arús24, Orellana P., Wells C., Main D., Vizzotto G., Silva H., Salamini F., Schmutz J., Morgante M. And Srokhsar D.(2013). The High-Quality Draft Genome Of Peach (Prunus Persica) Identifies Unique Patterns Of Genetic Diversity, Domestication And Genome Evolution. Nature Genetics Vol.45, No. 5

Wang, Y., Georgi, L.L., Zhebentyayeva, N., Reighard, G.L., Scorza, R. And Abbott, A.G. (2002).

Highthroughput Targeted Ssr Marker Development In Peach (Prunus Persica). Genome, 45: 319-

Watkins, R. 1976. Cherry, Plum, Peach, Apricot and Almond, P. 242–247. In: Simmonds, N.W. (Ed.). Evolution of Crop Plants. Longman, London, Uk

Weigand F., Baum M. And Udupa S. (1993). Dna Molecular Marker Technics, Technical Manual, No. 20 International Center For Agricultural Research In The Dry Areas (Icarda). Aleppo, Syria.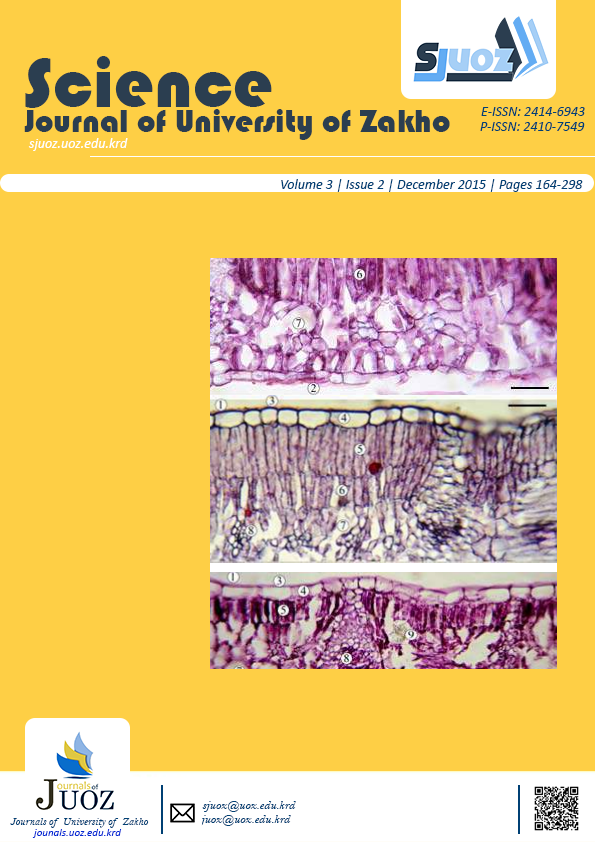 How to Cite
Ali, A., Zubair, S., Sinjare, D., & Jubrael, J. (2015). Fingerprinting a Number of Prunus Persica Varieties Cultivated In Duhok Province Using Srap Markers. Science Journal of University of Zakho, 3(2), 199-204. Retrieved from https://sjuoz.uoz.edu.krd/index.php/sjuoz/article/view/142
Section
Science Journal of University of Zakho
Authors who publish with this journal agree to the following terms:
Authors retain copyright and grant the journal right of first publication with the work simultaneously licensed under a Creative Commons Attribution License [CC BY-NC-SA 4.0] that allows others to share the work with an acknowledgment of the work's authorship and initial publication in this journal.
Authors are able to enter into separate, additional contractual arrangements for the non-exclusive distribution of the journal's published version of the work, with an acknowledgment of its initial publication in this journal.
Authors are permitted and encouraged to post their work online.