Curative Effects of Pomegranate and Ginger on Hepatic and Renal Functions of Indomethacin-Induced Peptic Ulcers in Albino Rats
Mudhir S. Shekha

Salahaddin University

Muhsin J. Abdulwahid

Salahaddin University

Peshraw S. Hamadamin

Salahaddin University

Trifa F. Ismail

Salahaddin University

Saman R. Hamad Bakir

Erbil Directorate General of Health, Ministry of Health.

Laween M. Ibrahim

Erbil Directorate General of Health, Ministry of Health

Lana M. Ahmed

Salahaddin University
Keywords:
Peptic ulcer, Ginger, indomethacin, hepatic and renal functions, rats
Abstract
A peptic ulcer is one of the more severe diseases and most classic treatment protocol produce adverse drug reactions. Therefore, this study aimed to examine the therapeutic effects of two natural extracts, namely Pomegranate and Ginger, on indomethacin-induced gastric ulcer in rats. Animals were divided into five groups; 1. Normal control group, 2. An ulcer control group Indomethacin (0.3 mg /rats), 3. Omeprazole (3 mg /rats), a4. Pomegranate (40 mg /rats), 5. Ginger (20 mg /rats).  The ulcers were induced made from groups 2 - 5 by oral administration of Indomethacin. Rats subjected to indomethacin administration showed significant ulceration in the glandular area of their stomachs compared to normal control rats. In addition, significant elevations S.GPT, S.GOT, S. creatinine and S. Urea (P< 0.05) were observed. Alternatively, pretreatment with pomegranate and ginger significantly corrected macroscopic and biochemical parameters. These results demonstrate that administration of either pomegranate and ginger supplementation have an essential role in the prevention of ulceration induced by NSAIDs. Furthermore improved liver and kidney functions and reduced hepatoto and nephrotoxicities.
References
Agrawal, A., Rao, C. V., Sairam, K., Joshi, V. & Goel, R. 2000. Effect of Piper longum Linn, Zingiber officianalis Linn and Ferula species on gastric ulceration and secretion in rats. Indian journal of experimental biology, 38, 994-998.
Al-Yahya, M. A., Rafatullah, S., Mossa, J. S., Ageel, A. M., Parmar, N. S. & Tariq, M. 1989. Gastroprotective activity of ginger zingiber officinale rosc., in albino rats. Am J Chin Med, 17, 51-6.
Anosike, C. A., Obidoa, O., Ezeanyika, L. U. & Nwuba, M. M. 2009. Anti-inflammatory and anti-ulcerogenic activity of the ethanol extract of ginger (Zingiber officinale). African Journal of Biochemistry Research, 3, 379-384.
Basivireddy, J., Jacob, M., Pulimood, A. B. & Balasubramanian, K. A. 2004. Indomethacin-induced renal damage: role of oxygen free radicals. Biochem Pharmacol, 67, 587-99.
Cekmen, M., Otunctemur, A., Ozbek, E., Cakir, S. S., Dursun, M., Polat, E. C., Somay, A. & Ozbay, N. 2013. Pomegranate extract attenuates gentamicin-induced nephrotoxicity in rats by reducing oxidative stress. Ren Fail, 35, 268-74.
Chang, W. S., Chang, Y. H., Lu, F. J. & Chiang, H. C. 1994. Inhibitory effects of phenolics on xanthine oxidase. Anticancer Res, 14, 501-6.
Corbett, J. V. & Banks, A. D. 2013. Laboratory tests and diagnostic procedures : with nursing diagnoses, Upper Saddle River, N.J., Pearson.
El-Metwally, E. M. 2014. Evaluation of Antiulcer Activity of Ginger, Clove and Castor Oils Against Aspirin Induced Gastric Ulcers in Rats. World Applied Sciences 29.
Elisa Colombo, E. S., 1 Andmario Dell'agli1, 2013. A Review on the Anti-Inflammatory Activity of Pomegranate in the Gastrointestinal Tract. 14, 11.
Falzon, M., Whiting, P. H., Ewen, S. W., Milton, A. S. & Burke, M. D. 1985. Comparative effects of indomethacin on hepatic enzymes and histology and on serum indices of liver and kidney function in the rat. Br J Exp Pathol, 66, 527-34.
Grom, V. V. 1986. [Changes in the filtration and reabsorption barrier of the kidneys of the rat after administration of nonsteroidal anti-inflammatory preparations]. Arkh Anat Gistol Embriol, 90, 55-9.
Hamauzu, Y. 2011. Anti-Ulcerative Potential of some Fruits and the Extracts. International Journal of Pharmacy and Pharmaceutical sciences, 4.
Heeba, G. H., Hassan, M. K. & Amin, R. S. 2009. Gastroprotective effect of simvastatin against indomethacin-induced gastric ulcer in rats: role of nitric oxide and prostaglandins. Eur J Pharmacol, 607, 188-93.
Hoshino, T., Tsutsumi, S., Tomisato, W., Hwang, H. J., Tsuchiya, T. & Mizushima, T. 2003. Prostaglandin E2 protects gastric mucosal cells from apoptosis via EP2 and EP4 receptor activation. J Biol Chem, 278, 12752-8.
Hussein, J., El-Khayat, Z., Farrag, A. R., Medhat, D. & Abdel, Y. 2014. Inhibition of hyperhomocysteinemia in Indomethacin induced peptic ulcer: Impact of pomegranate juice supplementation. Inhibition of hyperhomocysteinemia in Indomethacin induced peptic ulcer: Impact of pomegranate juice supplementation, 6, 131-138.
Kilic, U., Kilic, E., Tuzcu, Z., Tuzcu, M., Ozercan, I. H., Yilmaz, O., Sahin, F. & Sahin, K. 2013. Melatonin suppresses cisplatin-induced nephrotoxicity via activation of Nrf-2/HO-1 pathway. Nutr Metab (Lond), 10, 7.
Mehrdad, M., Messripour, M. & Ghobadipour, M. 2007. The effect of ginger extract on blood urea nitrogen and creatinine in mice. Pak J Biol Sci, 10, 2968-71.
Moghaddam, G., Sharifzadeh, M., Hassanzadeh, G., Khanavi, M. & Hajimahmoodi, M. 2013. Anti-Ulcerogenic Activity of the Pomegranate Peel (<i>Punica granatum</i>) Methanol Extract. Food and Nutrition Sciences, Vol.04No.10, 6.
Mohsen Minaiyan, Alireza Ghannadi & Alireza Karimzadeh 2006. Anti-ulcerogenic effect of ginger (rhizome of Zingiber officinale Roscoe) on cystemine induced duodenal ulcer in rats. DARU Journal of Pharmaceutical Sciences, 5.
Nurtjahja-Tjendraputra, E., Ammit, A. J., Roufogalis, B. D., Tran, V. H. & Duke, C. C. 2003. Effective anti-platelet and COX-1 enzyme inhibitors from pungent constituents of ginger. Thromb Res, 111, 259-65.
Redlak, M. J., Power, J. J. & Miller, T. A. 2005. Role of mitochondria in aspirin-induced apoptosis in human gastric epithelial cells. Am J Physiol Gastrointest Liver Physiol, 289, G731-8.
Rice-Evans, C. A., Miller, N. J., Bolwell, P. G., Bramley, P. M. & Pridham, J. B. 1995. The relative antioxidant activities of plant-derived polyphenolic flavonoids. Free Radic Res, 22, 375-83.
S. Bhattacharya, D Banerjee, Ak Bauri, S Chattopadhyay & Bandyopadhyay, S. 2007 July 21. Healing property of the Piper betel phenol, allylpyrocatechol against indomethacin-induced stomach ulceration and mechanism of action. World Journal of Gastroenterology ISSN 1007-9327, 13.
Sadeghi, F., Nematbakhsh, M., Noori-Diziche, A., Eshraghi-Jazi, F., Talebi, A., Nasri, H., Mansouri, A., Dehghani, A., Saberi, S., Shirdavani, S. & Ashrafi, F. 2015. Protective effect of pomegranate flower extract against gentamicin-induced renal toxicity in male rats. J Renal Inj Prev, 4, 45-50.
Sadeghipour, A. & Eidi, M. 2014. Lipid Lowering Effect of Punica granatum L. Peel in High Lipid Diet Fed Male Rats. 2014, 432650.
Sanchez-Ramirez, B., Mata-Gonzalez, S., Valdez, A., Ramos-Martinez, E. & Talamas-Rohana, P. 2001. Liver function tests during amoebic liver abscess formation in indomethacin-treated hamsters. J Exp Zool, 290, 201-6.
Srinivas, A. S. M. 2011. Effect of Leukotriene Receptor Antagonist Montelukast Along with Curcumin against Gastric Ulceration. 3.
Ueki, M., Ueno, M., Morishita, J. & Maekawa, N. 2013. Curcumin ameliorates cisplatin-induced nephrotoxicity by inhibiting renal inflammation in mice. J Biosci Bioeng, 115, 547-51.
Zaghlool, S. S., Shehata, B. A., Abo-Seif, A. A. & Abd El-Latif, H. A. 2015. Protective effects of ginger and marshmallow extracts on indomethacin-induced peptic ulcer in rats. J Nat Sci Biol Med, 6, 421-8.
Zuo, Y., Wang, C., Zhou, J., Sachdeva, A. & Ruelos, V. C. 2008. Simultaneous determination of creatinine and uric acid in human urine by high-performance liquid chromatography. Anal Sci, 24, 1589-92.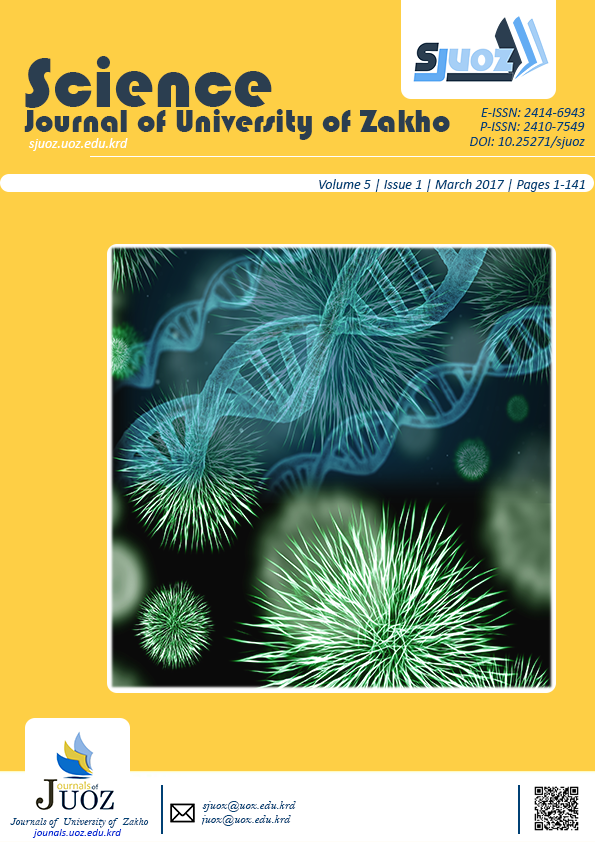 How to Cite
Shekha, M., Abdulwahid, M., Hamadamin, P., Ismail, T., Hamad Bakir, S., Ibrahim, L., & Ahmed, L. (2017). Curative Effects of Pomegranate and Ginger on Hepatic and Renal Functions of Indomethacin-Induced Peptic Ulcers in Albino Rats. Science Journal of University of Zakho, 5(1), 48-52. https://doi.org/10.25271/2017.5.1.300
Section
Science Journal of University of Zakho
Authors who publish with this journal agree to the following terms:
Authors retain copyright and grant the journal right of first publication with the work simultaneously licensed under a Creative Commons Attribution License [CC BY-NC-SA 4.0] that allows others to share the work with an acknowledgment of the work's authorship and initial publication in this journal.
Authors are able to enter into separate, additional contractual arrangements for the non-exclusive distribution of the journal's published version of the work, with an acknowledgment of its initial publication in this journal.
Authors are permitted and encouraged to post their work online.