The Effects Of 2-Hydroxy Chalcone and its Derivative on The Larvae and Adults of Tribolium Confusum
Sofyan H.S. AL-Sinjari

Dept. of Biology, Faculty of Science, University of Zakho, Kurdistan Region, Iraq

Asaad M. Mustafa

Dept. of Chemistry, Faculty of Science, University of Zakho, Kurdistan Region, Iraq

Basim S. Ahmed

Dept. of Biology, Faculty of Science, University of Zakho, Kurdistan Region, Iraq (basim.ahmed@uoz.edu.krd)

Dilsher A.M. Al-sindi

Dept. of Biology, Faculty of Science, University of Zakho, Kurdistan Region, Iraq (dlsher.mohammad@uoz.edu.krd)
Keywords:
Tribolium confusum, toxicity, Chalcones and its derivatives
Abstract
2-Hydroxy Chalcone and its derivatives (compounds 1and 2) were used in a toxicity test on the larvae and adults of confused flour beetle Tribolium confusum (Du Val). Mortality tests were done by applying different concentrations (0.01, 0.02 and 0.04 ppm) on 2-Hydroxy Chalcone and its derivatives which were exposed by topical application with 5 µL of each compound and the data were recorded after 24 h of treatments. The mortality % of [7-Hydroxy-9-(pyridine-4-yl)-6H-benzo[C]chromen-6-one] in (compound 2) were 26.6, 50 and 76.67% and 16.67, 36.67 and 63.3% and 13.3, 23.3 and 36.6 % to 3rd, 5th instar larvae and adults, respectively. While in [ 3-thinyl-1-(2-hydroxynaphthyl) -1-propene] (compound 1), the mortality % were 23.3, 40 and 66.6% and 13.3, 30 and 56.6% and 6.6, 16.6 and 26.6 % to 3rd, 5th instar larvae and adults, respectively. The results indicated that (comp.2) was the most toxic one and (comp.1) was the least toxic to confused flour beetle when applied singly. The calculated LC50 values to (compound 2) were 0.019, 0.028 and 0.074 ppm to 3rd, 5th instar larvae and adults, respectively. While to (compound 1), the LC50 values were 0.025, 0.034 and 0.106 ppm to 3rd, 5th instar larvae and adults, respectively. The order of toxicity of the chemical compounds was 2 > 1. These chemical compounds can be used to control confused flour beetle.
References
Cassida, J. E. (1970). Mixed Function Oxidases Involvement In TheBiochemistry of Insecticide Synergists. J. Arg. Food. Chem. 18: 72-753.
Cassida, J. E.; Ngel, J. L.; Esaac, E. G.; Kamienski, F. X. and Kuwatsuka, S. (1966). Methylene C14-Dioxyphenyl compounds: Metabolism and Relation to Their Synergist Action. Science. 151: 1130-1135.
Champ, B.r. and Campbell-Brown M. (1970). Insecticide resistance in Amsterdam Tribolium castaneum Herbst (Coleoptera: Tenebrionidae) II Malathion resistance in Eastern Australia. J. Stored Prod. Res., 6: 111-131.
Esmaili, M; Samad V. and Ehsan P. (2013). Fumigant toxicity of essential oils of Mentha pulegium L. on adults of Callosobruchus maculatus, Tribolium castaneum, Lasioderma serricorne and Sitophilus oryzae in laboratory conditions. Technical Journal of Engineering and Applied Sciences 3(9):732-735.
Franklin, M. R. (1972). Pipronyl butoxide metabolism by cytochrome p450: Factros affecting the formation and disappearance of the metabolite cytochrome p450 complex. J. Xenobiotica. 2: 517-527.
Galdino, T. V.; Picanço, M. C,; Morais, E. G. F.; Silva, N. R.; Rezende, G. A. and Lopes, M. C. (2011). Bioassay method for toxicity studies of insecticide formulations to tuta absoluta (MEYRICK, 1917). Departamento de Biologia Animal/DBA – Entomologia. Campus Universitário. Vol. 35, No. 5, p. 869-877.
Macaev, F.; Boldescu, V.; Pogrebnoi, S. and Duca, G. (2014). Chalcone Scaffold based Antimycobacterial Agents. Med chem 4: 487-493.
Martin, T.; Ochou, G. O.; Hala, N.; Kio, F. and Vaissayer, M. (2000). Pyrethroids resistances in the cotton bollworm Helicoverl armigera (Hubner). West Africa Pest Manag. Sci. 56 (6): 549-554.
Mazimba, O. (2015). Antimicrobial activities of heterocycles derived from thienylchalcones, Journal of King Saud University – Science (2015) 27, 42–48.
Mazimba, O., Majinda, R. R.. and Masesane, I. B. (2011). An efficient synthesis of flavans from salicylaldehyde and acetophenone derivatives.Tetrahedr. Lett. 52 (50), 6716–6718.
Park, T. (2002). Observations on the general Biology of the flour Beetle, Tribolium confusum. Quarterly Review of Biology, University of Chicago Press, 9, (1): 36- 54.
Park, T. and Frank, M. B. (1948). The fecundity and development of the flour beetle Tribolium castaneum and Tribolium confusum at three constant temperatures. Ecology, 29: 368-375.
Park, T., (1962). Beetles, competition and population. Sci., 138: 1369-1375.
Pedigo, P.L. (1989).Entomology pest management. Prentice Hall (Ind.) Pvt. Ltd., New Delhi, pp:646.
Smith, R. F., (1970). Pesticides: The use and limitations in pest management. In "Concepts of pest management" (R. L. Rabband, F. E. Guthrie, eds.). 103-113. North Carolina State University, Raleigh, North Carolina.
Sun, Y. P. and Johnson, E. R. (1972). Quasi-Synergism and Penetration of Insecticides. J. Econ. Entomol. 65: 349-353.
Thirunarayanan, G. (2014). Synthesis, antimicrobial, antioxidant and insect antifeedant activities of some aryl bicyclo[2.2.1]heptene-2-ylmethanones. QScience Connect. Bloomsbury Qatar Foundation Journals. http://dx.doi.org/ 10.5339/connect.2014.18.
Weston, P. A. and Rattlingourd P. L. (2000) Progeny production by Tribolium castaneum (Coleoptera: Tenebrionidae) and Oryzaephilus surinamensis (Coleoptera: Silvanidae) on maize previously infested by Sitotroga cerealla (Lepidoptera: Gelechiidae) Journal of Economic Entomology 93:533-536.
Zettler, J. L. and Arthur, F. H. (2000). Chemical control of stored product insects with fumigants and residual treatments. Crop Protection, 19: 577-582.
Zhuang, C.; Zhang, W.; Sheng, C.; Zhang, W.; Xing, C.;Miao, Z. Chalcone: A Privileged Structure in Medicinal Chemistry.Chem. Rev. 2017, 117, 7762−7810. (b) Singh, P.; Anand, A.; Kumar,V. Recent developments in biological activities of chalcones: A mini review. Eur. J. Med. Chem. 2014, 85, 758−777. (c) Sinha, S.; Medhi, B.;Sehgal, R. Chalcones as an Emerging Lead Molecule for AntimalarialTherapy: A Review. J. Mod. Med. Chem. 2013, 1, 64−77.
Zyromska-Rudzka, H., (1966). Abundance and emigrations of Tribolium in a laboratory model. Ekol. Pol. A., 14: 491-518.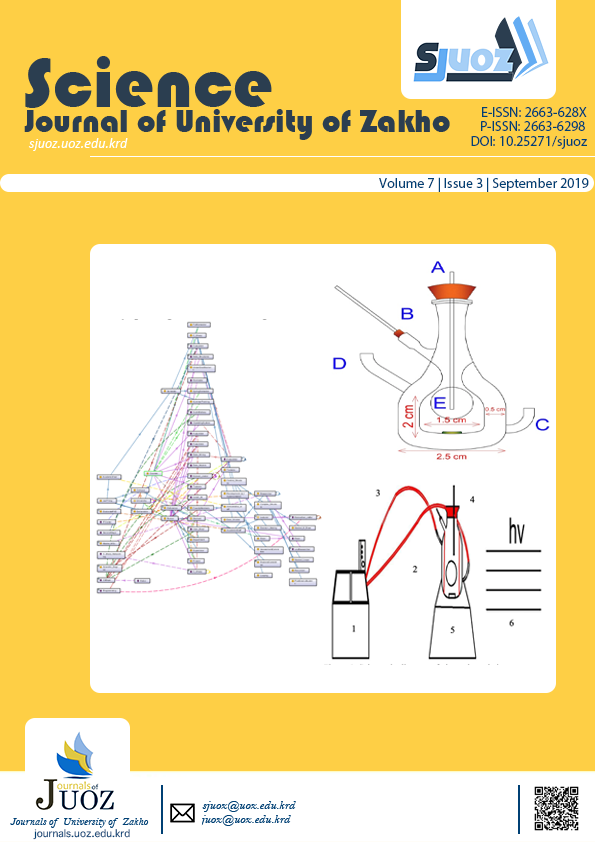 How to Cite
AL-Sinjari, S., Mustafa, A., Ahmed, B., & Al-sindi, D. (2019). The Effects Of 2-Hydroxy Chalcone and its Derivative on The Larvae and Adults of Tribolium Confusum. Science Journal of University of Zakho, 7(3), 75-78. https://doi.org/10.25271/sjuoz.2019.7.3.584
Section
Science Journal of University of Zakho
This work is licensed under a Creative Commons Attribution-NonCommercial-ShareAlike 4.0 International License.
Authors who publish with this journal agree to the following terms:
Authors retain copyright and grant the journal right of first publication with the work simultaneously licensed under a Creative Commons Attribution License [CC BY-NC-SA 4.0] that allows others to share the work with an acknowledgment of the work's authorship and initial publication in this journal.
Authors are able to enter into separate, additional contractual arrangements for the non-exclusive distribution of the journal's published version of the work, with an acknowledgment of its initial publication in this journal.
Authors are permitted and encouraged to post their work online.